Monday, Aug. 24: CZU Lightning Complex fires had burned through 78,000 acres and destroyed 176 homes and six commercial buildings as of Monday afternoon, and 24,323 more structures were threatened in the path of the fire. The fire was only 13% contained.
Cal Fire reported that firefighters had worked through the night on suppression efforts, but the danger remains high as fires continue to burn actively above the marine layer in heavy timber and thick underbrush.
There are 1,511 people fighting the fire with 151 fire engines, 30 water tenders, nine helicopters, 15 bulldozers and 23 hand crews.
The Santa Cruz County Sheriff's Office said evacuation orders have not been lifted yet for the CZU Lightning Complex Fires. No one is being allowed into the evacuation zones. For now, it is still too dangerous for deputies to escort people back into any of the affected areas.
Area residents are encouraged to go to www.santacruzcounty.us/fireresources to check on what is being offered for people who have been displaced by the fire.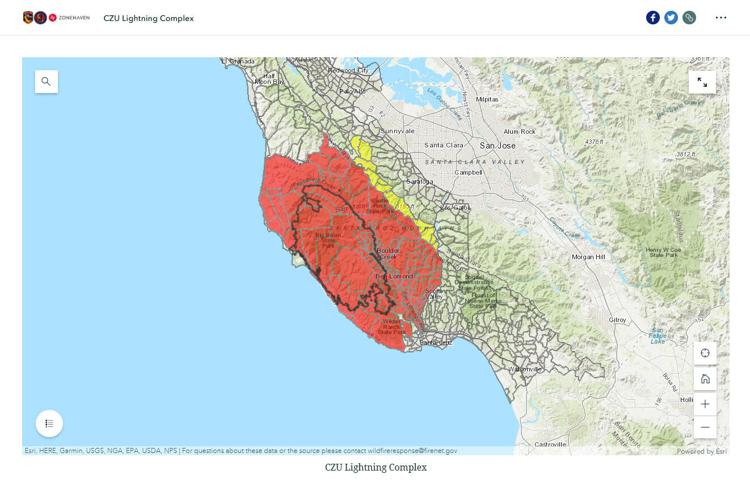 ---
Friday, Aug. 21: Wildfires burning out of control in southern San Mateo County and northern Santa Cruz County have scorched 50,000 acres, forcing evacuations in the communities of Scotts Valley, Ben Lomond and Felton.
The fires, named the CZU August Lightning Complex by Cal Fire, were sparked by lightning on Sunday morning have destroyed 50 structures and forced the evacuation of 64,000 people in the flames' path.
A Cal Fire spokesman said the fires had "significant behavior through the night," especially on the eastern edge of the fire zone, affecting areas near Boulder Creek and Ben Lomond. They continued to burn with no containment as of Friday morning.
There were 1,026 firefighters on the line fighting the fire with 82 fire engines, 30 water tenders, 10 helicopters and 30 bulldozers assigned to 20 crews.
Officials said multiple fires had merged during the night and continued to burn due to low humidity, inaccessible terrain and limited resources.
Firefighting air tankers from throughout the state are flying suppression missions as conditions allow, but heavy smoke is hampering flight operations.
Santa Cruz County Sheriff's Chief Deputy Chris Clark said Friday morning that the evacuation of the 12,000 residents of Scotts Valley west of Highway 17 was nearly complete. Once everyone has been evacuated, 93 officers and deputies will spread out on roving patrols throughout the valley, including Scotts Valley, to keep homes secure against potential looting or vandalism.
Clark said it might be weeks before people can return to their homes, depending on what the fire does.
Residents who might have left pets or other animals in an evacuation area can call the county animal control, 831-471-1182, to see whether the sheriff's department can arrange for a rescue of their animals.
For the latest evacuation orders, evacuation warnings and road closures, visit the Cal Fire San Mateo-Santa Cruz Unit Twitter page. 
Smoke from the wildfires is also impacting the wider area.
The Monterey Bay Air Resources District issued a wildfire air quality advisory stating the air quality had reached "hazardous" — the highest level on the scale — at many monitoring stations throughout Santa Cruz, Monterey and San Benito counties.
Everyone should take precautions to limit exposure to smoke and spend as little time outdoors as possible.
Smoke is a mixture of gases and fine particles created when wood and other organic material burn. Microscopic particles in the smoke can trigger asthma, aggravate chronic bronchitis, and increase the risk of heart attack and stroke. Young children, older adults, and people of all ages with existing respiratory conditions, including COVID-19, are especially at risk from this type of air pollution.
People are urged to remain indoors in a room with filtered air and to reduce their activity levels until the air clears.
More air quality information, including the status of the wildfire smoke, can be found at mbard.org.