The $1.9 trillion American Rescue Plan Act is a far-reaching relief package that will give a boost to local governments as well as individuals.
In addition to the $1,400 checks going to individuals, the legislation, signed by President Joe Biden on March 11, will provide millions of dollars in relief to the city of Tracy and to Tracy Unified School District.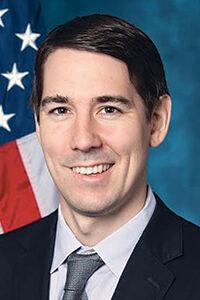 10th District Congressman Josh Harder (D-Turlock) was enthusiastic to be in the Democratic majority that approved House Resolution 1319 earlier this month to get it to the president's desk.
"One message has been clear over the past couple of months and even over the past year, which is that help is needed," Harder said during a phone interview on Monday. "In any economic downturn the Central Valley is always the first place to suffer and the last place to recover. We've had more folks lose work here than in many other parts of California."
Harder noted that the city of Tracy will receive $17 million from the federal COVID-19 relief package and Tracy Unified School District will receive nearly $24.3 million.
The city of Tracy has already looked at how this money could help protect its general fund balance, which the city uses as a reserve fund as revenues and spending fluctuate. Earlier this month the city council looked at how it will meet its obligations for an $82.1 million general fund spending plan. News that COVID-related reductions in sales and property taxes could leave the city with a spending deficit of $6 million to $9 million arrived with a warning that those deficits, if left unaddressed, could persist for 5 or more years.
Tracy Mayor Nancy Young said that the city has a number of uses that the $17 million in COVID-19 relief could support.
"We were actually behind $6 million just because of COVID last year. I knew it was looking like just from those effects alone on the city that it could double by this year, so we're definitely grateful that money has come through to help the city," she said.
The city had been helping residents through the pandemic recession with deferred utility bills and helping local businesses with forgivable loans. Young noted that Measure V, the half-cent sales tax approved by voters in 2016, was intended to pay for city amenities, but that money recently had been redirected to the small business loans and to balance the general fund budget.
"A lot of things we were shoring up with Measure V with the intent to pay it back as the city was able to bring in more money. It was promised to be for amenities for our community and we want to stay true to our word with that."
At Tracy Unified the $24.3 million would help support a $183.4 million spending plan that had already been affected by reduced revenues from the state. Last year the district had considered substantial layoffs before the state found a way to preserve most of its contribution to local districts.
TUSD Superintendent Brian Stephens said that COVID-related expenses in the past year start with upgrading air filtration systems for classrooms in all of the district's schools and will continue for at least the next year or two as teachers address "learning loss," getting their students caught up after a year of distance learning, and schools consider the need for counseling in the schools, both academic and emotional.
He emphasized that the challenge for any school district when it gets this type of relief is to remember that it is one-time funding, so those who benefit from the money won't necessarily have those benefits a year or two from now.
"Every time we do communicate that it's 'one-time' money, but my experience indicates that people forget that phrase quickly," Stephens said.
Aside from assistance for local governments, Harder said that the American Rescue Plan Act aims to extend much of the relief that the Coronavirus Aid, Relief, and Economic Security (CARES) Act provided a year ago for families and small businesses.
"It's not just the money that's going directly to Tracy. It's also the stimulus check, the child allowance, the unemployment benefits, that are really going to be a game changer for a lot of families across the city," Harder said.
Harder noted that one of the new aspects of this bill is the child allowance.
"The way to think about this is, every family with at least one kids under the age of 17 is going to be getting at least $3,000, and so if you have three kids you could be making up to $10,000 over the next year just from this new child allowance program. I think that's going to be a lifesaver for a lot of people."
Harder said it essentially extends a tax break to lower-income families.
"There was an existing child tax credit, but it didn't work for many middle class and working class families, because if you didn't pay a lot of income tax you weren't actually eligible for it," he said.
This provision is essentially extra income, at least on a temporary basis.
"If you have two kids you're going to be getting $500 a month from July until September and then an additional $3,000 when you file your 2020 taxes."
The new bill has a provision similar to the CARES Act Paycheck Protection Program for small businesses. This bill goes a step further than the CARES Act in that it targets businesses that require employees to be on-site, like restaurants and bars, that have seen revenue declines during COVID-19-related shutdowns.
Harder added that one aspect of the bill that confirmed his support was funding for more vaccine and 100,000 new community health care workers to work in intensive care units, as well as to administer COVID-19 vaccines.
"That's a piece of the bill that I was a big proponent of, is making sure that these 100,000 community health workers could be hired ASAP, so as supply (of vaccine) increases we can actually make sure we're getting shots in arms."
The bill passed on the strictly partisan vote. When the U.S. Senate passed the bill on March 6 all 50 votes in favor were from Democrats and all 49 opposed were Republicans. It passed the House of Representatives 220-211 on March 10, with all but one Democrat in favor and all Republicans opposed.
Harder said he hopes it's the last COVID-19 relief bill Congress has to consider, but he believes there is still hope to find bipartisan solutions to the fallout from the pandemic.
"I was disappointed that it didn't get more Republican support in D.C., but I think it actually got a lot of Republican support across our community," Harder said. "I've heard from so many Republicans who called me up and told me that they saw that it needed to happen. This virus doesn't care if you're a Republican or a Democrat and neither should the COVID relief package."
"If you look at the polls this is a broadly popular bill that is going to do a lot of good for a lot of people, and I think that needs to be the focus. Ultimately I can't determine how other people are going to vote, but we do need to do a little more working together."
• Contact Bob Brownne at brownne@tracypress.com, or call 209-830-4227.