Salon owners and stylists protesting their 54th day of state-mandated closure this week insisted it is time for them to go back to work.
Shelby Masson, owner of The Salon + Spa on 10th Street, gathered other salon owners, stylists and family members to rally Monday in support of returning to work. She said she wanted them to join as one as they fight for the right to reopen their businesses.
"I feel that it's so important for us as an industry not only to have our voices be heard but to stand together," Masson said. "As hairdressers, as aestheticians and spa owners, this is affecting all of us tremendously. We're at over three and a half months of being closed, and now it's about, OK, we've got to get open. We've got to figure how to open it."
The group of about 20 people held signs to call attention to call attention to their businesses closure and what they feel is a lack of help from state and local leaders to get their businesses back up and running.
"We've got to get open, we've got to open our doors and we've got to be able to work — $167 of unemployment does not pay our bills, does not pay the leases on our buildings," Masson said.
Salons and barbershops were closed in March during the first statewide and countywide stay-at-home orders issued as the COVID-19 pandemic grew.
That closure lasted until June 2 when the state allowed salons to reopen with new safety precautions in place for social distancing and cleaning.
A surge in cases in San Joaquin County and across the state led the governor to ban all indoor services at salons in July 13, and they have been closed since.
Rosa Cisneroz-Ngauamo, co-owner of Hair Illusions on West 11th Street, said things have been going hard since the second shutdown began.
"We have no idea when we're reopening. Nothing's been told, there's no funding or relief currently except unemployment and you're lucky if you get a couple hundred bucks for two weeks," Cisneroz-Ngauamo said.
She said they had written to local legislators and Gov. Gavin Newsom but hadn't heard anything back in response to their calls for help.
"It's almost like we're being thrown under the rug," Cisneroz-Ngauamo said. "We're being completely ignored."
A July 13 order from the county affirmed the state order calling for salon and barbershops to remain closed, allowing only for outdoor hair-cutting with appropriate modifications, including physical distancing and face coverings.
"We're all safe here. We're all protected here. We've done everything OSHA and the board of cosmetology and the CDC has required of us, and now more than ever, I think it is time for us to rise united and really let the community know we need them," Masson said. "We need them to come in and buy shampoo. We need them to come in and support us. Buy gift cards from our team members. We want our community to #saveoursalons, post selfies and really reach out to the governor and the state of California letting them know how vital and important the beauty industry is."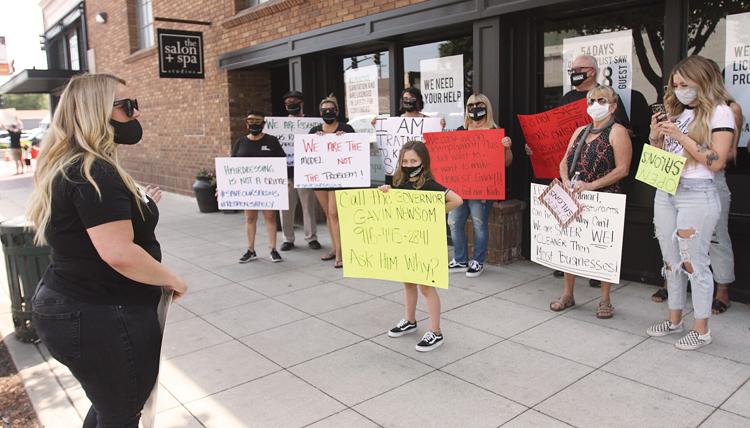 Before the second closure, Jonie Endo had already made changes for pandemic safety at her salon, Versailles Salon and Day Spa on Central Avenue, which has 32 independent stylists.
"We're not using every chair. We're not using every room. We run our salon, as I believe all of us do, like a surgical ward," Endo said. "These are real businesses making money supporting their families, and I think this is something that for years has been overlooked. … These are true businesswomen and they do it fabulously."
Cisneroz-Ngauamo said that from the time Hair Illusions reopened in late May until the new closure in mid-July, her team's safety measures worked.
"We pulled our numbers," she said. "We've seen hundreds of people, and there was not one spread of COVID because we were masked, because we sanitized, because we never reused anything."
Salons checked people's temperatures before they went inside, set up sanitation stations, installed Plexiglas walls between hair-washing stations and even switched to towels in sealed packages to be opened only while wearing clean gloves. The changes weren't cheap.
"And then to close us down again with no warning and just basically 'today you're out' — how are we ever supposed to get a return on investment on that, but then also be able to open our doors for the community and service them?" Masson said.
The Professional Beauty Federation of California and its lobbyists have been fighting the closures, but the salon owners are still in the dark as to when anything might change.
With no end in sight, some salons reportedly planned to reopen Monday in defiance of the state's orders, though the participants in the local protest were not among them.
"Today is kind of redemption day," Cisneroz-Ngauamo said. "A lot of salons, even in our local city, are opening today and continuing to stay open, because we have no choice, like we're not getting any funding. We have no money and we need money to survive, not only for our business but for our kids."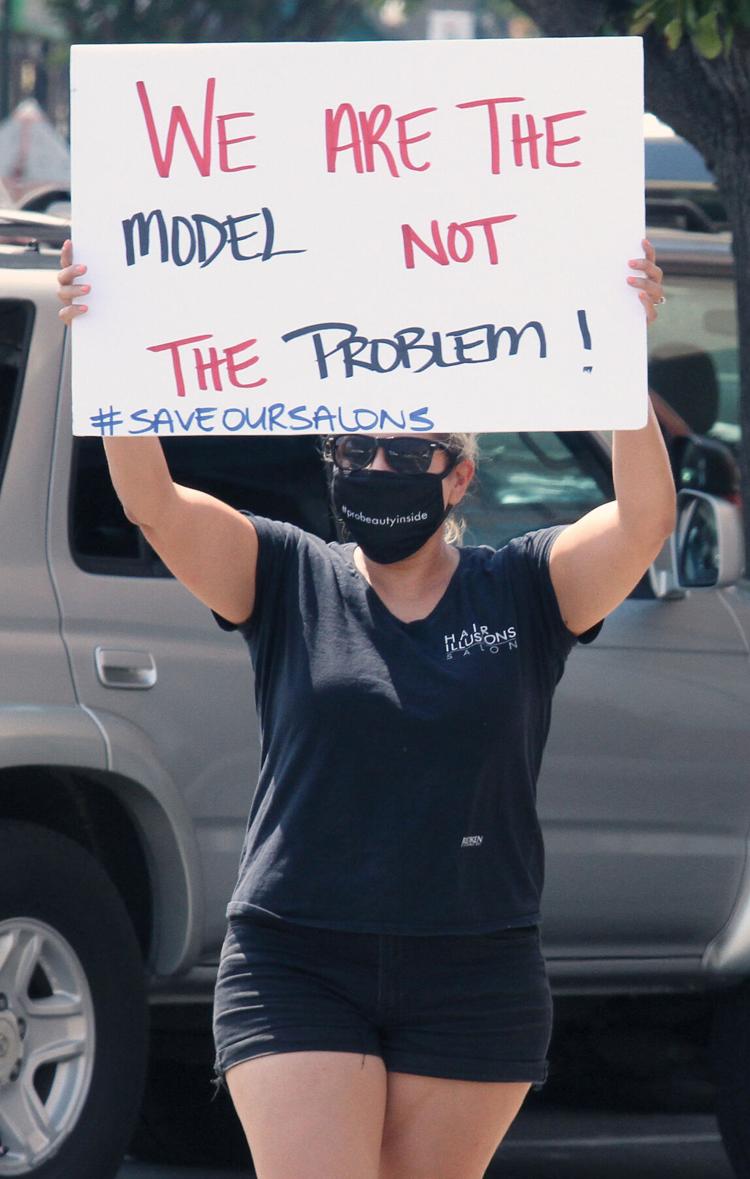 Many restaurants have set up outdoor dining areas in response to indoor service closures. But Cisneroz-Ngauamo said moving outdoors wasn't a safe or practical option for salons, especially in the summer heat. The temperature in Tracy peaked at 108 degrees on Monday, the day of the salon owners' protest.
"We were only out there for 20 minutes and you saw how drenched we are," she said. "Can you imagine getting a haircut drenched in your own sweat as well as your stylist's sweat?"
Other challenges include finding an outdoor water supply and keeping cut hair from blowing in the wind under an open tent.
"No business can function and fully run" outdoors, Masson said. "As professionals, I'm so proud to be in this industry, now more than ever. Our license is there to protect consumers. It's all about health and safety. We as professionals know how unsanitary that option is, and we don't want to put our licenses and the consumers at risk."
She said salon owners' insurance also doesn't cover doing business outside, which would put them at further risk.
When she called the city's code enforcement team to ask what would happen if a salon let clients back inside, she said she was told about warnings, fines and the possibility of arrest for violating the state's orders.
"I've 100% kept my door closed, I've 100% complied. But then I drive around town and barbershops are open and city officials are getting their haircuts inside of those barbershops and I'm being held to one caliber and standard whereas not every company is, and I feel like we should all be equal," Masson said. "Everybody is in the same struggle, and it's at the point where everyone has to do what they have to do. I believe that because I myself am at the point where I don't know what we're going to do."
Stylists who can't work have had to find other ways to pay the bills, Endo said.
"I have people working in restaurants part time," she said. "That's not what they want to do. It's not their calling."
Natalie Juarez, a stylist at The Salon + Spa, is waiting for word about when she will be able to return to work.
"We have to take a step back from the fact that we do hair. That this is our lives, this is our livelihoods, and it's how we make money and this is how we pay our bills," she said. "I pay more rent to be at the salon than I get in unemployment a week. My unemployment wouldn't even cover the cost of my rent."
Masson said that was why she hadn't collected rent from Juarez and other stylists during the closure.
"We have a 3,800-square-foot building that we're still responsible for rent and utilities and all the overhead that goes inside of that. Plus the retail products that we sell that are just sitting on the shelves, that's revenue that we've lost," she said. "I'm one of the main providers in my family and it's affected all of our livelihoods. It's affected people who are employees of ours. It's hindered everybody."
While the pandemic lasts, salon owners worry that there is no guarantee their clients will return even after the closure is lifted.
"It's not something they want to expose themselves to even though we are clean," Cisneroz-Ngauamo said. "It's not important because they've gone so long without it. They're forgetting the luxury."
The group said some people had started heading out of town to places where salons were allowed to be open, including El Dorado and Sonora counties.
Mental health is another concern as the closure drags on. Masson said she did what she could keep moving forward.
"We just try to keep the spirit of our team alive. We still try to reach out to our team weekly. I have communication individually with a lot of the girls and a lot of my team is struggling tremendously. Some just had babies and are barely making it on $167," she said.
"The girls are getting starved out. The industry is being so affected by this. We practice sanitation. We followed all the OSHA, Board of Cosmetology and CDC requirements. We've spent thousands of dollars to bring in Plexiglas walls, COVID-approved cleaner systems. We've taken all precautions. We're safer than most retail, bars and restaurants that are open."