With schools closed for weeks because of the coronavirus outbreak, Tracy Unified School District is making sure children don't go hungry with a Food for Kids program that began Monday.
The director of food services, Lois McDaniel, said that all children ages 2 to 18 can get a free grab-and-go breakfast and lunch every Monday through Friday while schools are closed.
"The whole goal here is to assist families whose entire budgets might be based around their child's eating at school, so we're providing the meals free of charge to the children, so they might as well take advantage of it and ease up their budget a little bit," McDaniel said.
She said the federally funded program was separate from the free and reduced-priced meals served on school days to children whose families qualify.
"This is the same as our Seamless Summer feeding option, where we feed all children ages 2 through 18 free," she said. "This is a flexibility that they have given us to kind of bridge the gap and make sure that children are still able to eat during the school closures."
The California Department of Education received a special waiver from the U.S. Department of Agriculture on March 10 to allow schools that had Seamless Summer programs to provide meals during a coronavirus-related closure.
Lunch and breakfast for the next day are given out at the same time so families only have to go through the distribution line once. Children must be present to get food. Food service workers count the children in each car that drives up and provide only that number of meals.
On Monday, three days after the county superintendent directed all public schools to close for three weeks, McDaniel said food service workers handed out about 150 breakfasts and lunches.
"We anticipate the numbers will grow once word gets out. This has been a quick reaction from Friday to Monday," she said. "We don't know what the numbers will grow to, but we're prepared to feed 500 children a day, minimum."
Lunch on Monday was a soy butter-and-jelly sandwich, a piece of fruit, a serving of vegetables, a mini rice crispy treat and milk. The breakfast was a toaster pastry, fresh fruit and milk.
TUSD food service workers assemble the lunches the day before, bag or box them, and then refrigerate them until they are delivered the next morning to the schools where they will be handed out from 11:30 a.m. to 12:30 p.m. The schools are Central, North and South/West Park elementary schools, Williams Middle School, and West High School.
Food service workers pass the meals through the windows of vehicles that drive up to a distribution area at each school. Children and their family members can also walk up to get their meals if necessary.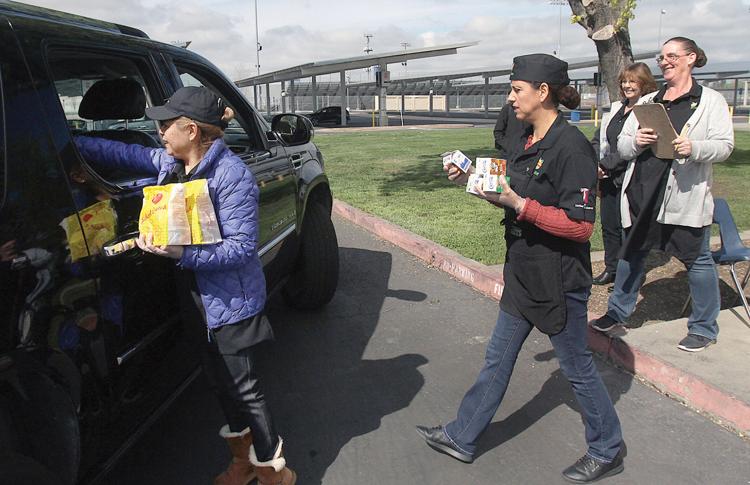 On Tuesday morning, workers in the West High School cafeteria were busy sealing boxes of banana bread and fruit to be handed out Wednesday for Thursday's breakfast. Then workers rolled the trays of packaged breakfasts and lunches into walk-in refrigerators, where racks filled with meals prepared the day before were waiting for children to arrive shortly.
Tracy Unified School District is putting on the meal program, but invitations were also sent to families in the neighboring Jefferson and Lammersville Unified school districts. Any child can go to any of the five school sites to get food.
"Any other school districts that are not providing meals to their community, they are welcome to take advantage of it also," McDaniel said. "We want to reach as many families as we can."