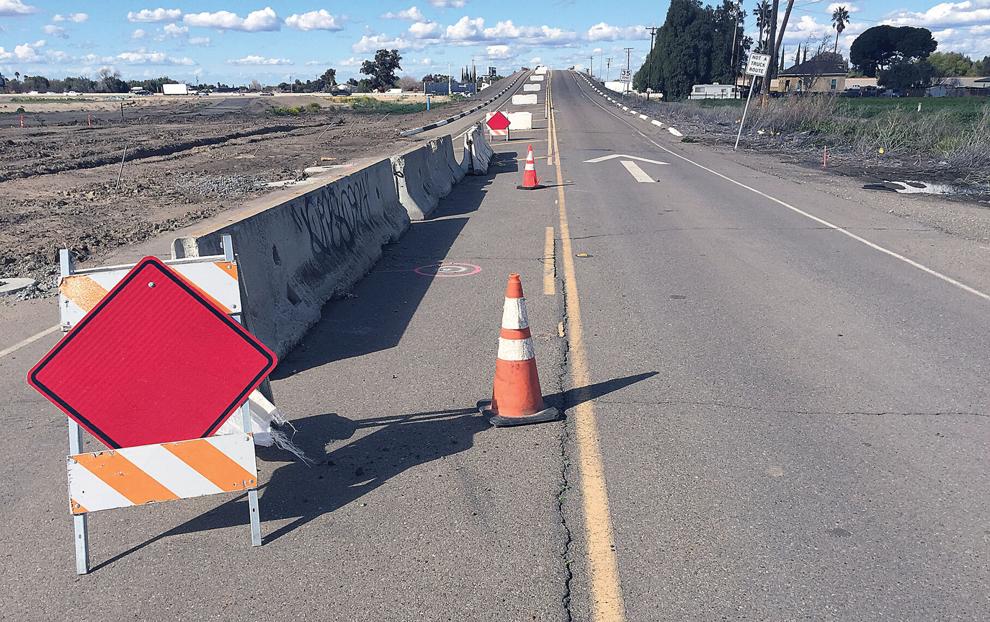 The final step needed to close Hansen Road to through traffic gained the Tracy City Council's unanimous approval on Tuesday, allowing for an 18-month closure of the overpass where Hansen Road crosses Interstate 205.
The council's resolution follows 2 years of hearings and resolutions in response to concerns from neighbors who had become increasingly frustrated with traffic speeding through the Santos Ranch and Los Ranchos Estates area, with Hansen and Von Sosten roads becoming popular routes for speeding commuters trying to avoid traffic on Interstate 205 and truck traffic coming up from the Prologis International Park of Commerce, formerly known as the Cordes Ranch development.
First Hansen Road was set up as a northbound one-way street between Von Sosten Road and the I-205 overpass in January 2022. The San Joaquin County Board of Supervisors then approved full closure of the road in November.
It couldn't be completely closed until the city agreed to shut down the roadway within city limits on the south side of I-205 in order to prevent the possibility of drivers trying to navigate the overpass only to find the roadway closed on the north/county side.
City Senior Civil Engineer Anju Pillai reported that a county traffic study supported the temporary closure of about 400 yards of roadway along Hansen Road, including the overpass at I-205. She said that South San Joaquin County Fire Authority, which has a station at Hansen and Schulte roads, requested a provision that would allow fire trucks to pass through.
Pillai added that the city, county and Prologis have worked together to reach this point, with the developer agreeing to pay for measures that will close the road but still allow emergency access.
"Prologis has been a partner in identifying a solution to mitigate the truck traffic generated from the Cordes Ranch development. They're developing plans for a truck turn-around and an automated fire access gate within city limits north of Cordes Ranch, as well as a way to turn around and an automated fire access gate within county limits."
Bobby Gray, Director of Investments and Capital Deployment at Prologis' new Central Valley headquarters within the International Park of Commerce, said it's in the company's best interests to find a solution.
"We've worked with county staff, city staff, to address this issue, and even though we aren't 100% of the problem we stand here ready to implement based on the city's direction," he told the council. He added that the company focuses on building roadways well ahead of the new buildings to keep traffic moving through the development. Being mindful of neighbors' concerns is part of that strategy.
"We are long-term holders. We don't build and sell. We've been in this community for a very long time and we expect to be here for much longer. We share a lot of the public's concerns that we've heard. We have a vested interest in solving these problems."
Members of the Lammersville community still had concerns about speeding, racing, reckless driving and truck traffic, but they were mostly grateful for the efforts that Prologis and the city have put into addressing their concerns.
Pete Moyer told the council that at first he was frustrated trying to get action from the county, but Prologis company leaders were responsive.
"One day I got mad and called the vice president of Prologis, Matt Drury. I left him a sharp voice mail. It wasn't real polite," Moyer said. "He called me back about an hour later and said, 'I'm on vacation with my family. I'll call you back on Tuesday.' The first sentence he said after that was, 'Prologis cares about our neighbors. Your community is our community. We will work with you in any way and any capacity to resolve your problems.'"
"Their actions, their words, they have stood behind every commitment they've ever made to us," Moyer continued, adding that Tracy City Manager Michael Rogers and City Engineer Koosun Kim were responsive as well. "I appreciate what they've done and I appreciate what your staff is doing."
Tom Heckman of Lammersville Preservation Association, said that ultimately it took everyone airing their concerns to reach a solution.
"It is difficult to get all parties to collaborate but ultimately you did," he said.
"We're certainly not opposed to economic development. We know that it's important. You can't stop it but we've got to do it the right way."
The council endorsed the closure on a unanimous vote with little comment, except to ask about emergency access and also to commend those involved with being persistent.
"Lammersville Preservation Alliance, you guys just don't quit," Councilman Dan Evans said. "I've really gotta tell you, I'm super impressed with everything you guys have done. It's not easy working through a government entity and the red tape and you mentioned brick walls. I've been there."
• Contact Bob Brownne at brownne@tracypress.com, or call 209-830-4227.