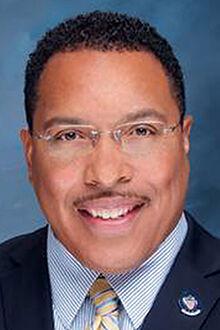 After a year on the job Tracy City Manager Michael Rogers is getting a raise.
The Tracy City Council on Tuesday agreed on a 4-1 vote, with Councilman Mateo Bedolla dissenting, to give Rogers and 6% merit increase, bringing his annual salary from $262,444 to $286,536. The council also increased his car allowance from $500 to $700 per-month and his housing allowance from $750 to $1,000 per-month.
The city hired Rogers on Dec. 7, 2021, and gave him a performance evaluation last month.
Bedolla said that he supports the 4% cost of living adjustment that most city workers get, but he's also mindful of residents who aren't getting raises.
"This action, it's blatantly out of touch with the very real conditions in our community. A majority, or greater than a majority of residents in this city don't receive even a cost of living adjustment. That's the real data."
The other council members all praised Rogers' leadership over the past year. Councilwoman Eleassia Davis noted that a 6% raise, while more than is standard, is appropriate in this case.
"It's about making sure we're able to retain a person that we value and the service he's been delivering to our community," Davis said.
Councilman Dan Arriola added that he's impressed Rogers' insights into redirecting the city.
"You have pivoted. You've done effective work. This can be a challenge with many of the innovative actions that we're taking that have never been done before, and you have led those efforts and I want to thank you for that."
Mayor Pro Tem Veronica Vargas agreed that the city is pointed in a new direction with Rogers at the helm.
"I've been here for 8 years and the movement forward that we have had in the last 12 months is incredible," Vargas said. "You are innovative. Your forward-thinking way of problem-solving and how to get to a win-win situation is something I personally admire."
Mayor Nancy Young noted that in Rogers' performance review he scored high on standards set by the International City/County Management Association, and she also complemented changes in city staff that came about under Rogers' influence.
"We're looking for greater things as we move forward," Young said.
• Contact Bob Brownne at brownne@tracypress.com, or call 209-830-4227.