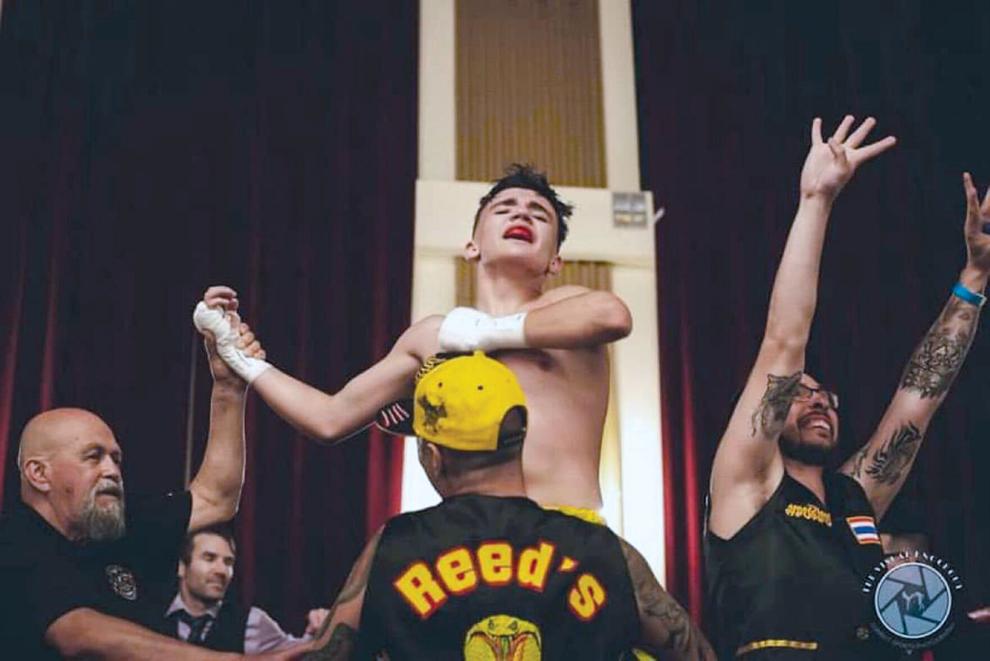 Tracy's own James Reed Martial Arts gym was 3-0 on the night when it came time for Reed's 15-year-old son, Ninja, to step into the ring and compete for the International Kickboxing Federation (IKF) Junior California State Championship at the Muay Thai Purist Full Contact Kickboxing event in Fresno on June 4.
For Ninja, the pressure was on. The feeling of elation and excitement was palpable in the gym throughout the six-week preparation period. His 9-year-old sister, Katana, winning her fight in moments prior, added fuel to the fire. Knowing he had to deliver, Ninja was ready for the moment.
"It was an indescribable feeling," Ninja told the Tracy Press in a sit-down interview. "There was so much pressure. Everyone was so excited, crying. It was so stressful. But I've fought numerous times before, so it wasn't a completely foreign feeling. It was just foreign that a belt was on the line."
Ninja's father, head coach and gym owner, James, felt like by now, fighting on this stage should be like second nature for his son and standout fighter. After all, he has been there before. Ninja's first belt came just under a decade prior, in semi-contact competition.
However, as you get older – and you compete in full contact combat — it just becomes that much more real. Three years out from being a legal adult, the unanimous decision championship victory in the 132-pound class felt like one step closer to the ultimate goal for Ninja.
"It just feels like I am that much closer to where I want to be in my fight career," Ninja said. "It feels like I'm on top of the world and I cannot be knocked over right now. I felt like a mini UFC fighter when my name was announced and that's all I want. I want my name to be announced by Bruce Buffer. That is my dream."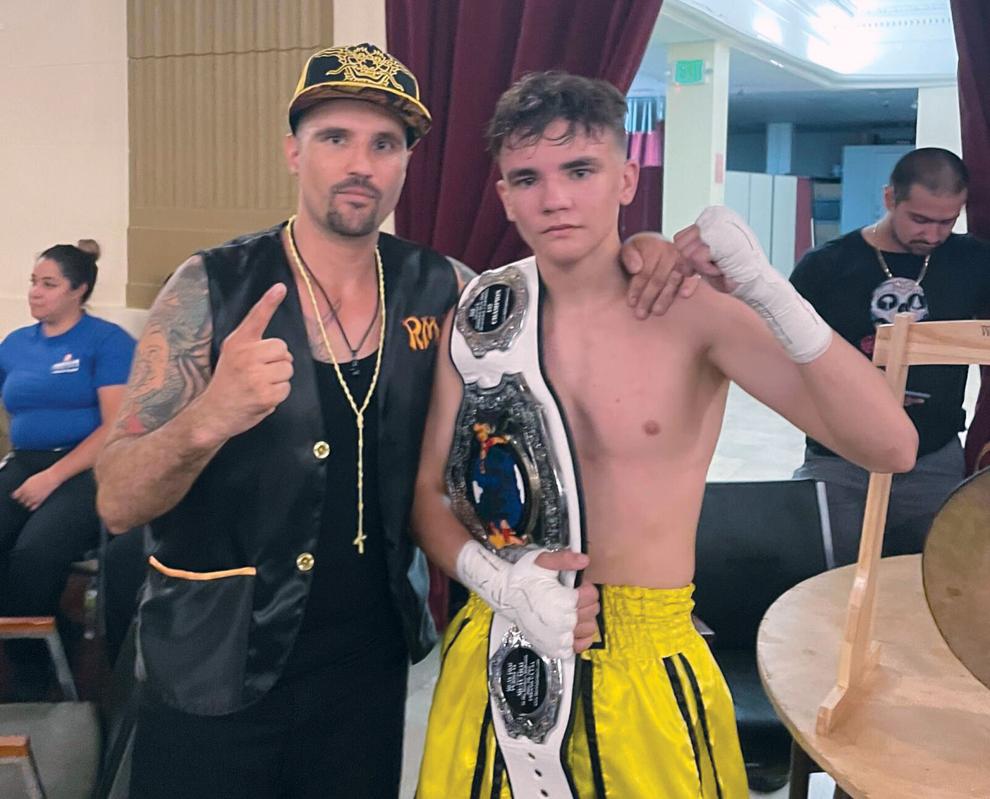 Young Reed's aspirations are lofty. Buffer is the brother of Michael and the pair make for two of the most recognized voices in all of combat sports — Michael in the boxing ring and Bruce as the voice of the octagon in the Ultimate Fighting Championship (UFC), the biggest mixed martial arts organization on the planet.
UFC is the Mount Olympus of MMA. Only a fraction of the world's fighters manages to get there and those that do are wired exactly the same way as the Reed family. They live and breathe the sport, the fighting lifestyle. Ninja was very much born a warrior.
James — a fifth grade taekwondo black belt and Jiu-jitsu brown belt — has a long history in the game, dating back to his own pro MMA days. He is a combat sports purist and for his kids, traditional sports were never an option — nor did they want them to be.
"I have been running the gym since before Ninja was born," James said. "It's what our whole family does. His brother (Andre) will be fighting for the state title in his division next month. His sister just had her first amateur fight. My wife is a taekwondo black belt. So, this is just the way of life. Our way of life."
It's not uncommon for fighter's kids to follow in their parents' footsteps and at least test the waters in the gym. With his title, Ninja has already accomplished a lot more than just trying the sport out. For him, the gym is his safe haven — a happy place. The champ likened it to the way for some people, shooting a basketball is a calming escape. For Ninja, it's hitting the bag.
Ninja recalled a vivid memory of when he was little, in his crib, watching Bruce Lee — as often played by his dad. It was not long before James' obsession became that of his eldest. Speaking of not just Ninja's, but all of his kids' achievements, had Reed beaming with pride. Their dreams have since become his dreams.
"My goals are their goals," Reed said. "They want to be champions, I want to coach champions. When they're winning, I'm winning. I'm not necessarily trying to live through them. I'm trying to live my part as a coach while they're living theirs as fighters."
During the interview, Ninja was sitting very comfortably in his chair — the belt firmly strapped on his shoulder. The deserved feeling of accomplishment was very easy to sense. But so was the hunger in the way he spoke about the sport. In Ninja's mind, his journey has only one destination and he will be right back out there chasing his dreams next month.
On July 31, the Reed family will jet off to Florida where Ninja will compete for another belt — this time in the 127-pound class. As of right now, everything is going according to plan. Ninja is holding up his end of the bargain in the ring and the calls keep coming.
Modeling his fighting style after legendary figures such as Anderson Silva, Max Holloway, and Conor McGregor, Ninja explained that he loves keeping his opponents guessing. He has a natural ability to switch stances and adapt to the styles thrown in front of him. When he's in the ring, he thinks about how he can counter and neutralize his opponent rather than how to hurt him.
Ninja's calm and polite demeanor outside of the ring would not suggest that he does what he does and aspires to do for a living. He revealed that with time, he learned how to channel controlled anger when it's time to compete.
"It's like an on/off switch," Ninja said. "I know when to turn it on or off. When I'm sparring with my friends or fighting for a belt, it's more me thinking about what I am going to do next and how I am going to do things my way rather than thinking about how I am going to hit someone. I'm always trying to think ahead of my opponent."
With time on his side, Ninja is diligently continuing to polish out his game under the watchful eye of his dad and with some help from the accomplished Master Cheetah Chanthanao — a popular Muay Thai champion from Thailand who runs a gym in Richmond. The latter has really helped Ninja improve his clinch.
In MMA, all of the disciplines come together. Therefore, Reed is using his Jiujitsu brown belt to his advantage and teaching Ninja all he knows when it comes to grappling. But for now, Ninja will continue competing in Muay Thai, planning a transition into MMA after he turns 18.
"That's the plan," Reed said. "We will wait until he is 18 because until then, he has to fight with shin pads. After that, there are three more fights with shin pads before you are allowed to take them off. That's when he will look to switch to MMA."
Reed loves that all of his kids are dreaming big and different. Andre, for example, does not want to become a mixed martial artist. In Reed's mind, though, it doesn't matter where they go as long as they recognize the unforgiving reality of the fight game. And if it were to ever become apparent that the waters have become too deep for any of his pupils, he will not be afraid to pull the plug.
"They can take this sport as far as they can, but if you get knocked out once, we're going to talk," Reed said. "Twice, we're thinking about it now. I have done extensive research on concussions and I'm not going to watch them sleeping on their face five times in a row and then talking funny in their 30s.
"I told all of them, if things go wrong when they're older and they get knocked out a few times, that's it. The sport does not give back enough to the fighters to keep going. If they make it to the UFC, great. But I will not be watching them sleep on their face. There will be a reality check."
• Contact Arion Armeniakos at aarmeniakos@tracypress.com, or call 209-830-4229.