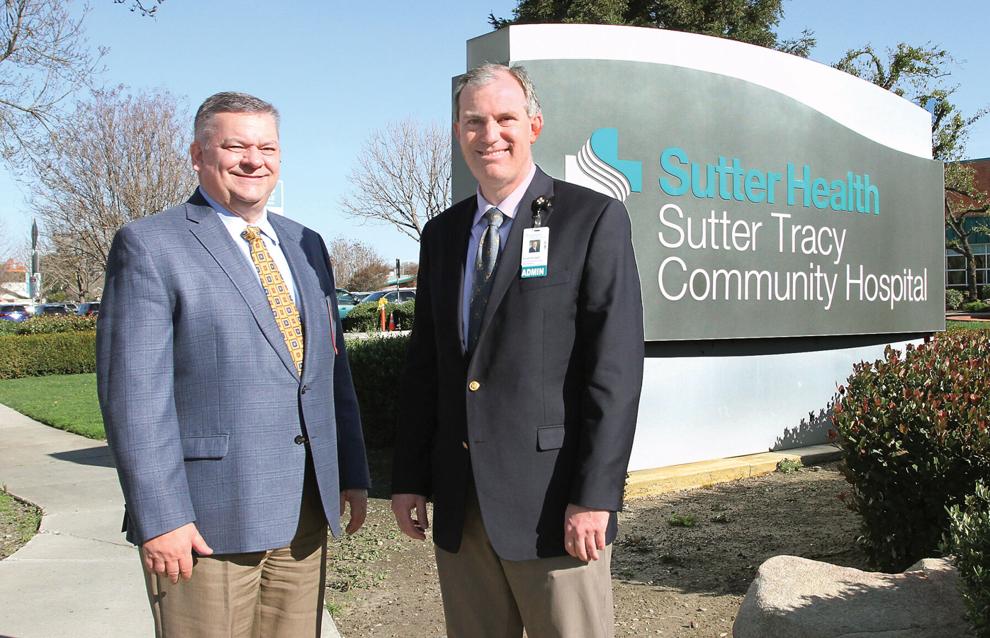 After 17 years as CEO and administrator of award-winning Sutter Tracy Community Hospital, Dave Thompson has retired.
His successor, Scott Knight, came on board Dec. 5, but he is no stranger to Tracy or its hospital. He was STCH's assistant administrator for four years, from 2005 to 2020, before becoming administrator of Sutter Lakeside Hospital in Lakeport for 3 years and then retuning to Sutter Tracy last month.
"I've come back to a great community and hospital," Knight said Wednesday morning in the hospital's administrative wing conference room. "I'm looking forward to the next chapter of the Sutter Tracy that Dave built."
That next chapter means continuing to increase greater service to patients by immediately bringing in more doctors, including specialists in spinal-orthopedics and urology, and continuing to expand the robotic-surgery program, he explained.
The hospital Knight now heads has been named among the top 100 hospitals in the nation twice — in 2015 and 2020. In receiving the awards, Sutter Tracy was one of 20 small hospitals found to have high quality of patient care that includes standards of patient safety in facilities and administration of medicine, lack of complications, outcome of hospital medical care and patient satisfaction.
Thompson said, "I've was pleased to share this recognition with the 750 people, including 600 employees and 150 doctors who have been on the same page and going in the same direction."
He also said that he has been proud that Sutter Tracy in 2019 was the first small hospital in the Sutter Health System to bring in robotic surgery.
The robotic-assisted operations have resulted in less pain for surgery patients and reduced need for pain medications, he reported.
A native of Verona, Wisconsin, Thompson is a graduate of the University of Wisconsin who was involved with his family's dairy farm before entering medical care.
He gained hospital administrative experience with independent and Sutter-affiliated hospitals in Modesto and Manteca, being appointed CEO and administrator of both Sutter Tracy and Sutter Los Banos hospitals in 1994, a year after Tracy Community Memorial Hospital joined the Sutter Health System in 1993.
Thompson and his wife, Carol, are planning to continue living in Tracy. They have a son, Nicholas, who is physician at UC San Francisco Medical Center, and a daughter, Anna, a speech therapist at Tracy's Kimball High School.
The 47-year-old Knight has been associated with medical care for most of his life. His father graduated in the first class of the University of Nevada School of Medicine and was a family-practice physician in Reno, where Scott grew up.
After receiving a Bachelor's Degree in Business Management from Brigham Young University, Knight earned a Master's in Health Administration at the University of Washington in 2003.
His early professional career totaled 15 years of administrative positions in California hospitals including serving 3½ years at Doctors Hospital in Manteca and his four years in Lakeport.
Knight and his wife, Lori, who have four children, will live in Tracy.
• Sam Matthews, Tracy Press publisher emeritus, can be reached at 830-4234 or by email at shm@tracypress.com.