Tracy Unified School District announced new principals for Tracy Charter and West High schools to begin at the start of the next school year.
Annabelle Lee, current principal at West High, will move to Tracy Charter School while Gary Henderson, an assistant principal at Tracy High School will take the reins at West High.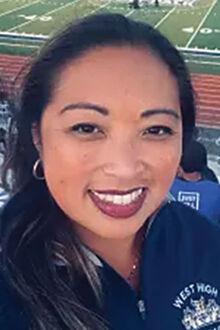 Lee started her career in TUSD in 2017 as assistant principal of Kelly School and moved to West High as an assistant principal in 2019.
She was named principal in 2021 when Zach Boswell was selected and Director of Curriculum and Accountability at the TUSD district office and principal of Tracy Charter school.
Henderson began his TUSD career in 1996 when he was hired as an English teacher, becoming English Department Chair in 2006. In his 27 year career at Tracy High he has been a coach, Athletic Director and assistant principal.
Lee said she wanted to make the change to her new job as the district saw an increasing enrollment at the online-based Charter School, making it necessary to hire a full-time principal there.
"I think that is my strong point: technology. I am very techy, I love technology and incorporating it into classrooms and so forth," Lee said. "It's a tech based online school and I've had K-12 experience so I am super excited because I've been at all levels. I kind of requested it, and said, 'If you don't have anyone in mind I'd love to be there.'"
She said she is still coming up to speed on the Charter School, saying students work from home on different activities, with projects based on the Edgenuity program, with different labs done all online. Students come in once a week for an hour to meet with a teacher to go over their progress.
Currently Tracy Charter School has 375 students enrolled.
"I'd love to see it grow and grow into more programs. And since you can build charter schools under charter schools, see what other services we can offer where students stay in Tracy Unified," Lee said.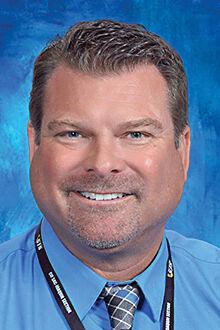 Henderson said he was ready for the move to the campus across town.
"I'm excited, it's a great opportunity. Kind of ready for a new challenge at this point in my career and that's what it presents itself as. I'm all in, ready to do what I can to help make West the best version of itself," Henderson said. "I think it's a great school with great staff and great students, great programs and I just want to be able to provide whatever it is they need me to be to help make it the best it can be."
He knows it will be hard leaving his Bulldog family at Tracy High after so many years.
"It's part of my family. I grew up at Tracy High School basically, starting as a 22-year-old kid. My own kids went here but they are grown and gone so I'm kind of at a point in my career, I have to go and do this," Henderson said.
Moving to West wouldn't be too hard of a step for the crosstown rivals.
"I look better in blue I think, I'll have to get rid of all my green and gold but that is part of the deal but the best part of that whole rivalry is, having coached through it and everything else, at the end of a game or a match or whatever it is our kids get together and hug and take photos together. So it's really Tracy community so that's how I view it," Henderson said. "I was in the interview process for Mountain House (principal) and it just didn't feel right because it wasn't Tracy. The community is very important to me and giving back to it and that's why I chose West High School."
Both positions take effect on the start of the 2023-2024 school year on July 1 with first day of school set for Aug. 7.
• Contact Glenn Moore at gmoore@tracypress.com, or call 209-830-4252.