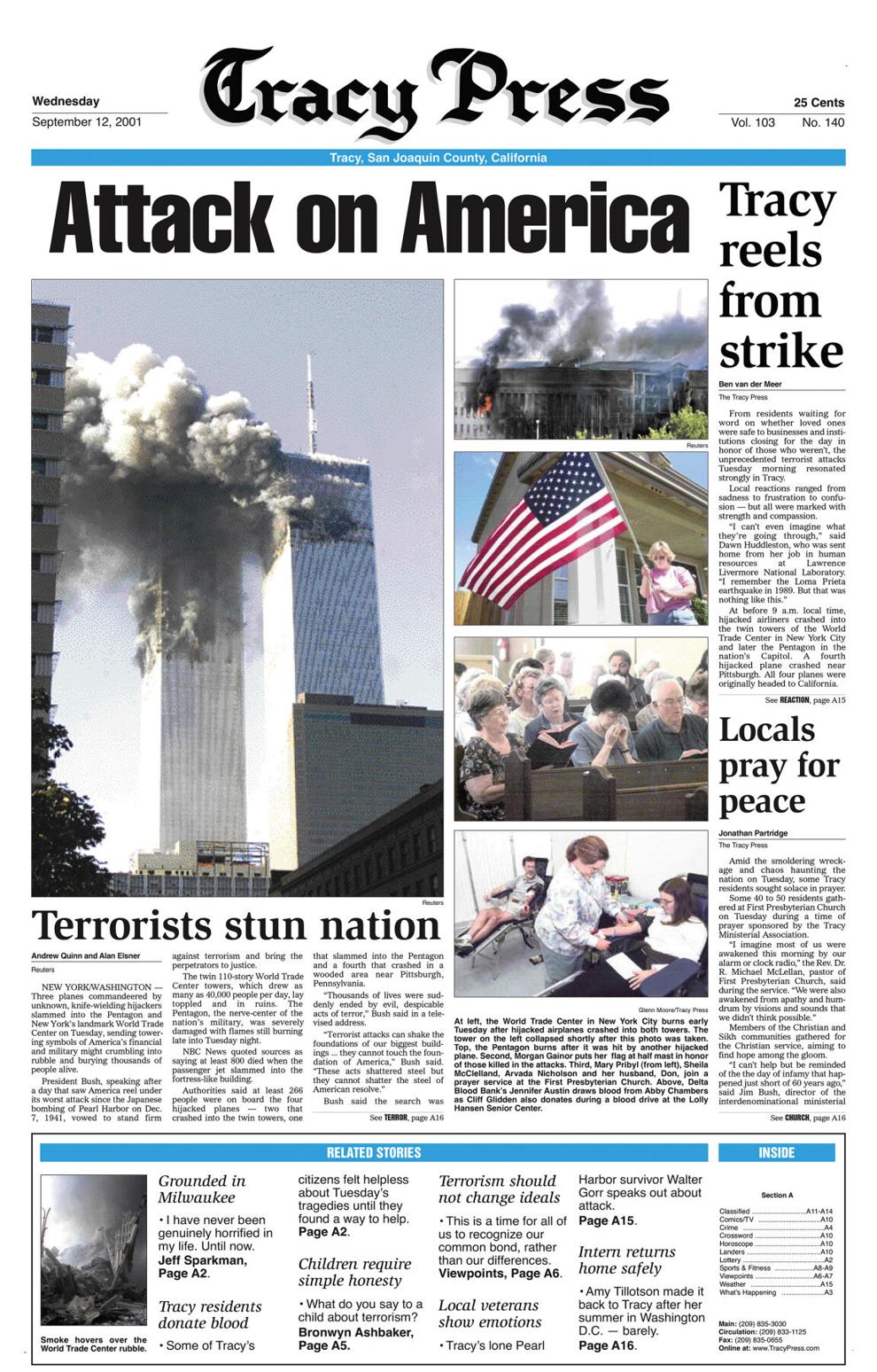 On Tuesday, Sept. 11, 2001, before the work day started, the Tracy Press staff knew about the tragedy that had hit the World Trade Center in New York, the Pentagon in Washington D.C., and as the day progressed news would continue to come in about a related plane crash in Pennsylvania.
It quickly became clear that the terrorist attacks of Sept. 11, 2001, were of a magnitude that would change the way the entire country thought of, talked about and reacted to international terrorism. By the end of the day reporters and editors would gather local reactions and local angles to the story.
Reporter Ben van der Meer summed it up in the lead story of the Tracy Press Sept. 12, 2001, edition:
From residents waiting for word on whether loved ones were safe to businesses and institutions closing for the day in honor of those who weren't, the unprecedented terrorist attacks Tuesday morning resonated strongly in Tracy.
Local reactions ranged from sadness to frustration to confusion — but all were marked with strength and compassion.
"I can't even imagine what they're going through," said Dawn Huddleston, who was sent home from her job in human resources at Lawrence Livermore National Laboratory. "I remember the Loma Prieta earthquake in 1969, but that was nothing like this."
Stories in that edition told how some Tracyites volunteered to give blood for the victims of the falling towers of New York's World Trade Center. Others gathered in local churches for prayer sessions.
Talk of terrorism and tragedy continued through the day at high schools in Tracy. In many classes, the day's lesson plans were replaced with discussions of the day's events.
When Robin McCracken took a phone call from her husband, David, a United Airlines pilot, just before 7 a.m. Tuesday, his first words were, "You'd better sit down."
David McCracken was scheduled to leave on a flight from Washington, D.C., to San Francisco -- the same planned route for the United plane that plunged into the Pentagon.
"He probably knew all the pilots who died," Robin McCracken said. He said Washington is like a ghost town. People are numb."