The city of Tracy is close to widening Corral Hollow Road between West Schulte Road and Linne Road, but first it will have to carve away portions of the front yards of people who have long lived along the two-lane blacktop.
On a unanimous vote, the Tracy City Council has agreed to begin the eminent domain process on nine properties. They are part of a formerly rural neighborhood that is increasingly surrounded by new subdivisions.
On Tuesday night, utilities director Kul Sharma reported that the city needed to acquire rights of way from 55 properties to have room to widen the road. So far, 34 property owners have agreed to sell portions of their front yards to the city. The city is still negotiating with 12 more, but has reached an impasse in negotiations with nine of the property owners.
The resolution of necessity that the council approved Tuesday is an initial step in a process that could have the city using its eminent domain authority to take the land in exchange for whatever price the city's appraisers believe is fair.
Sharma said that there's still time to reach agreements with the property owners before that happens.
"We will continue working with them if they are open to work with us to have a settlement in the land acquisitions even though we're asking the council to adopt the resolution of necessity," he said.
Those property owners who spoke to the council Tuesday said the city's offers didn't come close to compensating them for the land they would lose, especially because front yards that once sat along a country road will be replaced by a busy four-lane thoroughfare running toward new homes in the Ellis and Tracy Hills projects.
Errol King, whose home sits across from Midway Drive, told the council that the $39,600 the city was offering for 1,630 square feet – a 14-foot slice from the 116-foot frontage of his property — wouldn't compensate him for what he would actually lose.
"My parents built that home about 65 years ago, so we've been in Tracy for a little while," King said. "I realize the road is going through. I think all of the ladies and gentlemen here today realize that too. It isn't a question of whether it's going to happen or not going to happen. The question is how it's going to happen and whether it's going to be equitable and fair to the people who are sacrificing."
He brought in real estate appraiser Stephen Clark, who appraised King's property and some of his neighbors' properties as well. Clark told the council that the city was changing the nature and value of those properties.
"I haven't seen all of the appraisals, but the ones I have been involved with, that I can see, there was never any severance damage given to the impact that the noise and vibration from going from a two-lane to a four-lane road with a lot more traffic," Clark said. "There was never any consideration given to the damage that would be incurred to someone who maybe had their bedroom fronting the street, or the living room fronting the street."
He added that the appraisal that the city lists for these nine properties is nowhere close to his own appraisal.
"When I'm three times higher than the city's opinion, and I've been doing this a long, long time, I've never seen that order of magnitudes as a difference of opinion," he said.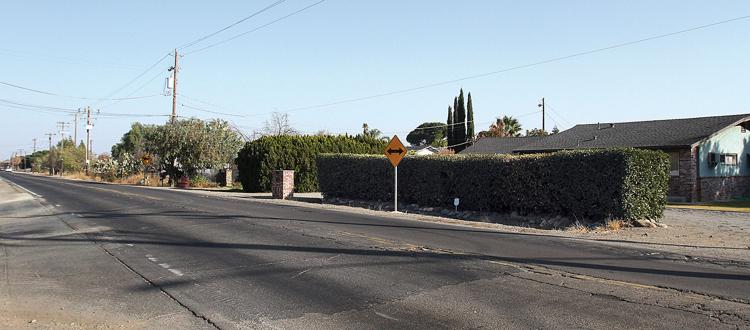 Emily Durkee, whose home is on the west side of the road just north of Valpico Road, said that the 14 feet of land the city wanted to take would effectively remove her front yard.
"There's no way that it's not going to damage my house," she told the council. "When that becomes a four-lane road — which I know is going to happen, I understand that — it's going to be a lot louder and it's going to be a lot closer, and it's going to shake my house even more than it already does."
Todd Amspoker, the attorney who the city hired to begin the eminent domain process, said there was still time to work out agreements with the property owners, who could have their own appraisers participate in the negotiations.
He said the city's appraisal wasn't the same as the city's final offer, and in past negotiations, "the city's right of way agent offered in many cases substantially more" in recognition of the property owners' concerns about loss of value.
"There were efforts to bridge that gap, but these were just situations in which that gap could not be bridged and that's why the matter is before you," he told the council.
He said future steps could also include court-ordered mediation.
"Those mediation sessions are extremely effective, because these are folks, retired judges, who understand what a trial is and what a likely outcome is, and will be able to carefully consider each side's appraiser and consider those circumstances and make adjustments and make recommendations to the parties to settle," Amspoker told the council.
"More than 90% of the cases settle, and I fully expect that will eventually happen in this matter."