The slump in the local economy as businesses cut back or close up shop will also cause Tracy's city government to enact big cutbacks in the 2020-21 municipal budget.
On Tuesday, the city's finance director, Karin Schnaider, reported that revenues for the city's general fund were already expected to fall about $4.7 million short of the $97 million that the city is expected to spend. That was before state and local stay-at-home orders caused many local businesses to lock their doors and lay off workers.
Even without the coronavirus emergency, Schnaider reported that existing revenue and spending trends could translate to a $10.1 million deficit by 2030.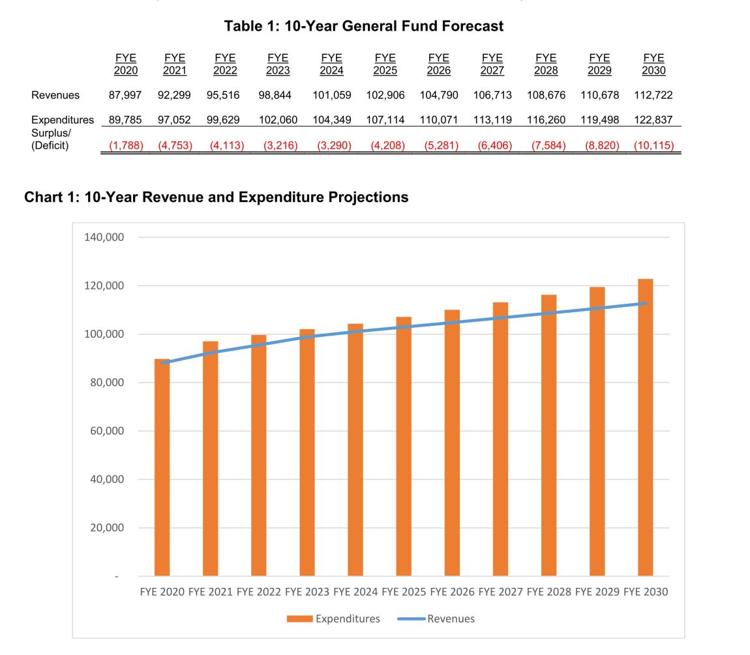 Because of COVID-19, some of the city's key revenue sources, such as sales tax and hotel tax, will decrease by up to 20% in the 2020-21 fiscal year. Even if the economy begins to rebound this summer, those revenues, plus revenue from property taxes, are unlikely to grow in the short term. That means budget deficits of up to $15 million could become reality within four or five years.
Schnaider told the council that strategies for this year's budget include a hiring freeze, elimination of vacant positions on the city staff, reduction of city service levels to essential service, cutbacks in purchases of supplies and equipment, and efforts to extend the use of existing equipment.
"We're going to focus on producing a balanced budget to you within our means by doing some short-term, one-time savings," she said. "We don't need it to be too complex right now because we want it to be reversible. We don't want these to be permanent."
The council will look at a preliminary budget on May 19, and June 2 is the expected date for adoption of that budget. Schnaider recommended creating an ad hoc committee of two council members to take a critical look at budget priorities after that.
City Manager Jenny Haruyama added that the council would have to consider its budget priorities, weighing an aquatics center versus street improvement and maintenance, for example, while also taking steps to reboot the city's economic development efforts, including hiring an economic development manager.
"We heard you loud and clear that business attraction and jobs are super-important, so we're going to make sure that we have the folks in place to make that goal occur," she told the council, adding that public safety was also a priority, including security in city parks. "Your budget is a numerical representation of the council's goals and priorities, and so we do take that to heart when we bring you a recommended budget."
Councilwoman Veronica Vargas agreed that an economic development manager would be instrumental in rebuilding the city's business base.
"I am just looking to make sure that by September or December, before we bring back another report that will show our increase in income and what our deficit will be, that we have also economic revenues forecast to offset it," she said. "Bringing those businesses in is going to take some time."
Mayor Pro Tem Nancy Young pressed Schnaider for details on growth assumptions for sales tax and property tax revenue versus increasing personnel costs. In an ordinary scenario, a 3% increase in sales tax and a 5% increase in property tax still wouldn't keep pace with the growing cost of salaries, pensions and benefits for public employees combined with inflation.
"We know COVID is right now, and it's going to be a one-time emergency, although it's going to have a ripple effect," Young said, "But that's not even on top of these already widening things that are consistently going to be happening over this time."
Councilwoman Rhodesia Ransom said the city should get updates on how many businesses in town have closed, both temporarily and permanently, because of the COVID-19 stay-at-home orders.
She added that the city should also consider relying less on consultants and contractors and instead turn to city staff for detailed reports and studies as well as maintenance work around town.
"It's come up plenty of times about the use of contractors, and so now we have the opportunity to try and really maybe get some of our staff able to do those things and permanently cut back on the cost on some of those contracts," Ransom said. "As long as we can continue to have a city that is presentable, I'm OK with that."
Councilman Dan Arriola endorsed the idea of setting up an ad hoc committee, saying that many topics that needed to be addressed weren't appropriate for discussion with the full council in open session, especially personnel issues, which are generally handled in closed session.
"I think that if we really want to have a comprehensive plan to address these issues, we need to be able to discuss with our city attorney, very openly, repercussions for some of those labor agreements and many of those contracts, which we simply cannot do out here," Arriola said.
He added that any subcommittee would be obligated to report back to the council on a regular basis in open session, where the public could comment on budget priorities.
The council voted 3-2 to appoint Vargas and Arriola to a budget ad hoc committee, which will give regular reports to the full council. Young and Mayor Robert Rickman dissented on the vote.
"The public has a right to inform us of their concerns of what direction they want to see. You don't get that in an ad hoc committee," he said. "On something this big, you should have as much input as you can, of resident participation.
"I think a workshop would be better. It would allow the public to comment. It would allow the public to participate and it would allow all five council members to give input."