The city of Tracy is one step closer to creating a homeless shelter in town, giving unsheltered people someplace to go instead of city parks, possibly by sometime in November.
The Tracy City Council approved an $899,000 plan Tuesday night on a unanimous vote, which will allow the city to clear a site next to the city's wastewater treatment plant and prepare it for a group of temporary structures. The council also authorized the city staff to seek out proposals from service providers who could run the shelter.
Assistant City Manager Midori Lichtwardt told the council that the city staff settled on the site at 500 W. Arbor Road because it is owned by the city and is vacant, so it can be developed within the next couple of months. Lichtwardt said the request for proposals will go out this month, a contract could be awarded in October, and the shelter could be open by November.
She said the project fits with the city's Homelessness Strategic Plan, approved by the City Council in May, which lists a temporary shelter as the first of several goals and objectives. The money to pay for it will come from the city's Housing Asset Funds, including $690,000 already dedicated for homelessness prevention, along with $100,000 from a federal Community Development Block Grant and $109,000 from federal coronavirus relief funds.
Council approval of the strategic plan followed the declaration of a local "shelter crisis" in March. At that time, council members said that a shelter in town would be an answer to the Ninth Circuit U.S. Court of Appeals decision in a 2019 court case out of Boise, Idaho. In that case, the court ruled that cities that don't provide homeless shelters cannot arrest or cite people who violate local ordinances that prohibit people from camping in city parks.
Under the plan approved Tuesday, people who have been living on public property would be redirected to the new shelter.
The site of the new shelter is between Arbor Avenue and the eastern end of Larch Road, in the same area as the wastewater treatment plant, city maintenance yards and some light industrial businesses. Lichtwardt said the site would need to be graded, with an access road, water pipes and fencing also to be added. The plan the council looked at Tuesday includes four main buildings, which Lichtwardt described as Sprung structures, as well as buildings for generators, restrooms and showers.
Sprung is a company that works across North America, Europe and the Middle East, including at a San Francisco office. Its structures are made of aluminum I-beam frames covered with fabric membranes, which can vary in thickness depending on the user's requirements for durability and insulation.
The company's website shows its buildings used as warehouses, manufacturing facilities, port buildings, airport hangars, field hospitals, offices, film studios, and sports and entertainment venues. The company also shows its buildings used as various types of homeless shelters.
"These are shelters that are springing up throughout California," Lichtwardt said. "Many nonprofits and cities and counties are using these because they can be put up quite quickly and at a much lower cost than brick-and-mortar."
Public comments on the project were mostly supportive. Jim Osborne, executive director of Tracy Community Connections Center, which has provided assistance to people experiencing homelessness for the past five years, said it's time for the city to take action on providing shelter.
"I think this is a step in the right direction to help get people off the street," Osborne said. "I know that it's not a perfect solution, but I do also know that regardless of the location, I am sure the city manager's office will work hard to be able to make sure that the needs such as transportation are met, and that we will be able to step up and provide some sort of temporary shelter, particularly when during the winter months are coming and we need places to keep the homeless from getting wet and cold."
Lichtwardt said Tracy has an estimated 150 people living on the streets or in city parks.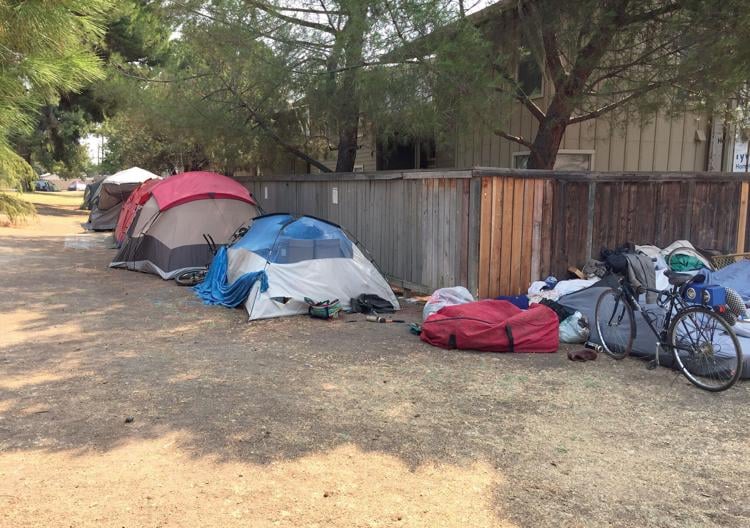 Some of the people at El Pescadero Park said Monday that they would be glad to see the city offer something more than what they have now.
"Some might want to go, some might not," said Wayne Polk, who had been homeless in Oakland before moving to Tracy, where he has an apartment and does what he can to help people in the same situation he used to be in.
"I'm quite sure it would help," he said. "I've been homeless before, so I know, that would help a lot."
He added that people living on the streets need access not just to shelter, but also to social and medical services.
"If some of these people could see some doctors, that would help too. Just a screening or something to help them out," he said. "I think because of the change in the weather coming up soon, a lot of these people would need to get out of the cold weather."
Gregory Scott said he's been living in his car with his two dogs. He has lung cancer and has to go to Stockton for the services he needs.
"At least there can be someplace we can go here to sign up for all of that," he said.
Alex Gomez said he's been at El Pescadero Park for the past year, watching a small group grow to the much larger encampment it is today.
"That's what they should have done a long time ago," he said of the city's plan. "They should have had somewhere for us to go like that, even if it's a little bit further away."
He said that people end up going to the park because it's close to service providers, such as Tracy Interfaith Ministries. Tracy Community Connections Center sets up mobile showers at the park twice a week, and groups also stop by to provide meals. He added that unsheltered people feel safer in town, even though police require them to periodically take down their tents and move their belongings so city workers can clean the park.
"It's getting better here, I think," he said. "It just doesn't look good with all the tents. I'd go to Larch Road."
Some people said they would need to know what kinds of rules applied to a new shelter before deciding to use it. Bobby Buchee has been camping out at the park but noted that he is employed, working the graveyard shift.
"If there's a curfew, am I going to get in trouble for that?" he said. "If it's something like how we are now, I think it would be all right.
"The only thing we would have to worry about is people in other tents stealing everything, like they always do."
Lichtwardt told the council on Tuesday that, in addition to building a shelter, the city's plan is to have a shelter operator that can connect people with services and permanent housing.
Councilman Dan Arriola, who was on the ad hoc subcommittee that drafted the plan, said that this is just the first step as the council works toward its other goals and objectives in the plan, including permanent housing for those seeking shelter.
"I believe that, as a City Council, it's our job to serve all of our citizens, including our unhoused citizens, so I think it's important that the city of Tracy is stepping up," Arriola said.
Councilwoman Rhodesia Ransom, the other member of that subcommittee, said the council's action on Tuesday wasn't an ideal solution, in part because she didn't favor the location. She added that it was still long overdue considering the prevalence of encampments around town.
"It's happening all over the nation, but it's happening right here," she said. "I think it should make us all uncomfortable that we're seeing this growth, and we as a city that's soon to hit 100,000 people don't have any solution until now."
Mayor Robert Rickman has been skeptical about the city's Homeless Strategic Plan, stating that he wanted more public participation in developing the plan, but this time he joined the rest of the council in approving the proposals.
"It's either this or allow individuals in our parks, and I think that's a no-brainer, but at the end of the day, you have to make sure somehow we're getting mental health and substance abuse treatment too," Rickman said, stating a position he has repeated many times.