The Tracy City Council is ready to bring cannabis into the local business mix, possibly as early as next spring.
Tuesday evening's City Council workshop at Tracy City Hall was the chance for city leaders to consider exactly where certain types of businesses could open.
City Attorney Leticia Ramirez told the council that Proposition 64, approved by California voters in 2016, makes the cultivation, sale and use of cannabis legal for all adults, with limits on quantities that people can grow or possess.
Cities still have the authority to adopt stricter regulations, specifically when it comes to issuing business licenses for cannabis-related enterprises and regulating them through local land-use laws.
For several of the 30 or so people who attended Tuesday's two-hour workshop, the city's efforts are a sign that Tracy will join the effort to bring cannabis into the mainstream.
Doug Morrow, who works as a consultant for cannabis businesses around the state, said the city's goal should be to make cannabis, now that it is legal, as accessible as possible in response to a still-thriving black market.
"We in the industry want to work with you to make this work. It's to your benefit and our benefit," Morrow told the council.
He added that cannabis is suitable for boutique-style stores where people can talk with professionals about the variety of products.
"If you build it, if you regulate it in the manner that creates the ambiance of what you want, that's what will develop," he said.
Jennifer Noska of Tracy has been an advocate for medical cannabis since she found that it relieved her severe headaches.
"I've been using cannabis for over a year now. It's changed my life," she said. "I now work for the company Proof Extracts and I go to dispensaries. I educate people in dispensaries and teach them about cannabis.
"I want health and wellness for Tracy, and I think that's the movement that's really moving with cannabis, and we all need to get on that and be aware that it's changing people's lives. It's helping people."
Anthony Wiench, a 22-year resident of Tracy, said the medical benefits of CBD, a cannabis derivative that does not create the "high" normally associated with the plant, should convince municipalities to treat cannabis enterprises like any other local business.
"If it wasn't for CBD, I wouldn't be standing here right now. I'd be in a wheelchair," he told the council, referring to four ruptured disks that he said would leave him disabled if not for the therapeutic benefits of CBD. "I'm very passionate about the business."
"We have a little bit of an identity crisis," he added. "Do we hide it away in a warehouse, or do we have it on Main Street? It helps a lot of people. I think if we get a positive message out that we could become quite famous.
"I lean more in a boutique arrangement. Be unique. Everybody's doing it. We could hide it or we could be in the forefront and I'd like to be in the forefront, personally."
There was also a call for caution. Tracy resident Abdul Wahid said that too little is known about the long-term effects of cannabis use for the city to treat dispensaries as a Main Street type of business.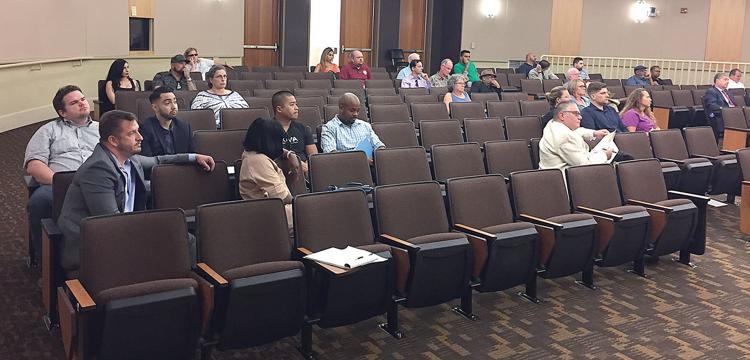 The primary task for the city at this point is to consider each type of business licensed under the state Bureau of Cannabis Control — retail, delivery, processing, distribution, laboratories, indoor/outdoor cultivation and microbusinesses that could include a combination of these activities — and assign them to appropriate city zoning designations.
Assistant Development Services Director Bill Dean showed the council a series of maps, starting with one showing industrial areas on outer edges of Tracy's city limits and then another showing commercial districts scattered all around town.
Dean pointed out that the city must also consider that the new state law created by Proposition 64 requires a 600-foot buffer between any cannabis business and places such as schools and youth centers.
He added that some considerations could apply to any type of new business.
"I don't think that trying to introduce too much retail in an industrial area is necessarily a good composition mix in a lot of the industrial areas," Dean said. "We are trying to broaden what is allowed in the industrial areas. We're looking at additional retail just given the changing nature, but what we've heard through our research — and this could change in the future — is that the retail dispensaries like to be with other retail."
In any event, the city can always make any cannabis business go through the "conditional use permit" process, typically reserved for land uses not specifically allowed under city zoning designations. Use permits generally go through an additional review process, including planning commission hearings.
City Manager Jenny Haruyama laid out a timeline for the council, including visits to cannabis businesses in other cities later this month and a workshop next month on new zoning ordinances, with adoption of ordinances later in the fall and the city taking applications for new cannabis businesses by April.
Mayor Robert Rickman said the city must look at whether commercial cultivation would work, if it were allowed. Though the council did not vote on the matter, the general consensus was that the council would oppose outdoor cultivation. Council members also had concerns about indoor cultivation, such as whether a building that housed a growing operation could then be repurposed for new users, considering that it might be impossible to eliminate the lingering smell of the cannabis flowers.
"The will of the voters makes it clear that they want this kind of industry here in California, so we have an obligation as their representatives to enact the will of the people, and that's what we're doing here today," Rickman said. "It's a new industry, so there are a lot of questions that we have to answer. We want to do it right the first time so we do not have to come back and correct it."