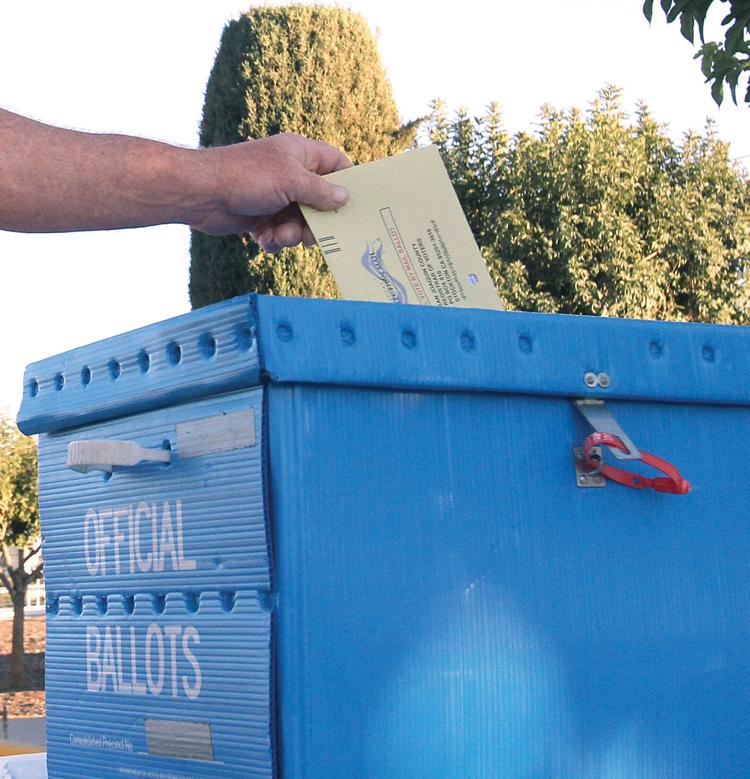 Mail-in voting has already become the norm in San Joaquin County, and in the month leading up to Nov. 3, the county's elections office will be set to count ballots that arrive by way of the U.S. Postal Service, through in-person polling places, and through the elections office's own drop boxes.
San Joaquin County Registrar of Voters Melinda Dubroff said she's aware of concerns about the reliability of voting systems, and to address those concerns, her office has established protocols to make sure everyone gets a ballot, to ensure that all of those ballots are counted, and to eliminate the potential for duplicate ballots to be counted.
While the prospect of COVID-19 spreading through in-person interactions looms over the 2020 election, Dubroff said that mail-in voting had already been steadily growing in popularity in San Joaquin County, with 75% of the more than 150,000 ballots cast in the March primary election returned through the mail. That election saw about 46% voter turnout. Heading toward November, she said 80% of the county's 340,000 registered voters have signed up to vote by mail.
"Because of the popularity of vote-by-mail that already exists, for the majority of voters, this will not change how they do things," Dubroff said.
There will be a big change for voters who are accustomed to showing up in person at their polling places. Dubroff said that the neighborhood polling places — there were 189 polling places countywide in March, including 26 in Tracy and three in Mountain House — will not be used this time.
Instead, there will be 34 voter service centers throughout the county, each serving as a satellite office to the county elections office, that will be open for four days, from Saturday, Oct. 31, through Tuesday, Nov. 3.
Even though every registered voter will get a vote-by-mail ballot, which the elections office will send out Oct. 5, voters can still go to those service centers to cast their votes. Locations will be announced when the elections office sends out ballots.
"Any voter in San Joaquin County can go to any of those 34 voter service centers and get the ballot that they're eligible to vote on," Dubroff said, adding that they can fill it out right there as they ordinarily would when they vote in person. "They will put it in a return envelope, sign the envelope and deposit it in the ballot box."
Voters can also fill out the ballot at home and take it to a service center on any of the four days the service centers are open. The service centers can also register people to vote on the same day they vote, subject to post-election verification of their eligibility to vote.
Dubroff said her office has planned on the possibility that not everyone will get their ballot by Election Day. Those who don't get a ballot can call or email the elections office to receive one any time between Oct. 5 and Nov. 3.
"They don't need to wait for the voter service center to open to get a replacement ballot, but issuing replacement ballots will be one of the services available at the voter service center," Dubroff said.
Ballots must be postmarked Nov. 3 at the latest, and the elections office will continue to count ballots until Nov. 20, which gives elections staff 17 days to reach out to voters if there are problems, such as a mismatched signature.
Dubroff added that her office has designed its vote-counting system to assure that nobody votes more than once. Every ballot cast must have the voter's signature, which will be matched against the signature in the elections office files.
"The signature is checked by people. It is not a computer program that checks signatures," she said. "If there are any issues, it gets reviewed by a supervisor, and at the end of the election, we make sure we've accounted for every ballot that was challenged. In the elections I've been here, I've personally reviewed all of the signature mismatches."
The elections office then updates that voter's registration record to note that the person has already voted, and any subsequent ballots for that person will not be counted.
"It can happen, especially if we send you a second or third ballot, because your dog ate the first one and you lost the second one, but you find it again, and you end up turning in two ballots," she said. "Once we have counted that first ballot that you returned, we get the second ballot and your record will say 'already voted.'"
She added that the process of checking signatures and looking over duplicate ballots is also designed to catch voter fraud.
"Whenever we suspect that someone is trying to vote someone else's ballot, we will pass that information along to the state's voter fraud investigation unit in the Secretary of State's office, and our district attorney," she said.
"Sometimes people want to just prove that there's something wrong with the system. There was a gentleman in Alameda County who wanted to prove that he could register his dog. That was caught and the district attorney proved that he committed voter registration fraud. These are serious matters."
Dubroff is also confident that the post office will be able to handle all of the ballots.
"There's a lot of fear right now about the Postal Service, so it's important that voters know, we do have a close relationship with our local post offices," she said, adding that her office and the Secretary of State's statewide elections office communicates regularly with the state and local offices of the Postal Service.
"At this point it's every other week, we have a conference call and we ask our questions. Like: Are you removing post boxes? That was a real concern recently in the media. Right now, there is absolutely no plan to remove any of those blue post boxes in San Joaquin County. The post office is not removing any sorting equipment," she said.
Dubroff added that her office will also put official ballot drop boxes at each of the seven city halls in the county, among a total of 24 drop boxes around the county. Those will be set up on Oct. 5 and stay in place through Election Day.
Dubroff said the best-case scenario is that people register early and send in their ballots early.
"Whether that's through the mail — we'll certainly get it in time if it's postmarked on or before Election Day — or deliver it directly to us through the drop box, or voter service center, or just walk it into downtown Stockton. We've got a 24-hour drop box outside of the county building," she said. "We want to help alleviate concerns people have about the post office, but also give them more options, so they can stay at home, vote at home, and get that ballot to us without concern."