When voters in San Joaquin County cast their ballots in the Presidential Primary Election on March 3, they will use a new voting system approved by county supervisors last week.
San Joaquin County Registrar of Voters Melinda Dubroff wanted to reassure voters in Tracy and throughout the county that their voices would be heard.
"With the audit logs and the extra reporting features, this system brings a new level of transparency," Dubroff said. "If people don't trust the voting system, it will affect turnout. People need to know their vote matters and their votes count."
The California Secretary of State has decertified the county's old voting system because it's outdated and no longer meets state standards.
"Back in 2003, they didn't have the type of encryption we have today," Dubroff said. "They didn't have multifactored user authentication and things like that, so it really required us to get a new system as soon as possible."
On Dubroff's recommendation, county supervisors approved buying a Hart Verity Voting System for $2,506,452 at their Sept. 10 meeting. The system is from one of only two vendors that meet the state's voting standards.
"Those standards are the most stringent in the nation, actually more stringent than the federal standards," Dubroff said. "The system that we have been using since 2003 is accurate and secure. It's never been connected to the internet and votes have been counted correctly. However, it's long past its end of life."
The registrar's staff will place one Hart Verity Touch Writer, an accessible touch-screen voting machine, at each polling place in the county. That machine can be used by people who can't put pen to paper because of a mobility issue or visual impairment and by those who need an audio ballot due to limited reading proficiency. When the voter is finished, the machine prints a full paper ballot marked with their choices that Dubroff said "will look exactly the same as every other paper ballot."
"We did a town hall in Tracy earlier this year and one of the topics the attendees brought up was how important a paper ballot is," she said. "Unlike the other systems out there, the Hart system creates a paper ballot for everyone, and it really equalizes the voting experience for everyone."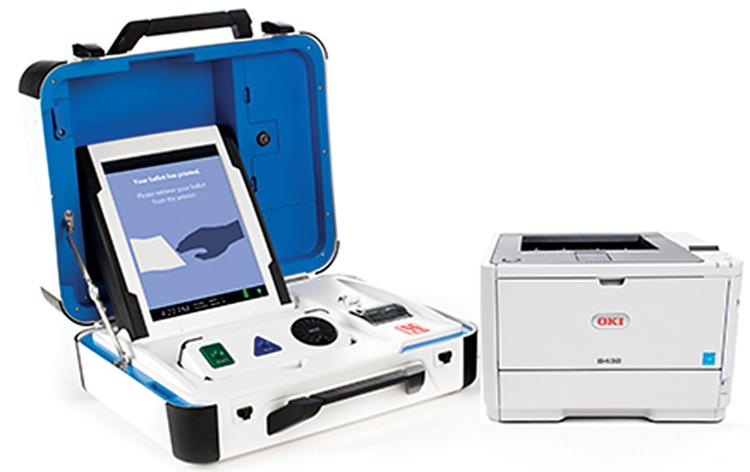 Dubroff said the voting experience for most people will be mostly unchanged, with paper ballots to fill in, but the new ballots will look slightly different. In the past, San Joaquin County voters marked their votes by filling in a small red bubble next to the selection. The new ballots will have larger rectangles to fill in, a change Dubroff said will make them easier to mark. Completed ballots will be placed in a ballot box as usual, and when the polls close, the ballot boxes will be taken to a secure warehouse to be scanned.
People who go to a polling place on Election Day will also notice a shift to electronic poll books.
"Voters will come in, and instead of signing a paper roster that was printed a week earlier, we'll have iPads that have been certified by the Secretary of State for the voter to sign in," Dubroff said. "They will have much more up-to-date information — the date of birth of the voter, whether they are a vote-by-mail voter — so I think that's where voters are going to see the biggest difference is a smoother check-in process at the polls using the electronic poll book."
That change is unrelated to the replacement of the voting system, she said.
The only change for people who vote by mail will be the different-looking ballot.
Behind the scenes, Dubroff said the new voting system is far more robust, calling it "a welcome leap in technology and usability."
"One of the aspects that this new system improves is our transparency, in that a lot of the work we do for write-ins and adjudicating voter intent will be digital and on screen, so when we have observers come to our office, they will actually be able to see how we are adjudicating the ballots when there are ambiguous marks," she said.
When precincts deliver their ballot boxes for counting, three new high-speed scanners will read 130 ballots a minute, much faster than the old scanners that had to be hand-fed ballots one by one. That will require far fewer Election Day workers. For the last election, 90 people fed 80,000 or so ballots into 45 scanners, supported by more people giving logistical help.
"I expect we will have more votes reported earlier than we have in the past. However, we can't analyze election night results until all precincts have reported, and there are always some precincts that take longer to close up or deliver their supplies," Dubroff said. "I don't think I'm going to be going to bed any earlier on election night."
Between now and the primary election in March, the registrar's staff will receive and set up the new system, learn how to use it, and hold a mock election as a trial run.
The candidate filing deadline is Dec. 6. After that, the registrar will begin consolidating precincts and building the ballot layout.
"There's really a lot of work to go in to preparing us for a successful election in March," she said.