Sheriff's deputies and state parole agents made a sweep through Tracy and Mountain House on Monday, looking for those recently released from county jail or state prison to see if they were complying with the terms of their release.
The multi-agency effort was designed to catch those at risk of becoming repeat offenders before the Fourth of July. Lt. Ryan Biedermann, acting captain of the San Joaquin County Sheriff's Office Lathrop Police Services and commander of the operation, said the week leading up to the holiday is when agencies often get reports of gunshots mixed in with complaints about dangerous fireworks.
"There is such an uptick before the Fourth of July in illegal shootings, illegal fireworks. We're inundated to the point where calls wait for hours for someone to respond because there are so many. Hopefully this lessens the impact of that," Biedermann said.
"We can take people off the street who shouldn't be there because they have active warrants or some type of criminal activity. The whole idea is to make our Fourth of July a safe holiday."
Biedermann said people on parole or probation and their homes are subject to search at any time, and those visited this week were not necessarily in violation of the conditions of their early release from county jail or state prison.
"It's just to ensure that they're abiding by the stipulations of their parole, that they're maintaining, abiding the law," he said. "We learned through analytics, and doing this for a while, that offenders are usually repeat offenders."
He said that the people being searched could be arrested if officers found weapons or drugs, and there was also the possibility that someone associating with them might be wanted by the police.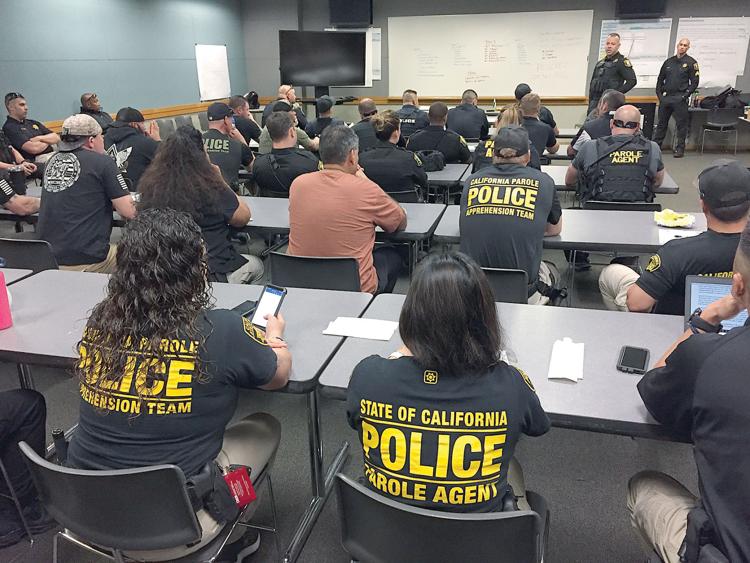 By Wednesday afternoon the operation did 90 searches across Tracy, Mountain House, Manteca, Lathrop, French Camp, Ripon and Escalon, made 28 arrests and found two people in violation of their state parole. At one home they found a man who had a honey oil lab (concentrated cannabis), with children in the house, and at another they arrested a parolee who had marijuana for sale as well as gun parts and illegal fireworks.
The operation recovered a large amount of illegal fireworks and three guns, including one that had been reported stolen, a stolen car and also made 105 traffic stops and 13 other stops of suspicious people.
The three-day operation started with a briefing Monday morning at the sheriff's office headquarters in French Camp. There were 62 officers involved, including Tracy police officers, divided into four teams. The unidentified undercover officer leading the briefing explained that each team would have a list of parolees, people on probation, and sex offenders who had not updated their registration.
Each team had up-to-date information on each person they planned to visit, including any recent arrest warrants for offenses such as missing a court date or known parole or probation violations.
"Once you're done with those target locations, and I don't imagine it will take terribly long, especially with the amount of people here, we'll go into saturation," the briefing officer said, which would allow local agencies to add the extra officers to their regular patrols. "If you guys have target locations that you have been working on or locations you want to check on, that's fine."
Sgt. Kahekili Seto and his team had a list of 10 people in Mountain House and Tracy who they planned to visit. A public information officer from the sheriff's office, Andrea Lopez, and three media representatives followed close behind for the first three stops.
Lopez noted that the people they were going to see weren't expecting a visit, so the officers needed to be prepared for any outcome. They wore protective gear, took along a police dog and were equipped with the latest ballistic shields. They were also briefed on what to expect when they knocked on a door, including the possible presence of children, family members or other people.
At the first house Seto's team visited in Mountain House, the man they were looking for — a parolee who had served time for felony assault on a firefighter — was home. Officers handcuffed him in case he was inclined to run or fight, or in case they found something that would make him subject to arrest, and took him to a patrol car to ask him some questions while other officers looked in the house.
After about 15 minutes, they released the man and he went back inside. Seto said he was in compliance with the terms of his parole.
The second man they were looking for at a house in Mountain House was on probation for possession of stolen property. He was not there, but members of his family met with officers and let the team look around the house. Lopez noted that officers would look only in the rooms the man had access to and would not search family members' bedrooms.
Seto said the man was wanted on a warrant from a Bay Area agency, which made him subject to arrest and violated the terms of his probation.
"His family said he hadn't been there for eight months," Seto said, adding that the man's whereabouts were unknown. "The family doesn't know. They were told if he made contact with them to let him know he needs to turn himself in."
Meanwhile, the deputies who work in Mountain House, which is served by the sheriff's office, will be on the lookout for the man.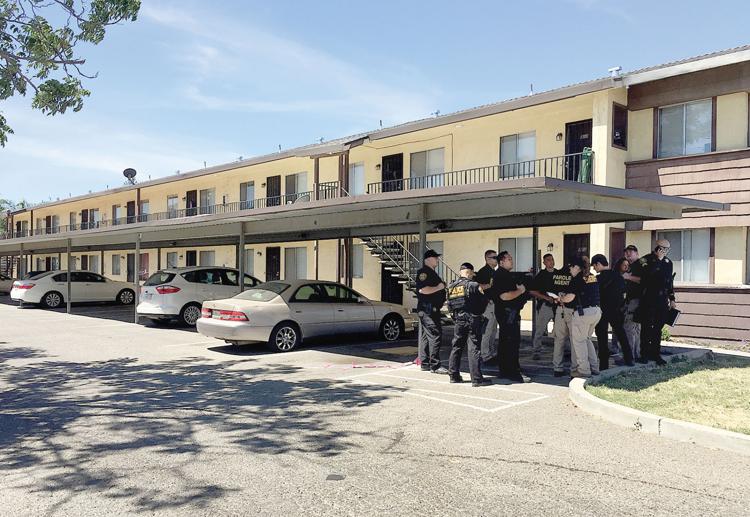 The team then visited an apartment complex on West Carlton Way in Tracy. They expected to find a man who had served time for being a felon in possession of a firearm, with a gang enhancement, and for possession of marijuana for sale. He was not at home, but the apartment manager let officers into his apartment.
Seto then learned that the man was moving out of that apartment and had recently rented another apartment two doors down. A woman answered the door and let officers in.
"He's a parolee but he has a job, so he was probably at work," Seto said, adding that he had spoken with the man's parole agent. While the man was overdue to check in with his agent, he didn't have any known violations. After looking through both apartments, the team took no further action.
"He's usually at work, so we just wanted to confirm that he was compliant with all of his procedures," Seto said. "He's been trying to do the right thing and keeping a steady job."