San Joaquin County relaxed its COVID-19 restrictions again on Friday, this time to include dine-in restaurants and retail stores among those businesses that can open to the public.
Some of the restaurants in Tracy's downtown were ready to start seating customers in their dining rooms, and retailers found that their customers were eager to start shopping again after those businesses were reduced to curbside pickup or closed all together.
Gesaranee Wongphiboonrat, owner of Tracy Thai on Central Avenue, said her restaurant had been open for takeout and delivery, and on Monday she opened the dining room to customers for the first time in more than two months. By Tuesday, only a few had come in, but she expected business to gradually pick up.
"I think people don't know yet. We also have phone calls, people call in and ask if we're open for dining," she said, adding that she expected the gradual reopening to mean a new routine for her and her staff. "It's going to be a lot of adjustment, but we're going to work it out. Right now we don't know what's going to happen because it's still new, so we'll see how it goes."
On Sixth Street, Elaine Bogetti and Elaine Pombo were sweeping off the sidewalk and cleaning the windows at Elaines' Boutique, which they had reopened on Friday after being closed since March 12.
"As far as we knew, watching the news, we couldn't open" before that, Bogetti said.
Pombo added that once the shop was open again on Friday, they saw plenty of people eager to go downtown again, "and a lot of happy faces, to be able to be around humans again."
"All of downtown was really busy, so it's just nice to see this community come out and support everybody," she said, adding that it was an encouraging sign with summer approaching. "I think it's going to be a good year for us because I think people want to keep our downtown going. They don't want to see it fold up. I think people are going to really be supporting of restaurants and retail."
Rosa Junqueiro, the new owner of Mia Bella Unique Home Décor and Gifts on 10th Street, said the COVID-19 shutdowns hit just as she retired from her 37-year career with the San Joaquin County Superior Court, the last 16 as the court's executive officer, and embarked on a new career running the downtown Tracy shop.
She opened at the start of May, expecting that a selection of gourmet food items at the front of the shop would qualify her as a grocery store, but closed again after a visit from the city's code enforcement officers. She still kept the business active until she was able to open her doors Friday.
"I was assisting customers over the phone, through Instagram, Facebook, and helping customers at the door, curbside, and on Thursday we all got word late afternoon we could open Friday, and we've been open ever since," she said Tuesday.
Starting a new business venture in the middle of a pandemic is a challenge, but one that she fully expects to meet along with other local merchants.
"I look at our history in the United States. We went through the Great Depression, and how many little mini recessions have we had since then? I've lived through them all with my prior career," she said. "I just have a belief that this country is strong and will bounce back."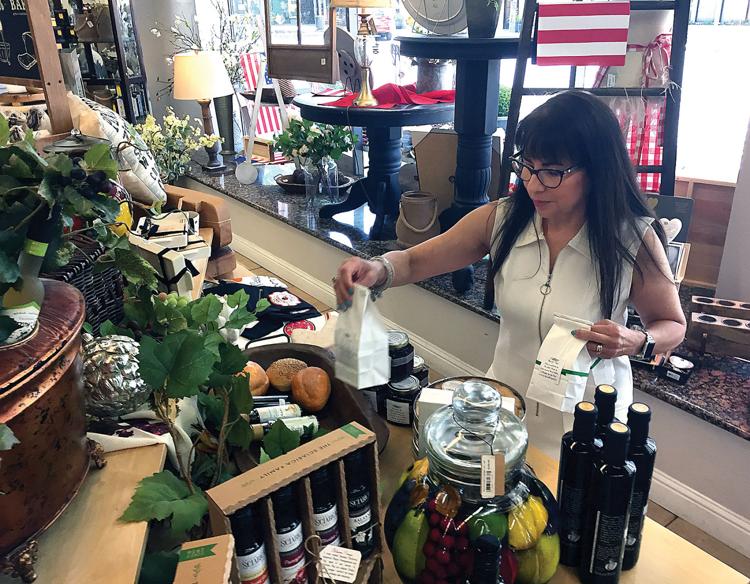 The reopening of some businesses was just the latest step in a gradual reopening of the local economy. The state and local stay-at-home orders in response to the spread of COVID-19 continued to be relaxed through the week.
In a statement released Thursday afternoon , the county public health officer, Dr. Maggie Park, said that the county had met state standards for testing capacity, hospital capacity, protection of essential workers, protecting vulnerable populations and epidemiological stability.
In other words, the rate of new infections and hospitalizations has stabilized. As of Tuesday, the county was reporting that 771 cases of COVID-19 had been reported among county residents, and that 598 of them had recovered and 33 had died. No deaths have been recorded in the past week. Tracy accounted for 109 of the county's confirmed cases. The county also reported that 167 people had been hospitalized with COVID-19 since the first local cases were reported in early March, with 13 in the hospital as of Tuesday.
The businesses allowed to open as of Friday were dine-in restaurants and retail stores; logistics and manufacturing centers; certain service-oriented businesses, namely car washes, pet grooming, landscaping services and child care centers; offices; and outdoor museums or open gallery spaces. All are still required to meet sanitation and social distancing standards, as spelled out in guidelines for restaurants and for retailers developed by the California Department of Public Health and Cal/OSHA.
On Tuesday, hair salons and barbershops were cleared to reopen with extra precautions. In-person religious services and cultural ceremonies can also resume cautiously, with limitations on how many people can gather in a given space.
The businesses and venues that must still remain closed include bars, winery tasting rooms, gyms, nail salons, tattoo parlors, movie theaters, community centers and pools, concerts, festivals, and sporting events.