Outdoor dining will expand right out onto 10th Street as downtown restaurants adapt to a new state mandate barring indoor dining as COVID-19 spreads more rapidly across the state.
The block of West 10th Street between B Street and Central Avenue has the densest grouping of restaurants in the downtown district. Soon, it will be temporarily converted into an eastbound one-way street with the north half of the road becoming a pedestrian area for outdoor dining.
That might be enough to keep some restaurants from failing, says Dino Margaros, executive director of Tracy City Center Association, which developed the plan.
"In some cases, it's going to be a make-or-break situation to get those seats and tables out there to have people dine," Margaros said. "Takeout's just not going to cut it in many cases. It just doesn't pencil out."
Water-filled plastic barricades were set up Thursday as the city and downtown merchants prepared to launch an outdoor dining pilot program on …
Plans were underway to help Tracy's downtown restaurants expand outdoor dining even before Gov. Gavin Newsom ordered 19 counties with rising COVID-19 case counts to shut down indoor dining for a minimum of three weeks on July 1. Social distancing rules had already severely limited the number of seats available for dine-in customers.
Local law allows restaurants to use patio spaces for dining, and many downtown restaurants had a few tables outside their front doors before the pandemic.
"We're kind of encouraging restaurants, before anything else, maximize your outdoor dining space as it sits right now on the sidewalk," Margaros said.
The next step from there is to add parklets — essentially blocking off and transforming a few parking spaces into an additional seating area. Individual restaurants within the Tracy City Center Association boundaries along West 10th Street, Central Avenue and Sixth Street can apply for a city permit to expand out into the public right of way.
Some have already done so. In front of Juniors' on Central Avenue, canopies were set up across a few angled parking spaces Thursday morning, marking out a future seating area. Over on Sixth Street, Scarlata Farms Cellars used planters to outline a space shaded by umbrellas and filled with small folding tables and chairs.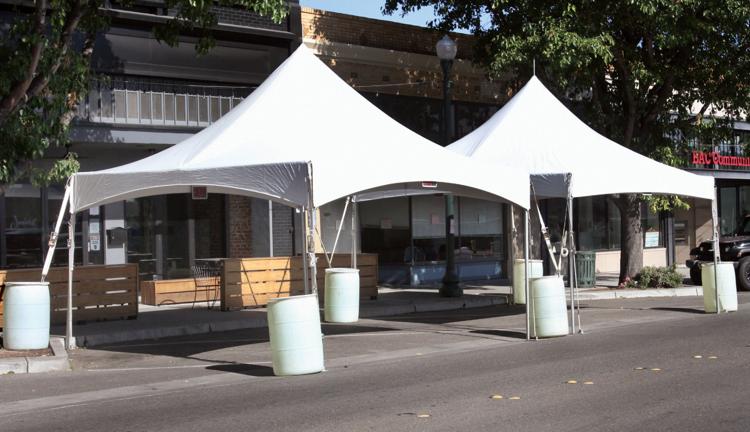 The one-way street closure on 10th Street will add room for more tables and a larger buffer between diners and passing cars. Concrete K-rails or water barriers will block off the pedestrian area, which Margaros expects to have open for dining by Wednesday.
The eastbound lane and the parking spaces on that side of the street will remain untouched.
"We're really trying to strike a balance between the needs of our restaurants and the needs of our other merchants, whether they are retail or service orientated. We're trying to accommodate everybody to the best of our ability," Margaros said. "We're confident it will happen and we're confident it will happen sooner rather than later."
Mike Trotter of Town & Country Café plans on making the most of the opportunity to expand out onto 10th Street.
"I think it's a must in order for us restaurants downtown to survive," Trotter said. "All of us — the Commons, Bistro (135), Chapter 2, Juniors', Thai Jasmine, Delta Brews, Purgatory and us at Town & Country — everybody involved needs to utilize for sure that space to make it beneficial for everybody involved, because sales are just not there.
"The community has definitely supported, there's no question about that. They want to go out and sit down and have a nice meal and relax a little bit, and takeout just isn't cutting it anymore."
Just before the new ban on indoor dining, Trotter had shut down Town & Country for two weeks to remodel and make it easier for patrons to keep a safe distance during their meals.
"Literally the day he announced the three-week closure, that was our first day of opening, I was just absolutely blown away," he said. "We had done a lot of different things to make the social distancing more effective and easier to deal with in here."
Local restaurants will have to return to takeout or outdoor patio service for at least three weeks as COVID-19 rates continue to rise.
To start, Town & Country will serve breakfast and lunch at 18 tables spaced 6 feet apart on the patio, sidewalk and street in front of the restaurant. Dinner offerings will come later as the restaurant is able to add more servers and cooks.
Looking forward, Trotter expects the indoor dining ban to last more than three weeks, which makes the extra space on the street even more valuable. And he figures the outdoor dining options will attract more people who will then shop at nearby stores.
"I think it's going to be longer," he said. "The reality is I think all businesses downtown on 10th Street are going to be pleasantly surprised with what is going on and the amount of people coming down here."
Margaros agrees that the state's restriction of indoor dining is likely to last longer than three weeks. The partial closure of 10th Street will also continue into the foreseeable future until the restrictions change. At that point, the downtown district will evaluate how it went and see whether people want to keep some of the parklets or even a larger downtown pedestrian zone on a more permanent basis.
"We're looking at it as kind of a trial, kind of a little bit as an experiment," he said. "But from everything we heard, and looking at other cities and talking to other entities, it's been very, very successful elsewhere. And we have every reason to believe it will be successful here and be positive for downtown and positive for the restaurants in general."
As soon as Tracy City Center Association gets approval to put the barricades in place, the one-way street closure will begin. It will be up to the individual restaurants to get the tables, chairs, umbrellas and other equipment they need to begin expanded outdoor dining. Businesses that serve alcohol also need to apply to the state to expand their liquor licenses to cover outdoor dining.
The downtown farmers market, which traditionally uses that same block of 10th Street from 8 a.m. to 1 p.m. on Saturdays, will move to Central Avenue between Sixth and Ninth streets.