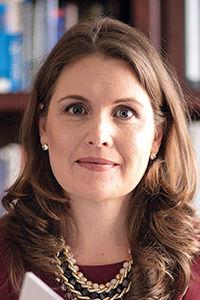 Why do you believe you will best represent the 10th Congressional District?
Growing up on my family's farm, I was blessed to learn the value of hard work and dedication. This work ethic stems from my grandpa, Everest "Bill" Sousa, who attended New Jerusalem Elementary and Tracy High, and with his partners started ACE Tomato Company in Tracy.
In addition to my deep Valley roots, my legislative and regulatory expertise is unmatched in this race. Early in my career, I learned not only how to listen to people's needs, but how to respond to those needs. I know how to shape and move legislation to make a positive impact on those of us living in the Valley.
I have advanced a variety of federal projects and policies related to agriculture, transportation, economic development and job creation. Together, these roles have prepared me to best serve the 10th Congressional District.
Why did you decide to run for Congress?
Families, like mine, are struggling across the Valley. It is not only essential that the 10th Congressional District is represented by someone who lives by our Valley values of faith, family devotion and hard work, but someone who can hit the ground running when they get to Congress.
I know this district needs someone who understands agriculture, transportation, policy and the needs of the Valley. I have the skills needed to serve our Valley best.
What is your experience in elected office, and what do you count as your two most important accomplishments?
While I have never served in elected office, for the past 20 years, I have been advising elected officials and advocating on behalf of Valley residents to ensure the needs of the Valley are not forgotten in Washington, D.C., or Sacramento.
While serving as legislative director for former Tracy Congressman Richard Pombo, I advanced projects and policies important to the Valley in Congress. This includes securing millions of dollars for transportation infrastructure projects located within Tracy.
While serving as a federal policy advisor to the city of Tracy, I advanced the city's priorities before Congress and the federal agencies. This included working with Congress to enact legislation to addresses a bureaucratic problem which prevented the city of Tracy from using property on Schulte Road for a job-creating renewable energy project.
While serving as a regulatory affairs manager for the California Strawberry Commission, I engaged regulatory agencies on policy issues with the potential to positively or negatively impact the viability of production, shipping or processing of California agricultural products. This includes bringing federal regulators, state regulators and farmers together to discuss best practices for reducing agriculture's current labor shortage within the confines of the nation's only existing ag guest worker program (H-2A).
As an appointed member of the San Joaquin County Aviation Advisory Committee, I am proud of the work we have done to attract air cargo — and expand passenger service options for our region.
My family is my most important accomplishment. Together with my husband, Ray, we are raising our three children to be kind, caring and respectful members of our community. My family has taught me so much about life, devotion and love. They are my greatest accomplishment — and my greatest teachers.
My most important career accomplishment was my role staffing former Congressman Richard Pombo on the Firefighter Pay Equity Act (P.L. 106-558). When the Federal Wildland Fire Service Association endorsed me, President Casey Judd said, "Our relationship with Marla spans almost two decades; we are indebted to her for all the work she has done on behalf of federal wildland firefighters." He also said, "Marla's proven experience and commitment to wildland firefighter issues make her the obvious choice for Congress."
What do you see as the most urgent issue facing this district? How would you respond to it?
Lack of leadership and respect for those with differing political views has been felt across the nation. Here in the 10th Congressional District, families struggle as Congress continue to prioritize political fights above our need for affordable health care and quality education.
I will advance legislation to allow people to purchase health care that suits their needs, as opposed to being forced into high-priced comprehensive plans. I will work with the House Energy and Commerce Committee to advance policies that are both patient-focused and market-based.
I will work with the House Education and Labor Committee to advance a choice in education initiative. This will allow parents to take their hard-earned tax dollars and choose the school that best fits their child's needs. I will also support vocational education institutions that teach students a trade to provide for themselves and their family and help keep good jobs in the Central Valley.
How will you approach the crisis of homelessness as a member of the House of Representatives?
The homelessness crisis is not something that just happened overnight; it is the result of years of poor policy decisions. Congress needs to work with states to address mental health and drug addiction. Congress must resist sending blank checks to states who treat symptoms of homelessness but not the cause. Congress should gather feedback from those on the ground, like the Modesto Gospel Mission and the Stanislaus Housing Authority, to identify the needed federal investment and to identify and remove federal funding barriers.
Many Tracy residents commute for work, and distribution is a growing industry in this area. How will your policies address transportation needs?
I have worked on major surface transportation authorization legislation in Congress, served as legislative affairs manager for the San Joaquin Regional Transit District, and am currently an appointed member of the San Joaquin County Aviation Advisory Committee. These roles have allowed me to become deeply involved with various modes of transportation, including an inside look at the project prioritization process, funding mechanisms and project delivery.
In addition to supporting improvements to our current transportation network, we need new ideas and solutions. The Bay Area's no-growth policies have pushed families to the Valley as the Bay continues to build out businesses/employment centers. This unbalanced growth has had a tremendous impact on the lives of those commuting from the Valley — and their families. That said, I support investing in job training of our constituency — and incentivizing businesses to locate here in our district. Together, this will take pressure off our overcrowded transportation network. Keeping jobs local will allow families more time together, build a sense of community and let us focus on what is really important to us.
If elected, how do you plan to address access to and supply of water for agricultural and urban use?
My family and farmers across the Central Valley continue to deal with uncertainty when it comes to water. Legislative and regulatory bodies have created a regulatory drought which threatens the vitality of agriculture and the stability of our communities. We must stop threatening historic water rights and stop layering restrictions on the web of water policies. It's time to build and maintain new water storage, time to stop flushing good water to the ocean, and time to protect water rights.
What economic policies do you support for agriculture? Logistics? Small businesses?
Our multibillion-dollar agriculture industry feeds the nation and the world. As with other industries, it is important that our economic policies allow farmers and ranchers the ability to keep their hard-earned income. Access to credit is also important for both agricultural operations — and the broader industry jobs that these operations support. That said, the best economic policies in the world will be useless if the government continues to restrict access to water, labor and crop protection tools. I understand this point and I will fight to ensure our farmers and ranchers have the tools and policies they need to be successful.
I support policies which enable investment in transportation infrastructure at our ports, airports, freeways and railways. I also support investments in warehousing infrastructure and employee training programs to ensure our residents have the skills needed to attract and keep business in the 10th Congressional District.
I support policies which reduce unnecessary regulatory burdens on all businesses so that they can focus on what it is that they do or make. I support efforts to analyze existing regulations that have accumulated for decades to determine if streamlining or elimination can be accomplished.
How should Congress address health care access for people in the 10th Congressional District?
We need health care that works for us, not special interests. As a full-time working mother, I know how hard it can be to make ends meet. Like many families, our biggest expense is health care. Unfortunately, Congress has favored a one-size-fits-all approach to health care which has significantly increased costs. We need to allow people to purchase health care that suits their needs, as opposed to being forced into high-priced comprehensive plans. Veterans should also be afforded health care options, outside the VA network, that are both patient-focused and market-based.
In your view, what are the most important responsibilities of a legislator?
The most important job of a congressional representative is to serve your constituents; this includes navigating the federal maze on behalf of Valley families.
What groups or individuals have endorsed your candidacy?
Former Tracy Congressman Richard Pombo

The San Joaquin County Republican Party

Federal Wildland Fire Service Association

San Joaquin County Supervisor Chuck Winn

Former San Joaquin County Supervisor Ken Vogel

Former San Joaquin County Republican Party Chair Susan Vander Schaaf
Why should voters select you to represent the 10th Congressional District?
As a wife and mother of three, I know how hard it is for Valley families to make ends meet. In Congress, I will draw on my legislative and regulatory experience to advance policies to help working-class families like mine.
As a farmer and small-business owner, I have experienced the burden of job-killing regulations and I have witnessed the impact of poorly written policies on our Valley. I will work with industry and regulatory agencies to advance clear and concise legislative solutions to agriculture's many challenges. I know my work doesn't end once a bill is enacted — that's when I will work with the regulatory agencies to ensure the legislation is implemented as intended.
God has blessed me with the knowledge, skills and experiences essential to serving the people of the 10th Congressional District. I would be honored to serve you.