San Joaquin County's loosening of stay-at-home orders related to COVID-19 meant that Tracy Golf and Country Club could reopen for the first time in three weeks, and it attracted a steady stream of golfers that included people from well beyond Tracy who have been eager to get outside.
"People just need to get out, and it's good for them," said Dr. Robert Williams, president of Tracy Golf and Country Club and also a local physician. "It's healthy. I think they're happy. It gives them a positive attitude. Things are starting to get back."
He added that the local golf course was actually busier than it had been before the COVID-19 quarantine, even though tee times were more spread out than usual and the course had a long list of other restrictions to make sure golfers and course staff kept their distance from one another.
Williams pointed out a sign at the entrance to the course describing the new rules. It's a summary of the county's five-page list of rules, including a requirement that any worker or golfer who appears to be sick or who has had contact with anyone known to be sick won't be allowed on the course. There are also strict rules regarding sanitation and access to common areas, including putting greens and driving ranges.
Golfers still filled the parking lot and waited in line, six feet apart and with one person at a time in the pro shop, as they prepared to go out onto the course.
"If you're not willing to follow these rules, go back in your car and go home," Williams said. "We could have made them twice as hard and they'd still come. The compliance has been excellent. They want to keep it open, so they're following the rules."
One of Tuesday's golfers was Kris Klaas of Castro Valley, the operating room charge nurse at San Leandro Hospital, who said she figured a round of golf was an ideal way to get back outside after weeks of isolation at home.
"As long as we're conscientious and social distance, which we've been doing, and are respectful of the course," she said, adding that her foursome also observed the restrictions on sharing of carts, clubs and balls. "We only share carts with our spouses we're playing with."
"It's really important to start getting people back out now," she added. "We can't keep people cooped up much longer. We need to find safe ways to do it, and golf is a perfect way to start."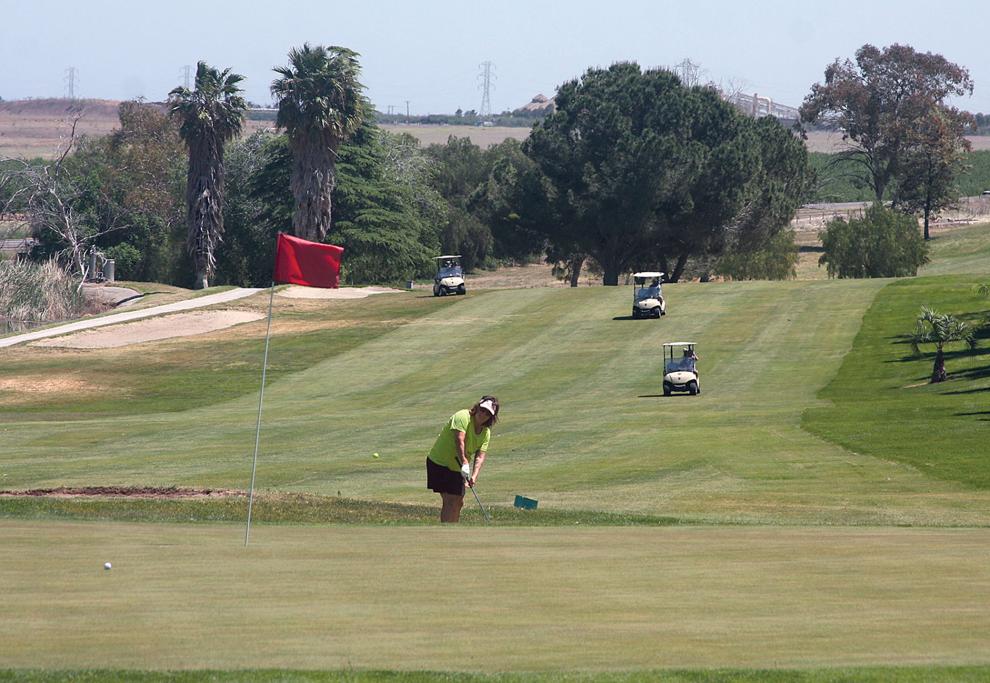 Kevin Morris of Brentwood said he was eager to get on the course, especially because he couldn't find any course open closer to his home in Contra Costa County.
"We get out a bit, to the grocery store, that kind of stuff. Where we're at is supposed to be full lockdown," he said, adding that Contra Costa County's strict shelter-in-place orders, which apply the same way in the east part of the county as in denser urban areas next to the bay, had been extended through the end of May. "The problem is they want to treat the entire county the same, and where we're at, it's not Richmond.
"We finally get peace of mind and get to play a little golf. There's no reason whatsoever that golf courses shouldn't be open, and to a certain extent, a lot more commonsense approach to the way we're doing things."
Also out for a round on Tuesday were Keith Switzer and Neil Bello, who are teachers and high school golf coaches, Switzer for Livermore High and Bello for Amador Valley High in Pleasanton. This is the week their teams would have been playing in their East Bay Athletic League championship tournaments.
"Both of us being teachers, we're at home the whole time," Switzer said. "I'm making assignments online. I'm in my den 10 hours a day, making YouTube videos and all that, so getting out, this is awesome right now. We try to get out one or two times a week."
They've already been able to visit Sacramento County courses, and now their golfing opportunities are a bit closer.
"The Reserve in Stockton opened up as well, so it's nice that we don't have to drive as far now," he said.
Williams said that precautions and restrictions at the golf courses could serve as a model for the gradual reopening of parks and other public spaces, especially as the weather warms up and makes it less likely that the coronavirus can persist and spread outdoors.
He added that the course management worked with San Joaquin County's public health officer, Dr. Maggie Park, to establish guidelines so that everyone could feel confident that golf courses in the county are a safe environment for people who want to get out of the house.
"It's telling us a couple of things, because we were early to open up: People are willing to do what they can to mitigate these things," Williams said. "We put in a lot of early protocols, not only for us, because they're going to have to look into what they'll do with city parks and everything else. How do you make people safe outside but still protect them? Some of the stuff we're doing here can possibly be done at parks."