A Lathrop man was arrested Monday on suspicion of committing nine armed robberies over five days in seven different cities, including a robbery in Tracy on Saturday night.
Lathrop Police, a division of the San Joaquin Sheriff Office, arrested Deandre Phillips, 27, on Monday charging him with four counts of armed robbery.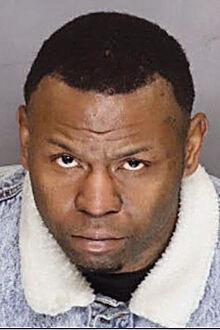 Detectives believe Phillips went on a crime spree robbing nine different businesses in Stockton, Manteca, Lathrop, French Camp, Tracy and Turlock.
Beginning on Nov. 22 Phillips is suspected of entering businesses in San Joaquin and Stanislaus counties with a large black duffle bag from which he would pull a .357 magnum revolver and hold victims at gunpoint.
He is accused of then taking large amounts of cash, bottles of alcohol and cigars from the businesses.
He is thought to be responsible for robberies at a Chevron gas station on Nov. 22 in Lathrop, J Liquors on Dec. 9 in Stockton, a 7-11 on Dec. 9 in Turlock, the AMAR Fashion and Grocery Bazaar on Dec. 14 in Turlock and the Lathrop Liquor Store on Dec. 16 in Lathrop.
On Saturday Tracy police officers were dispatched at 8:26 p.m. to a report of an armed robbery at the Tracy Market, 15 E. Grant Line Road.
Police records said a man armed with a grey-colored handgun took $300 from the store and left on foot. A witness said a man carrying what appeared to be a backpack was seen jumping over a fence near an apartment complex next to El Pescadero Park shortly after the robbery.
Tracy Police were assisted by sheriff's department deputies in a search for the suspect. The sheriff's department said the man matched the description of a Lathrop robbery suspect they had been looking for.
A Stockton Police Department helicopter was added to the search as officers combed the park and apartment complex for any sign of the suspect.
Officers found a cell phone at a fence near where the man jumped over but a nearly hour-and-a-half search couldn't locate the suspect.
After extensive follow-up investigation Phillips was identified as the suspect in the robberies and deputies arrested him in Lathrop armed with the same revolver believed to be used in the robberies.
Detectives searched his home in Lathrop and recovered evidence in his bedroom linking him to the robberies including a large amount of money, ammunition, handguns, and clothing matching the suspect seen in surveillance videos from the robberies.
Phillips was booked into the county jail and is being held on $1.8 million bail. He faces seven counts of armed robbery and a charge of carrying a loaded firearm in public under specific circumstances. He is scheduled to appear in the Manteca Branch of the San Joaquin County Superior Court at 1:30 p.m. on Monday.
The sheriff's office believes there may be more victims in Phillips' crime spree and anyone with information is asked to call investigators at 468-4400.