A Tracy man is facing attempted murder charges after he allegedly struck a Tracy code enforcement officer with his car at El Pescadero Park and then led officers on a chase across town Monday morning.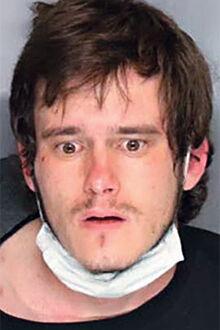 Zachery Lingle, 25, is in custody at the San Joaquin County Jail being held without bail on charges of attempted murder.
A news release from the Tracy Police Department said a code enforcement officer went to the park with the city's community preservation unit for a routine park cleanup, and reported a vehicle driving erratically through the park at about 8 a.m.
Police were on the way to the park to investigate the call when another member of the community preservation unit and multiple witness called police to say the car had driven from another area of the park and intentionally hit the code enforcement officer.
Police records from Monday morning state the vehicle, a dark colored sedan, was driving in the grass spinning doughnuts. A similar car had been spotted earlier in the morning speeding through the parking lot at Freiler School and running a red light at Corral Hollow and Lowell Avenue.
The car continued to drive erratically, and a preservation unit worker moved a tractor to shield the injured code enforcement officer and others at the park.
Police officers arriving at the park spotted the car leaving and tried to stop it.
A chase began near Court Drive and Parker Avenue, with records showing an officer attempted a pursuit intervention technique maneuver at 21st Street and Parker Avenue. The car spun around and continued in the opposite direction.
The chase continued on to Grant Line Road where the car lost a tire and came to a stop east of MacArthur Drive.
The news release states the Lingle was uncooperative with officers while he was taken into custody. He was checked at a hospital and then taken to county jail where he faces charges of attempted murder, assault with a deadly weapon not a firearm, evading a peace officer with wanton disregard for safety, obstructing or resisting a police officer, vandalism and causing great bodily injury.
He was scheduled to appear in the Manteca branch of the San Joaquin Superior Court Thursday afternoon.
The code enforcement officer struck by the car was taken to a local hospital and is expected to make a full recovery. Police did not release the officers' name or extent of the person's injuries.
In a written statement Police Chief Sekou Millington said, "Our sworn and professional staff show up every day ready serve this amazing community, at times putting themselves in harm's way in the line of duty. What occurred on Monday was nothing short of a heinous act of violence upon one of our professional staff that will not be tolerated. Our City family came together to protect one of our own from further harm and acted swiftly to identify and take the suspect into custody and for that I'm forever grateful."