A conflict between a residential developer and the Mountain House Community Services District boiled over into the San Joaquin County Board of Supervisors meeting this week.
At issue is the status of Grant Line Road, which the Mountain House CSD wants to see widened to four lanes before it allows any more homes to be built in the area.
Shea Homes Limited Partnership is ready to start building its latest neighborhood in Mountain House. Shea's College Park project, 173 homes on 18 acres, is part of the Village D section of Mountain House, just northeast of Mountain House Parkway and Grant Line Road. The streets bordering the development are complete, and Shea already has some model homes in the area that are attracting buyers.
Before it can build any more, though, the developer needs for the CSD board of directors to approve a final map that defines exactly how the 18 acres will be subdivided. While the Mountain House governing board has had a couple of opportunities to take action, it has opted to keep Shea's project on hold.
On Tuesday, the developer appealed to the county board of supervisors, asking the board to take action on the project in the absence of any action from the Mountain House CSD.
Don Hofer, Shea Homes' vice president for community development in Northern California, told the supervisors that Shea's project has been unfairly singled out, considering that the project doesn't even run up against Grant Line Road, but is a couple hundred yards north of the thoroughfare.
"This last weekend, we opened the community for sale. That gives you an idea of how far we've come along, and how much Shea has put into bringing this project forward. We had over 300 people come through our sales office in this community this last week," Hofer told the board, adding that several people were ready to buy homes, which range from about 1,780 to 1,900 square feet in size, with sale prices from the high $400,000s to mid-$500,000s.
It took most of the first half of Tuesday's two-hour discussion in Stockton for the county supervisors to drill down into the reason for the CSD board's delay. After hearing from representatives of the CSD, including general manager Steven Pinkerton and board President Bernice King Tingle, the supervisors learned that Grant Line Road between Mountain House Parkway and the Alameda county line is overdue for widening.
With new homes now lining the north side of the road and commuters clogging Grant Line Road, one of the few east-west thoroughfares through town, the Mountain House CSD finally said: Enough. No more new homes until Grant Line Road is widened to four lanes.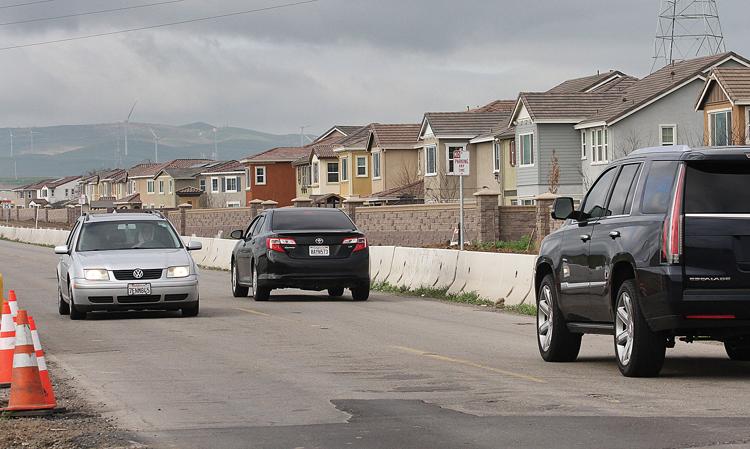 Back on Oct. 8, when the CSD had the matter on its regular meeting agenda, the Mountain House board considered this and two other projects that were ready to start building. That's when the issue of infrastructure matching the pace of development came up.
"With all of these agreements, there is agreement with our staff that the right of way easements and all of the associated work is going to be addressed, but when?" King-Tingle said at the Oct. 8 meeting.
The schedules for improvements including roadway widening are tied to the number of building permits issued, but in this case board members said the road project appeared to be behind schedule.
"My primary concern is that these things work in tandem. So I'd like to see construction right away, improvements going in with conjunction with the homes being built," King-Tingle said.
Board member Brian Lucid agreed and said the CSD had been patient enough, allowing development to proceed while the Grant Line Road widening and similar improvements lay dormant.
"The developers want to build residential items here because that's what sells," Lucid said. "They don't want to build the common-use infrastructure that we need as a town, and I don't want to let them set the priorities here."
As Hofer and Garrett Colli, Shea's land use counsel, made their appeal Tuesday, discussing ongoing litigation in Mountain House and the legality of the CSD board's inaction, the board of supervisors heard about the roadway issue about a half-hour into the discussion. That's when Pinkerton explained that widening of the roadway was a condition of approval with the original developer, CGKC Kamilos Development Inc., in 2007.
Pinkerton pointed out that Shea Homes, which bought the 18-acre tract in 2013, also acquired the conditions that Kamilos Development agreed to in 2007.
Pinkerton added that traffic in general and Grant Line Road in particular were concerns that kept coming up when he talked to residents.
"As you know if you go out there, we have lots of new beautiful streets in the community, but our major commercial corridor coming through the community — that is an important road not just for our residents but for a lot of San Joaquin County residents, Grant Line Road — is still the old two-lane rural road it was when Mountain House was established back in 1996," Pinkerton said. "When you take a look at the conditions on this map, the construction of Grant Line Road was supposed to be initiated prior to the initiation of the first building permit."
He said that the project, estimated to cost about $18 million, is mostly funded by four other developers, Mountain House Developers, Mountain House Investors, Meritage Homes and Century Communities, with Shea Homes also contributing through impact fees.
Talks with the four other developers had been productive, and Pinkerton expects the CSD board to be able to vote on commencement of the Grant Line Road widening in February or March.
"As soon as construction is initiated, which we expect to be this spring, this map condition is no longer an issue," he said.
The board of supervisors unanimously agreed to reject Shea's appeal.
Supervisor Chuck Winn said that the county board should respect the jurisdiction of the elected leaders of Mountain House.
"I have a tremendous amount of faith and trust in these bodies in regard to how they make their decisions, and the other part of it is, they're much closer to the issue than I am," Winn said.
"I can appreciate Shea's frustration. I can understand where you're coming from, but at this point in time I'm not comfortable with taking this away from the community services district," he added. "I would want the CSD board and Shea to take another crack at this, and if that isn't fruitful, maybe we're back here again."