Second-year University of California, Berkeley student and Mountain House High graduate Tanaya Kollipara always had the goal to author her own book someday. That goal will soon be one that she gets to check off her bucket list as Kollipara's first non-fiction book "Stigma: Breaking the Silence of Asian American Mental Health" will debut in August this year.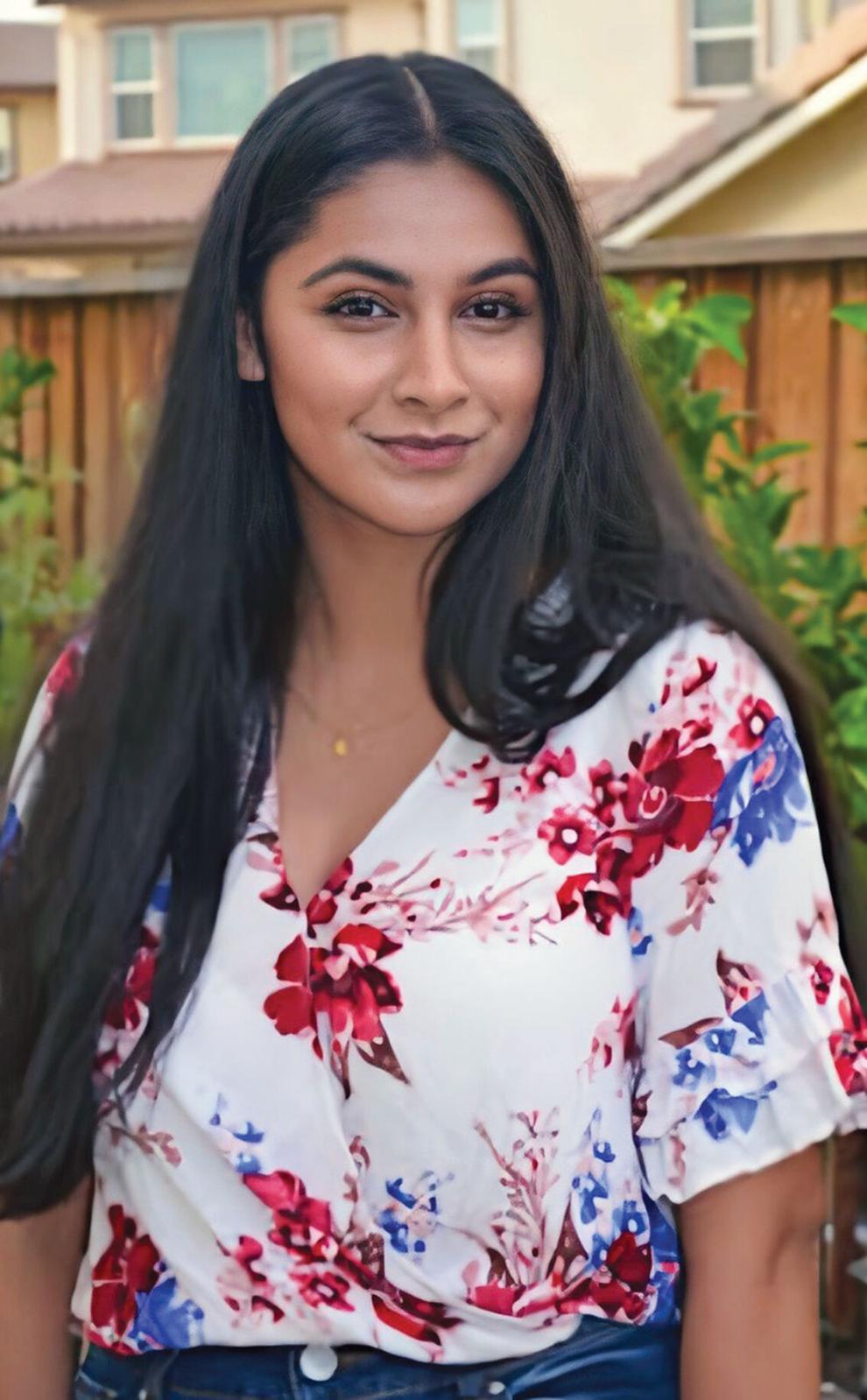 Kollipara describes "Stigma" as a nonfiction book that explores mental health and mental illness within the Asian American community. Its pages will include testimonies from Asian-Americans from throughout the United States who share their stories and struggles with mental health as well as interviews from experts on the subject.
"I wrote it because, growing up, I've seen many of my friends struggle with their mental health afraid to seek help due to the stigma and judgement; thus, I wanted to do my part to fight the stigma, encourage the use of resources, and help people feel seen by sharing these stories and professional insights," said Kollipara.
Inspiration struck Kollipara last year as she was researching different types of publishing during the early months of the COVID-19 pandemic. That's when she discovered New Degree Press, a hybrid publishing company that helps aspiring authors self-publish while still having the perks of traditional publishers, such as editors, cover and layout designers and help with promotions. Being a first-time novelist, Kollipara found this avenue to be a happy medium for navigating through what can sometimes be a confusing process for those new to the world of book publication.
"New Degree Press, the way that we look at ourselves is that we're a new approach to the University Press model, where we're catering and focused towards supporting authors within an education context – within education pedagogy – behind everything we do. And then we operate in what's known as a public benefit corporation, a B Corp, meaning that we focus on optimizing for impact over profit," said Brian Bies, head of publishing at New Degree Press. "And I think Tanaya, her book is a really great example of that. Her book is around mental health. It's around stigma, it's around awareness. It's around inclusion. It's around building community, and bringing people together and empowering others...Those are the types of stories that we strive to elevate, and the authors that we tend to work with."
Those who publish under New Degree Press also get to retain the rights to their publications, giving them the opportunity to possibly be picked up by traditional publishers as well.
"I think the biggest thing that really drew me to the hybrid publishing sphere, rather than traditional publishing at this point in time, is the fact that there was going to be this community to basically help me, support me as I wrote this book, really. And I think that's the biggest thing," said Kollipara. "I definitely do wish to go into traditional publishing in the future. But I feel like, as a first time author, I needed the support and it was an opportunity to be able to publish still."
Though the idea of authoring a book was relatively new for Kollipara – who started the endeavor in the middle of the 2020's statewide quarantine – the subject matter of her book was not. Being of South Asian descent herself, Kollipara was all too familiar with the realities of how mental illness is regarded in her culture.
"About two years ago, a friend of mine, I ended up losing them to suicide, which is, it was really hard. But it was also harder just to see how the community wouldn't want to talk about how they were struggling with their mental health," said Kollipara. "And they wanted to pretend as if it was just like this. It was a heartbreaking loss. But they didn't want to do anything about it. So I feel like that's when I started thinking, 'What can I do? What can I do?' Like, obviously, education is not enough in my community, right?"
According to the United States Department of Health and Human Services Office of Minority Health, suicide is the leading cause of death for Asian-Americans ages 15 to 24. Asian-American females in grades 9 through 12 are also 20 percent more likely to attempt suicide as compared to non-Hispanic white female students.
Kollipara has been a strong advocate for mental health resources since high school, when she was part of the National Alliance of Mental Illness working on mental health outreach campaigns. She continues to advocate for those struggling with mental illness, along with advocating for victims of human trafficking and domestic violence to this day.
This book is another way of her continuing her advocacy, by educating others through the power of storytelling. For safety reasons, some of the accounts in her book are anonymous but still disclose the area the testimony originated from. Kollipara said she even had some stories to share right from Tracy and Mountain House.
"When I realized I had this opportunity to write a book, I was like, 'Why can't I just share people's stories in a way that still protects them? Because the judgment and the stigma was still very strong in the community. But hopefully, by sharing their stories, then we can probably create a community that's more open and receptive and aware," she said.
The primary goal of "Stigma" is meant to rally more support for those who suffer from mental illnesses by bringing awareness to how common it is within the Asian-American community and is also meant to encourage those secretly struggling to come forward before their struggles turn into a crisis. It also gave Kollipara, who doesn't personally struggle with a mental illness, a chance to learn more about mental health and people's experiences herself.
"Even though I've been trying to immerse myself in the mental health space since high school, I would say there's still so much that I didn't know and there was so much that I learned in these conversations in so many ways. Our race and ethnicity and culture and immigration plays into how we experience mental health and how we experience mental illness," she said. "So definitely it opened up my eyes and I hope it will open up other people's eyes, even if they're already a bit familiar with mental health."
Though the stigma is still very apparent in Asian cultures, Kollipara herself has been backed by a strong support system among her family, friends and mentors through this year-long process.
"It's very important we talk about this issue in the Asian-American community, and I really feel proud of my daughter for bringing this issue up and doing just that," said Kollipara's mom, Vijayshree. "If this book can help even one single person, that's more than enough."
Kollipara's speech and debate coach from high school, Mikendra McCoy said that Kollipara was the type of person to fully immerse herself in a project once she became passionate about a subject and that she always remained transparent about her beliefs and passions dating back to her high school career. McCoy was not surprised when she learned that her former student was entering the publishing world at full force.
"She is naturally inquisitive. And I would argue I'm settled enough with the way things are, but she is constantly seeking to make things better than they are. And I think that's the beauty of what she's doing with this book, is that she's pushing norms into realms of what some might perceive as uncomfortability, in order to ensure that change is available," said McCoy. "And that, I think, is such a forward thinking, intentional human being that it's kind of hard not to stand in awe of someone like her. Even in high school, I was comfortable being in awe of her."
Kollipara launched the presale campaign for "Stigma" on the fundraising site, Indiegogo, earlier this month, with hopes to raise $5,000 to cover publishing costs by early May. Those who participate by donating to the campaign will get a signed copy of her book once it is published this summer. Currently, Kollipara's campaign is 50% funded in just two weeks.
"The biggest thing is, I just really want everyone to know that you are important and that you're seen. And that it's okay that if you're struggling with your mental health, or if you have mental illness. It's OK to seek help," said Kollipara. "And more than that, we should all hold empathy and understanding for our friends and our neighbors and our family members who we may or may not know they might be struggling with mental health or may have a mental illness and just kind of being open minded and supportive. That's honestly the biggest thing that we can do."
Those interested in pre-ordering "Stigma: Breaking the Silence of Asian American Mental Health" can visit igg.me/at/stigmabook2021.