Marine Corps Col. Tiffany N. Harris took command of Tracy's Defense Logistics Agency depot Friday morning, becoming the first woman to lead the 77-year-old depot since the DLA Distribution network was formed in 1997.
The depot's flag was handed to Harris as she replaced Marine Corps Col. Andre T. Harrell, who is retiring from military service, in a ceremony before depot employees and guests from the Tracy community.
The depot on Chrisman Road, which originated in 1942, stores and ships material across the world in support of armed forces and federal agencies. The depot stores more than 382,000 items valued at $8.4 billion.
Rear Adm. Kevin M. Jones, commanding officer of DLA Distribution, spoke of Harrell's accomplishments and leadership.
"Dre is an exceptional leader who has demonstrated unprecedented performance comparable to only a few select officers I have ever had the privilege of serving alongside," Jones said. "He is among the top 1% of officers I have observed during my 29 years of service."
For the third three-year tour of duty in a row, a Marine Corps colonel is commanding officer of Defense Distribution San Joaquin.
"Carefully able to balance mission accomplishment with genuine care for his people, Dre has led his team to unprecedented excellence in several mission-essential areas related to metric performance, people and culture, site distinction and audit-readiness quality," Jones said. "He leaves DLA Distribution San Joaquin California with a legacy of innovation, improvement and dedication to quality."
Harrell thanked all his staff and community partners and their families for their efforts and gave special recognition to the employees at the depot.
"I think the DLA director said it best," Harrell said. "You are our secret sauce, you're our center of gravity, you're our treasured resource — you are the all-stars that are executing the plays with tremendous pride, so my hat's off to you."
Jones also introduced Harris with a few words about her career before taking command at the depot.
"As one great leader departs, another arrives to take the helm. Only the best are nominated and selected to serve as joint commanders at our distribution centers. Col. Tiffany Harris is a gifted leader and the right person to continue the strong and outstanding leadership that Dre has brought to DLA Distribution San Joaquin," Jones said. "I am confident that DLA Distribution San Joaquin will continue to meet all challenges head on under your leadership. Congratulations on your new position."
Harris is a native of Lancaster, Pennsylvania, and earned a bachelor's degree in psychology from Pennsylvania's Shippensburg University. She received her Marine Corps commission in 1995.
Harris served one deployment in Afghanistan and two in Iraq. She was selected as the Academic Year 2016 Marine Corps fellow to the U.S. Agency for International Development. Most recently, she was the assistant chief of staff for the 3D Marine Logistics Group in Okinawa, Japan.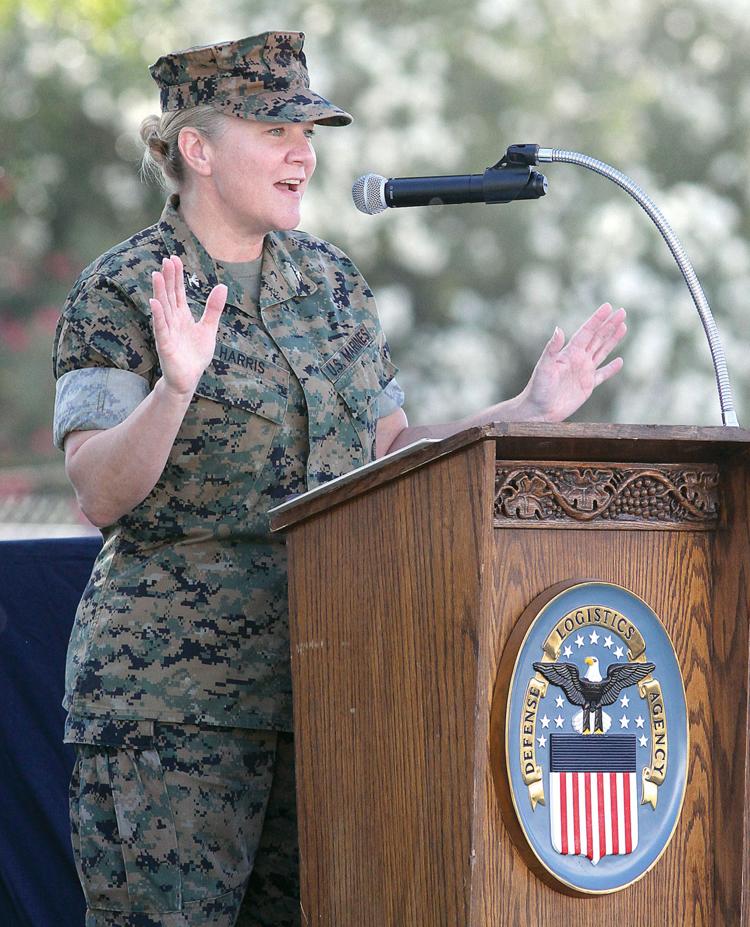 Her decorations include the Joint Meritorious Service Medal, the Meritorious Service Medal (fifth award), and the Navy and Marine Corps Commendation Medal (third award).
She said she understood that Harrell had set the bar high but she was ready for the challenge of following in his footsteps.
"I really just can't wait to come to work every day," Harris said. "I genuinely enjoy the decisions of supply and distribution and I really can't wait to come work every day and carry out decisions of supporting our war fighters through supply and distribution with all of you guys."