A five-alarm fire destroyed a row of homes on the 200 block of West Clover Road on Sunday afternoon, leaving nine families, about 40 people in all, homeless with nearly all their possessions lost.
The South San Joaquin County Fire Authority got the initial call at 5:02 p.m. when someone reported a tree on fire. While firefighters were on the way, they were informed that a building was on fire, and when they reached the scene, the fire had already spread to neighboring buildings.
Gloria Silveira, who lived in the middle unit of a triplex at the southern end of a row of triplexes, said she was at home at the time and looked out her window to see a whirlwind in the backyard. But in addition to ordinary debris that usually gets kicked up during summer winds, she also saw smoke and ashes.
"That's when we realized that the neighbor's roof was on fire," she said, adding that it was clear the fire was going to spread quickly. "We got in the truck and left. We didn't even get a chance to grab even our wallets. We didn't even have our wallets or phones. Everything stayed."
She and other neighbors said the blaze spread at a remarkable speed, jumping from grass to fences on down the row of buildings within a matter of minutes.
"When we tried to come back, it was just black smoke everywhere, and we couldn't do anything about it. And so we lost everything," she said. "It was within — I could almost say it was within seconds, it felt. It didn't even feel like minutes. I grabbed the baby, grabbed the keys and left."
Only one unit at the southernmost end of the triplex was saved, and another triplex building was destroyed. The fire continued to spread through the grass, brush and fences and caught a home along Clover Road on fire, and soon that building also was engulfed in flames.
A row of buildings across the driveway from the fire was undamaged, but the fire spread to a field on the other side of those buildings, and a home about 50 yards to the east also caught fire. In all, five buildings and nine residences were affected, totaling about $2 million in damage, according to South San Joaquin County Fire Authority Division Chief David Bramell.
In a statement released Monday, Bramell noted that all occupants of the homes escaped uninjured, but three firefighters were hurt, including one who went to the hospital with heat-related injuries and two with minor injuries. Medics checked out nine more people, who were examined and released at the scene.
Bramell said the cause of the fire was still under investigation.
Units from nine different agencies helped fight the blaze, with 25 engines and 75 firefighters responding. The fire was under control by 7:30 p.m., and firefighters stayed through the night.
On Monday, residents had returned to sift through the ashes and recover what they could, but some people had lost everything. Silveira's husband, Luis, found some of her jewelry, and Yeslin Ortiz's family a couple of doors down found a few items that could be saved, including two Bibles that were untouched by the flames. Another family recovered some dishes, pots and pans, but not much else.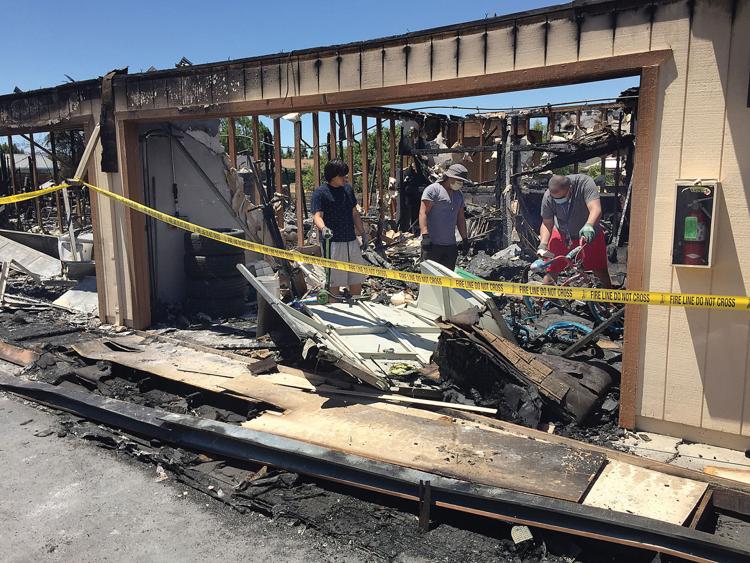 Bramell noted that the American Red Cross was helping families get through the aftermath of the blaze, and Silvia Mejia, a caseworker with Tracy Family Resource Center, said she had contacted six of the families on Sunday after she responded to the fire.
Families gathered in the parking lot of CVS a few blocks away as firefighters battled the flames, and one of the property owners of the affected homes paid for rooms at the Fairfield Inn. Mejia said her group was working toward getting people back into homes.
"That's the most important thing they need right now," Mejia said. "A lot of people are trying to donate. They mean well. They want to donate clothes, but we're really pushing gift cards. Gas gift cards or gift cards to local restaurants."
The American Red Cross responded as well, and local businessman Hector John Cardoza has set up a GoFundMe page to raise money to help get people back into homes.
"I'm working with community leaders right now to see if we can get that matched if we meet our goal," he said. "Hopefully we can get these people into something that is a more stable living. A lot of these families are families of six, seven, so they're staying in a hotel right now for four days, but what comes after that? That's really where I'm trying to help them."
Cardoza said that as of Thursday morning, his GoFundMe page had raised nearly $13,000, and he was working on getting that money released so that people who had found new rentals could pay their first month's rent and deposit. In the meantime, Scoop Ministries of Tracy had secured and paid for seven local motel rooms for the next week.
"That gives us a little more time to figure out where families are going to go," Cardoza said.
He also collected about $3,000 worth of gift cards in addition to what the families received from the Red Cross.
Cardoza added that the generosity of the community had kept families optimistic even though some lost everything, including their life's savings, in the fire.
"All of them say they're going to come out of this stronger because of their faith in God," he said.
Mejia added that she hoped to use social media to direct the affected families to the help they need and also direct potential donors in ways that would make their efforts most effective.
"Social media is a big thing nowadays, and this community will step up to help the families. They just need someone to guide them," she said. "We're never prepared 100%, but when you work with other organizations, we might not have the resources, but when you have the voice to be able to advocate and be able to promote, you've got to use that."