Tracy Unified School District's plans to start the school year with remote instruction have been confirmed, with teachers ready to commit to at least two hours a day of live remote instruction.
For many students, though, the switch to online classrooms will be delayed by two months.
As of a month ago, school districts had their hybrid schedules mapped out. They would have students in class for part of the week and working from home the rest of the week. By the third week of July, the continued rise in state and local COVID-19 cases had caused districts to shift to 100% online platforms.
The next step was to make sure all 14,000-plus students in Tracy Unified School District would have the technology to participate in class activities through online forums once classes begin Tuesday.
Despite the district's best efforts, they won't.
It turns out Tracy Unified is part of a nationwide rush to acquire a large number of laptop computers in a short amount of time.
"As soon as we acquired some extra funds for distance learning, we reached out to Hewlett-Packard, which is our supplier of computers, and ordered 10,000 devices," said Rob Pecot, Tracy Unified's associate superintendent for business services, adding that the district was working with T-Mobile to create internet hot spots to ensure online access for those computers.
The money to buy them was made available two weeks ago after the state released about $5.3 billion through its Digital Divide Task Force, an initiative to support distance learning statewide as campuses remain closed because of COVID-19. Tracy Unified received nearly $11.4 million and immediately placed its order for new computers.
"The problem right now is everybody got the money from the state at the same time, so what happened was everybody ordered computers at the same time," Pecot said. "Hewlett-Packard is 2 million computers behind right now. They are producing them and shipping them as fast as they can."
Knowing that the computers would manufactured and shipped from China, Pecot expected there would be some delay, and now Tracy Unified is learning that the delay will be about two months.
"I know that we are not at the end of the line because we were one of the first in this area, one of the first in the state, after this mitigation fund was released, to get in line to order computers," he said.
In the meantime, he and Julianna Stocking, TUSD's associate superintendent for educational services, say that the district already has enough computers for all of the roughly 5,600 high school students at Tracy, West, Kimball and Stein high schools.
Stocking said that the district's recent technology survey showed that about 70% of Tracy Unified's students lacked the technology to take online classes. To meet that need, the district collected all the laptops it owns, reformatted them, and installed everything students will need to sign into their online classrooms when classes start Tuesday.
Right away, the district came up with 4,000 computers, which were distributed this week along with textbooks and other instructional materials for students at the high schools. A thousand more computers that are due for more extensive upgrades will be made available for students as well.
"Our goal is to have all of our ninth through 12th students have a device in hand upon the start of school on Aug. 11," Stocking said. "We will then have makeup days for families who are not able to pick up devices."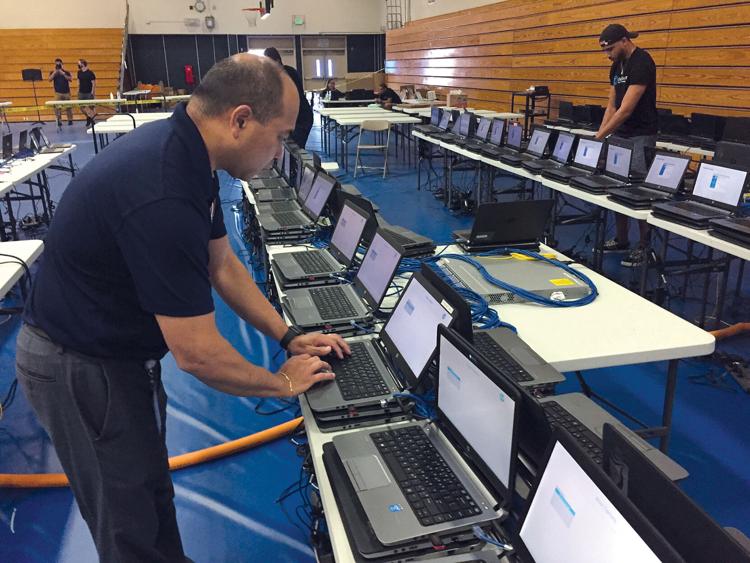 For three weeks now, the district's information systems and education technology department has been "imaging" the computers in the gymnasium at West High. Pecot explained that imaging is the process of reformatting the computers and then uploading all the software needed for a student computer. They all get the Microsoft 365 collection of programs, including Microsoft Teams for online classes. They're also connected to the district's network, including the district's internet filtering and security systems.
"Our technology department, in a two-, three-week period, has done a job that normally takes six, seven months to do, as far as imaging those devices, being able to mass produce it in the gym," Pecot said.
Tom Quiambao, Tracy Unified's information systems and education technology director, said he expects to have all the district's computers ready for students by the end of the week.
"Once I get the delivery from Hewlett-Packard, we'll start this process again," Quiambao said.
Stocking said the district made high schools the priority for computers because those students are working for class credits.
"We wanted to make sure we kept them on that track," she said.
The district is also urging students and families that have computers at home to use the equipment they have, leaving the school equipment for those students who need it most. Stocking said she expects there will be some computers left over once the high school students have all they need. From there, they will be distributed to eighth graders, then seventh graders and then to lower grades until they are all handed out.
The delay in the new computers is just the latest wrinkle in the school district's effort to switch to online, remote instruction in the COVID-19 era, where the only constant is change, with little time to adapt to new circumstances.
"As you can imagine, this state is something we are very disheartened about," Stocking said. "We really wanted to do everything we could to put computers within the hands of our students."
Once the new computers arrive in early October, all TUSD students will have access to online classrooms.
Stocking explained that teachers across the district have designed their classes around having at least two hours a day of "synchronous" instruction — meaning live, interactive online classes over the computer. "Asynchronous" instruction includes electronic media that is not necessarily live or interactive, or paper-based course material handed out by teachers, which students can work on independently.
"We will continue to focus on our distance-learning synchronous live instruction access for students, as well as the asynchronous learning activities," Stocking said, adding that teachers will be able to record their live classroom activities and post them online as videos or instructional links. "So that even if a student does not have a laptop at home yet, a lot of households have a cellphone or a smart TV that can stream internet that then gives students access to … learning in that capacity."
Stocking added that as soon as the new computers arrive, the rest of the students will have the technology for remote learning that the district wants to use moving forward, regardless of COVID-required distance learning models.
"If we can work through these next two months — which I know our teachers and our site administrators are working diligently to prepare and ensure they're checking in with kids every day via email, phone calls and providing that live instruction and those recorded links — we will get to that point in October where we are looking forward to closing that digital divide."