The long-planned Tracy Aquatic Park will open sometime in 2021.
The year was revealed Wednesday at a launch party for the project, hosted at the site of the 20-acre facility by developers The Surland Cos.
"It's an incredible achievement," Surland President Chris Long told political, civic and business leaders. "A collaboration between city staff, city of Tracy, private business and community members all working tirelessly together over countless hours, all to bring the Tracy Aquatic Park to the city of Tracy."
The concept of a swim center for the city began in 1989, when the City Council asked groups of volunteers to imagine Tracy's future and offer suggestions to prepare for it. The effort was called Tracy Tomorrow and resulted in recommendations of a competition pool as well as recreational water features.
A new incarnation of that idea, a swim center at the Ellis development along Corral Hollow Road just south of Linne Road, was first conceived a decade and a half ago, in 2005 and 2006. At the time, the latest Tracy Tomorrow group was once again looking into the lack of swim facilities.
"We only had one pool, which was broken down at the time," Tracy Tomorrow 2005 aquatics subcommittee member Michel Bazinet remembered Wednesday. "The biggest need was somewhere where families could get together and really connect with their family members and really for the community to come together. So it's really all about community building and building those connections."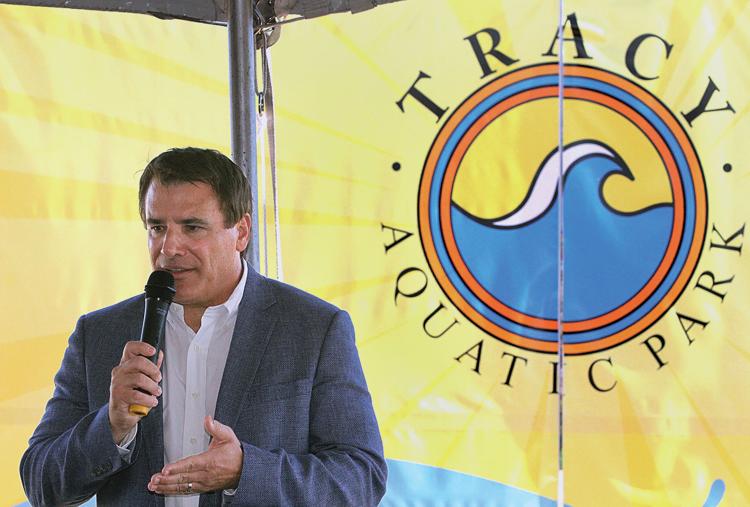 Surland CEO and founder Les Serpa said Wednesday that about the same time, he had a bowl of soup with community member Ann Langley, who asked if he would get involved in building the much needed pool facility. At a City Council meeting a short time later, Serpa offered the city land at Ellis for the swim center as well as $10 million to help build it.
The offer was well-received by council members, but lawsuits and other issues kept delaying both the development and the aquatics facility from taking off. The city of Tracy, in the midst of the recession, could not afford to go it alone, and so the community continued to lack a public pool for years.
Supervisor Bob Elliott, now chairman of the county board of supervisors and a Tracy councilman from 2010 to 2012, recalled Wednesday how the project never quite got to fruition.
"One of the first agenda items at the City Council meeting I attended right after being elected, which goes back many years ago, was this aquatic park," Elliott said. "It has just stayed on the front burner or the back burner, alternating for a period of years."
In 2014, the city failed to reach an agreement with private water park operator Wild Rivers LLC to build and run a swim center. Then, in mid-2017, then-City Manager Troy Brown asked whether Surland would consider building the aquatics center itself. In May 2017, Surland sent a letter to the city offering to do so. The City Council formally accepted Surland's offer Aug. 15, 2017.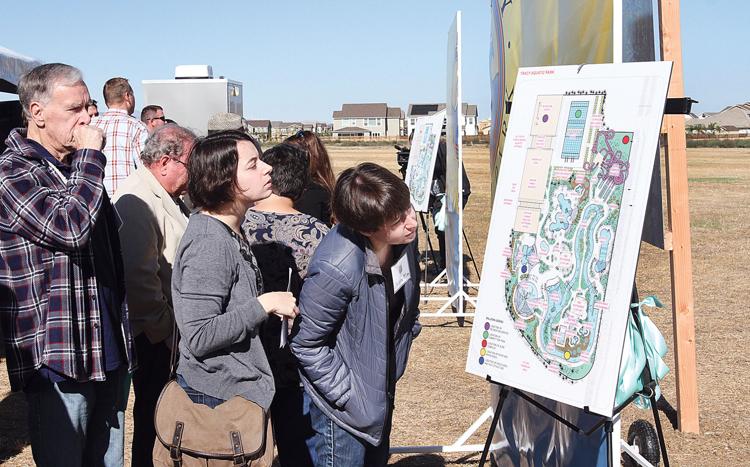 The Tracy Aquatic Park will have a competition pool, an indoor pool, waterslides, a lazy river and a toddler pool. It was estimated last year to cost $45 million to build to completion. Long said Wednesday that Surland would soon have an updated cost estimate to submit later this year to the City Council along with the site plan. When the center is built, Surland will turn it over to the city, which will run it.
"This is the only public-private partnership I know of its kind that's going to produce an amenity like this for the community," Serpa said Wednesday. "This will be an amenity that's something that's used for generations here in Tracy. It will be used by people from Tracy and around our area."
Serpa and Mayor Robert Rickman credited Langley, Bazinet, Marsha McCray, Sandi Taylor, Sue Rainey, Molly Lowe and Roy Hawkins with helping drive the project forward.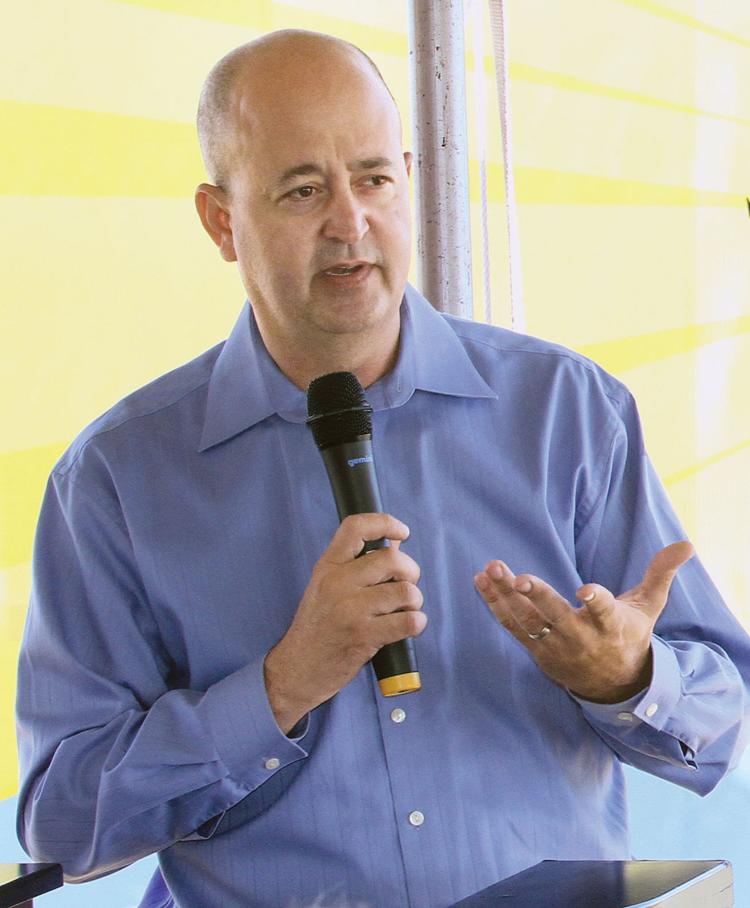 "I mean, it has been a long time," Rickman said to them Wednesday, "and there has been some frustrating times, to say the least, but your dedication and your passion is largely responsible for this — what we're doing here today."
Rep. Jeff Denham, R-Turlock, who represents Tracy, congratulated everyone involved, calling the project "forward thinking" and adding that as new jobs and people move to Tracy, the water park will be a crucial facility.
"Right at home we're going to have something that is world-class, that is badly needed for swim lessons, for recreations, for building a community for everybody to enjoy," Denham said. "Public-private partnerships show how this can get done if we all work together and have not only that forward thinking but all levels of government working together to solve a problem and plan for the future."
Now it falls to the director of the city Parks and Recreation Department, Brian MacDonald, to plan for that future, which is little more than two years off.
"Obviously it's a game-changer, right," he said Wednesday. "From a Parks and Recreations perspective, we're going to be able to offer programming for all ages. Whether it's toddlers, mommy-and-me classes. Then you look at seniors. With an indoor pool facility, we can offer this year-round."
MacDonald said he must also look at whether to offer later hours for commuters.
"That's one of the complaints we get: Hey, you don't offer enough classes late evening," he said. "Those people who are commuting to the Bay Area and back have an opportunity to enjoy this facility, and actually all of our other facilities, after the commute hours."
MacDonald said Wednesday that there are still no hard estimates of how much the city of Tracy will spend on manpower, maintenance or operations. He said he and other city employees have toured other water parks, including the Wave Waterpark in Dublin, to try to find best practices. He said the Dublin park, which is smaller than the 20-acre Tracy Aquatic Park, employs 400-500 people year-round.
"That part of the analysis we'll do is whether or not the city staffs this facility or we look at partnering with private sector," MacDonald said. "To look at operationally, where can we find that talent pool to run this facility. Especially a facility of this magnitude."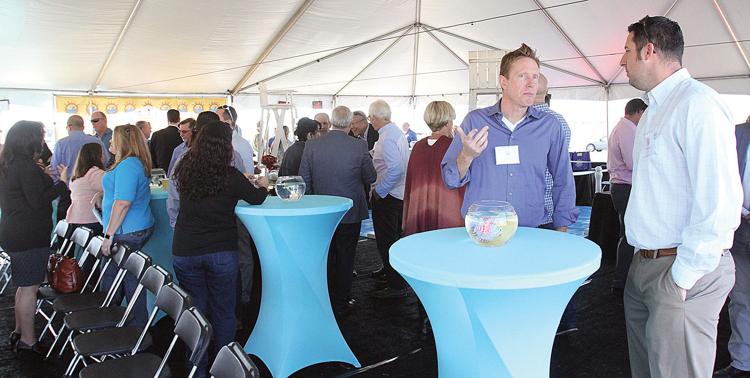 MacDonald said he expects the Tracy Aquatic Park to become a regional attraction.
"Obviously it puts Tracy on the map regionally," he said. "Manteca's got Great Wolf coming in and they've done a great job attracting that model. But this is really a different model. This is a community asset. We're looking at keeping it affordable to use, especially for our local residents. But also ways to enhance our use through renting it out for competitions."
Lowe, who got involved in lobbying for a swim center when her children were in sixth and first grades — they are now 23 and 18 — could not stop looking at the designs displayed at the launch party.
"This is phenomenal. It blows my mind. It's way beyond what I could ever dream of. I'm just excited to get it moving," she said. "My kids won't be here to enjoy it, but thousands of other people will."
See the artist's rendering of the final design released Wednesday below.