A scaled-down farmers market on 10th Street opened Saturday morning, a month later than usual, with new social distancing precautions in response to the COVID-19 pandemic.
The association's executive director, Dino Margaros, said about 940 people visited throughout the day under the market's new social distancing rules. Those included a single entrance and caution tape surrounding the block of West 10th Street between Central Avenue and B Street.
"I know it's not ideal. We're just trying to be as safe as possible following as much safety protocol as we can," he said. "It's just a new way of us having to doing business, and our feeling is we know the market is scaled down from what it normally is. The focus was on fruits, vegetables, those kinds of vendors."
Under the new guidelines, shoppers entered from Central Avenue, where they were given a ticket to show when making a purchase. The measure was intended to keep people from wandering in through the exit or crossing the caution tape around the market so the space wouldn't go over its 200-person capacity. Some vendors and shoppers, though not all, wore masks.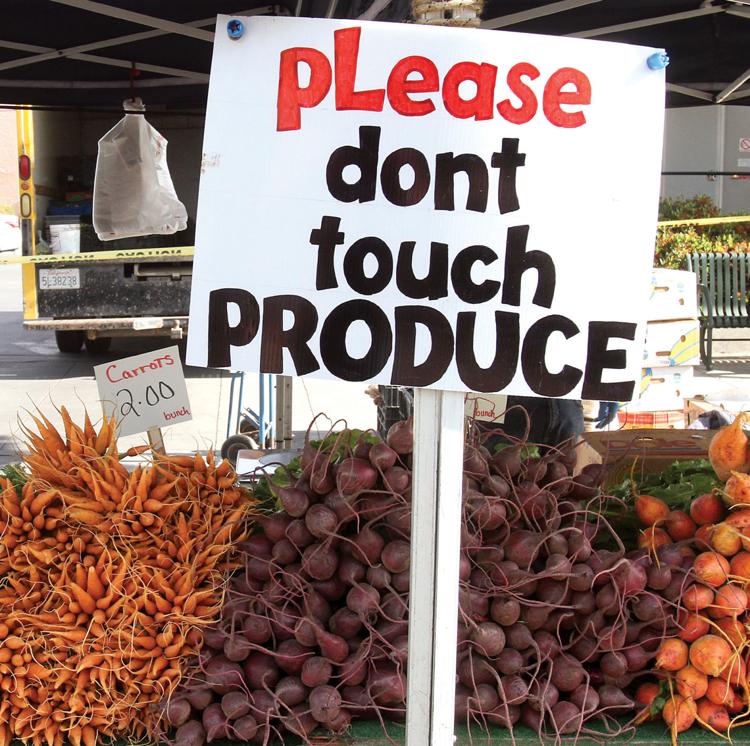 Booths were spaced farther apart, and signs along the street reminded people to keep six feet between them and not to touch the produce in the booths. Some vendors pre-bagged their produce, and others picked out and packaged items to order for each customer.
Margaros said the farmers and small-business people who sell their goods at the market were glad to return to downtown Tracy for the summer market season.
"Obviously this is their livelihood, and many of them don't have other outlets for their products," he said. "Many of them were extremely appreciative we reopened and got things going. We're happy to help the farmers and help the community both."
The market averaged about 200 visitors an hour, about a third of what the market normally draws during the summer.
"The numbers are considerably down, but I thought it was a good turnout for the first one of the season," Margaros said.
Starting this Saturday, he said everyone at the market will also be required to wear a mask or other face covering "out of an abundance of caution."
"It's not required by the county, but to go above and beyond and make people feel as comfortable as possible," he said.
Organizers are working cautiously to add back more of the market's usual features in the coming weeks and months.
"Hot food vendors are the next thing we're going to look at," he said. "If there is a way that we can introduce them and remain safe and keep the social distancing, they will probably be next. We just want to make sure we can manage what we have in the existing format."
Margaros felt it was important to bring the market back to the community.
"I think the biggest thing is the market itself is a symbol of normalcy that people are really wanting to see," he said. "I realize it's a modified version of normalcy, but I think it's something that gives people hope that things are heading in the right direction."
The farmers market will continue from 8 a.m. to 1 p.m. Saturdays through Oct. 31.