A sixth potential Tracy City Council candidate has stepped forward for the Nov. 3 election.
Stephen Zendejas, 29, filed his candidate intention statement June 26 at Tracy City Hall for what will likely be two open seats on the council.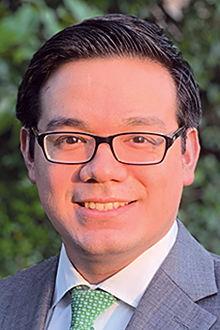 Zendejas is a Tracy native and a graduate of Tracy High School. He attended San Joaquin Delta College and then University of San Francisco, where he graduated with a degree in politics and went on to graduate from the USF law school.
Zendejas had been a care navigator at WestCare, a nonprofit that helps veterans who are homeless or at risk of homelessness, and recently left that job to study for the bar exam.
This is his first venture into local politics, but he has experience in government, having served as a congressional intern for Rep. Jerry McNerney in 2010, and then for Rep. Nancy Pelosi in 2011. He also worked with Tom Ammiano when he served in the California Assembly.
Zendejas said he was motivated to run for local office after George Floyd died while detained by Minneapolis police on May 25, which was followed by nationwide protests that included calls to defund police departments. He said that Tracy must also rethink how it funds law enforcement.
"I was looking at the budget of Tracy and I noticed that we spent 45% of the city's general fund on policing, and I tried to compare that to other local municipalities with similar population and similar crime rates," Zendejas said, adding that money spent on policing doesn't necessarily reduce crime.
He also cited a report by last year's San Joaquin County Civil Grand Jury, "Tracy City Council: Restore the Public Trust," as a critique of the internal divisions that had made the council less effective as a government body.
"You can have vehement disagreements with somebody, but you could do so in a professional manner," he said. "The fact that the City Council can't abide by that, to the point where a civil grand jury had to get involved and reprimand and advise these sorts of rules to be set in place, that speaks volumes in my opinion."
He said that COVID-19 had thrust the city into a new era as the economy and public life changed in response to how municipalities operate under the threat of a spreading infectious disease.
"The pandemic has really just placed a spotlight on the underlying issues in the city, whether it's with homelessness, lack of job prospects or lack of business innovation coming into the city," he said.
He also believes the council should show stronger leadership when it comes to creating new laws and policies, citing 2018's Measure D, a failed effort to establish taxes on cannabis dispensaries in Tracy, as an example.
"It's kind of frustrating that the council wouldn't take the steps to vote on the ordinance itself instead of punting it to the voters," he said. "To me, that's the point of having a City Council, to make the tough decisions."
Zendejas is the sixth person to step forward in the race for two Tracy City Council seats in November. Also running are Elizabeth Ortiz, Ameni Alexander, Jaime Medina, Eleassia Davis and Amrik Wander. They are running for seats now held by Nancy Young, who is running for mayor, and Rhodesia Ransom, who is running for county supervisor.
The city also has four candidates running for mayor, which is an open seat as Mayor Robert Rickman makes a run for county supervisor. In addition to Young, Jass Sangha, Abdul Wahid and Angelo Alejandre are seeking the open seat.
The filing period for the November election opens Monday and runs through Aug. 7, and will be extended until Aug. 12 if any of the incumbents do not file for reelection.