The Rev. Kalvin Waetzig stood on the upstairs balcony of the St. Paul's Lutheran Church Life Center and raised his arms to the group of 25 cars gathered in the parking lot Sunday morning.
For the first time in seven weeks, Waetzig saw the faces of his congregation as he led them in prayer at the church's first drive-in worship service.
"There is something about coming together and worshipping together that encourages the heart," he said. "We get connected, we feel more connected to him and one another."
Places of worship across Tracy shut their doors in March after stay-at-home orders issued by the city and county prohibited large gatherings of any kind.
But drive-in services are now possible. San Joaquin County Public Health Services amended the countywide orders April 24 to allow outdoor faith-based gatherings as long as all the participants stay in the cars they arrive in and maintain social distancing of at least 6 feet.
St. Paul's had been holding online services since March but on Sunday opened the church parking lot to congregation members. The first service was meant to be a trial run for church leaders, but word spread, and 25 vehicles were guided into yellow parking spaces newly painted 6 feet apart on the asphalt facing the two-story church building.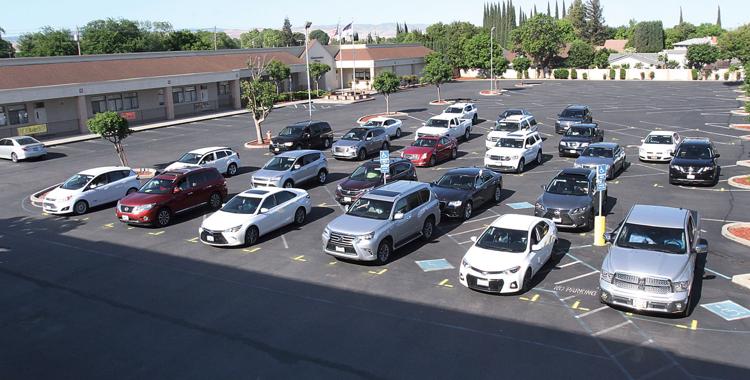 "God has created us to be connected and to be community," Waetzig said. "There is something when you see each other face to face. We're doing that electronically — we've adapted like all the other churches have — but this looks like it's going to be a lot of fun and see their faces."
Preparing for the service, he joked that he had wanted the congregation to "honk if they love Jesus," but then he decided to keep it quiet for neighbors who might still be resting at the service's 8:30 a.m. start time.
As the service began, though, he called for "one really quick toot for Jesus" as he welcomed his congregation back to church grounds for the first time in a month and a half.
Debbie Schmidt has attended St. Paul's for about six years. She followed along with the weekly online services, but she prefers the drive-in format because of the opportunity to see her friends from church again.
"It's awesome," she said. "It's great to be outside. It's terrific to see Pastor live, just to see people that we worship with. Even though we are in our cars, we can look and see them live versus on a screen."
Waetzig said it was the second drive-in service he had led. The first was more than 30 years ago when he was training to be a pastor. He held the service for members of a Missouri resort in a funeral home parking lot flanked by loudspeakers.
The technology he used Sunday was more advanced. Church members tuned their radios to an FM station to hear a broadcast of the 45-minute service, which featured musical performances, scripture readings and a sermon.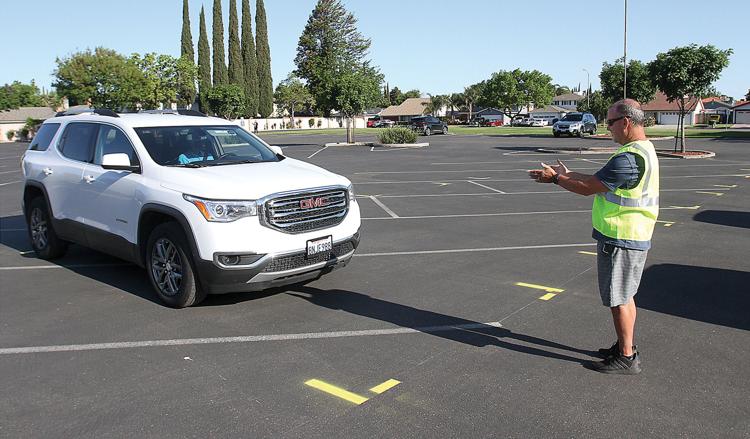 Wanda Thompson has attended St. Paul's for more than 20 years and had been frustrated by the orders keeping her apart from the rest of her congregation.
"If I could go to the grocery store and see total strangers, and they come up to you very close down the aisles, why can't I come here?" she said. "These are the people I trust. These are the people dear to my heart."
After weeks of online worship services, she was "elated" to be able to worship together in person at the place she considers her second home.
"You know how close you feel to your family and when you can't see them you long for them," Thompson said. "It's the same thing here."
Across town, the Rev. Pat Pacheco took to the blacktop to lead his congregation in a drive-in service at City on a Hill Mission Church, 489 W. Mount Diablo Ave.
The Sunday service was their second drive-in worship. They also gathered on Easter Sunday despite a recommendation from Public Health Services of San Joaquin County to "please refrain from 'drive-in' services."
Pacheco said the 12:30 p.m. service on Sunday drew about 30 people in their vehicles. Before the pandemic, the church would have about 75 people in attendance.
"From our congregation, if this is the new normal, this is how they want to do it, sitting in their cars and receiving the message," he said. "That community atmosphere is what they want."
The pastor started live-streaming services online in March and sometimes had as many as 500 viewers, far more than he saw on a typical Sunday at church. But it wasn't the same.
"Not to have seen them in person is kind of tough," he said. "Corporate anointing, even if it's just through a windshield — to see them again is a huge connection."
During the service, Pacheco said people responded to his words by honking their horns. City on a Hill also allowed worshippers to leave their cars to use the bathroom in the church building. People would flash their lights if they needed help from an usher.
He said the desire to gather and worship together extended beyond his congregation into the larger community of faith.
"We have had people from other churches ask us — people who don't normally attend our church — about attending the drive-in," Pacheco said.
He plans to continue drive-in Sunday services, but he is concerned about people getting overheated in the coming summer weather, especially children.
"If we have triple-digit temperatures, we can't have them sitting in their cars," Pacheco said before adding that people could keep the air conditioning on.
Moving forward, St. Paul's will have an 8:30 a.m. drive-in Sunday service followed by an online program at 10 a.m. for those who don't feel comfortable leaving their homes yet.
Waetzig hopes the drive-in gatherings will bring his congregation together.
"I think they will just continue to connect with community. I do want this to be just not cute or novel. I really hope that outdoors here, the Lord still does his work and encouragement connecting and reminding us we're his children," he said. "This is how we can worship the awesome Lord God at this point in history in the United States of America."
After concluding Sunday's service, he waved from the sidewalk to the people in each car as they drove away. Many were in tears as they passed, repeating their thanks.
"The connection in person when you get together face to face, I think honestly it was something I was taking for granted, the depth of it down to your core, how important and meaningful and encouraging it is as we gather together in his name and worship together," Waetzig said. "I knew about it in my head, but, boy, I sure know about it in my heart now."