Another candidate for mayor of Tracy will make a run for office this November.
Angelo Alejandre, 22, a 2015 Tracy High graduate, filed his candidate intention statement Dec. 19.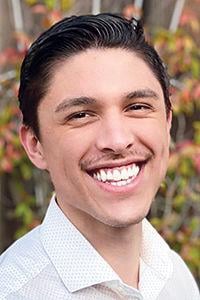 Alejandre joins Mayor Pro Tem Nancy Young and challengers Jass Sangha and Abdul Wahid in the race for mayor.
In a statement emailed to the Tracy Press, Alejandre noted that while studying economics at Sonoma State University in Rohnert Park, he was a member of the SSU Econ Club, German Club, club soccer team and Village Council, and was active in helping first-year college students learn to optimize their use of campus resources.
His run for mayor of Tracy will be his first involvement with municipal government, but he said that many issues facing the city are obvious to all citizens and require a fresh voice and fresh ideas. Longer commutes, increased cost of living and lack of good-paying jobs were the community's top challenges when his parents moved to Tracy in 2001, he observed, and they continue to plague the city.
"Not everyone is political, but everyone knows that the traffic and urban sprawl is getting out of control, and will tell you how they feel about it," he wrote. "Not everyone cares for these large political parties in the state and national level that continue to neglect their constituents in Tracy (and the Central Valley as a whole), but now everyone knows that getting involved at the local level can make a huge difference."
Issues that he sees coming forward in 2020 include funding for the Valley Link commuter rail line, creation of a long-promised water park, and the search for solutions to get homeless people now living on the streets and in city parks into safe and affordable housing.
"Our town is approaching 100,000 residents and it's time to stop pretending that we are a small town dealing with small problems," Alejandre wrote. "The future is here and change is coming. We can either exploit the potential the city of Tracy has or we can watch this huge opportunity pass us by."