Mateo Bedolla was the first among six candidates to file his petition to run for Tracy City Council.
Bedolla, who has made previous runs for Tracy Unified School District Board of Education and the San Joaquin County Board of Supervisors, had not stated his intention to run for council before the July 13 opening of the filing period, but a week later he had all 20 signatures he needed to get onto the ballot.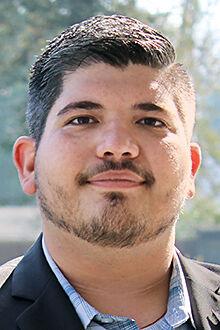 Bedolla, 27, is a Tracy native, a 2011 graduate of Tracy High School and a 2015 graduate of California State University, East Bay. Before graduating with a degree in political science, he joined the staff of U.S. Rep. Jerry McNerney, D-Stockton, and worked there for two years. He has worked in construction management since then.
In the past few years in Tracy, Bedolla has seen a need for new leadership on the local level.
"I noticed the infighting among council members, weaponizing of local and state agencies, personal attacks, hundreds of thousands wasted on consultants, costly settlements north of $500,000 for firing of city staff, and all of that has led to a lack of focus on education, high wage jobs and even homelessness, so we have some work to do," he said.
He also wants to see a fresh approach to creating job opportunities.
"Locally, we have a deficit in apprenticeships, vocational education for local high-paying tech and manufacturing jobs," he said. "That's one of my biggest priorities for young people, have opportunities in our community."
He added that health and safety should be a top priority for local government.
"I actually lost my healthy father to COVID-19 while I recovered from the virus, so I understand how we prepare and respond to urgent situations can save or ruin lives," he said, adding that his father, Gilbert Chavez Bedolla, came to California as a field worker and raised his family in Tracy while working in construction.
"He was my de facto campaign manager, and he would have told me to keep going," Bedolla said.
The council race now includes six candidates running for two open seats. Mayor Pro Tem Nancy Young is ineligible for reelection to the City Council because of term limits, and Councilwoman Rhodesia Ransom is running for county supervisor.
Challengers Ameni Alexander, Eleassia Davis, Amrik Wander and Jaime Medina have also filed election papers, following up on their candidate intention statements. Also joining the race as of this week is William Muetzenberg.
Today is the deadline to file petitions to be on the Nov. 3 ballot, but because Ransom is an eligible incumbent not running for reelection, that deadline is extended through Wednesday for the City Council.