A ballot measure on Nov. 3 will ask voters to endorse a plan that would make the planned Valley Link commuter rail line the centerpiece of a modern urban center.
During a special meeting on Tuesday, the council reviewed the Downtown Transit Oriented Development Study, which is a step toward creating a new planning document for the area bordered by 12th Street, Schulte Road, Tracy Boulevard and MacArthur Drive, including the city's downtown.
The central feature of this area is the "Bowtie," where the Union Pacific railroad tracks cross between Fourth and Sixth streets, with Central Avenue running north-south through the middle past the Tracy Transit Station.
The plan also includes more than 780 acres, used mostly as farmland now, just to the east of downtown between MacArthur Drive and Chrisman Road. That area, referred to in the study as "Urban Reserve 1," also has a Union Pacific track running diagonally across it toward the Bowtie and could become a mixture of medium- and high-density residential development.
Martii Eckert, senior planner with the city's consultant, De Novo Planning Group of El Dorado Hills, explained to the council that up to 2,200 new housing units, including apartments and medium-density homes, would be needed in the downtown area within a half-mile of the Tracy Transit Station to meet Valley Link's definition of Transit Oriented development. Development on vacant and under-utilized land in that area could allow the city to add more than 1,050 new units, including 850 in the Bowtie, to the 1,750 that already exist. At least 5,600 units could be built in the 760-acre Urban Reserve 1, between MacArthur Drive and Chrisman Road.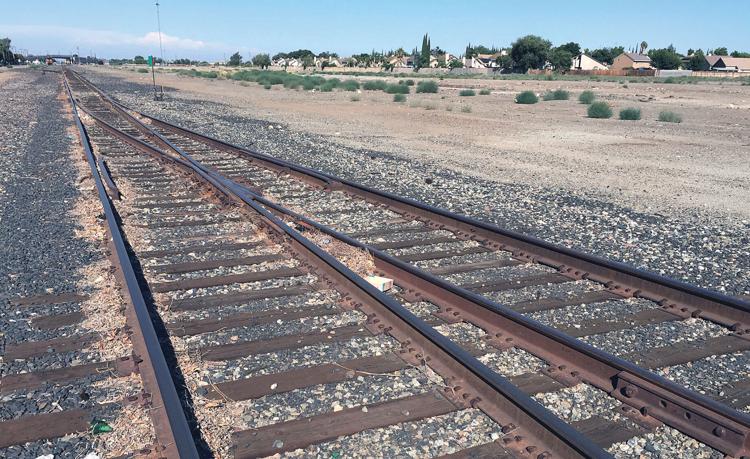 Another purpose of the plan is to provide guidelines for commercial development — including retail, dining, office and other job-generating uses — in the existing downtown area and in the area to be developed.
The plan would be characterized by new transportation corridors — such as bicycle and pedestrian paths, in addition to existing streets — that would provide convenient connections to the Tracy Transit Station at Sixth Street and Central Avenue. The Valley Link rail line would in turn bring commuters from Stockton and Lathrop through downtown Tracy and to the Dublin-Pleasanton Bay Area Rapid Transit station as soon as 2028.
To make all that happen, the first thing the city needs is an amendment to its growth management ordinance, which limits the number of new homes that can be built to an average of 600 per year.
Certain exemptions are written into the ordinance, known familiarly as Measure A. Up to 750 new homes can be built, as long as the yearly average remains 600. Housing that meets state-mandated affordable housing goals could also be exempt. The future Tracy Village active adult development, 590 homes on 135 acres on the southeast corner of Valpico and Corral Hollow roads, is also exempt because of a voter-approved measure from December 2015.
The council agreed on a 4-1 vote, with Mayor Robert Rickman dissenting, to put a downtown transit-oriented development measure on the Nov. 3 ballot. If approved, it would create another exemption to the growth management ordinance for up to 2,200 units in the Transit Oriented Development.
During Tuesday's public hearing, which included a series of emailed comments that City Clerk Adrianne Richardson read into the record, the council heard plenty of support for the plan. Valley Link advocates praised the plan as a catalyst for creating affordable housing and jobs along the route of the proposed rail line.
Dino Margaros, executive director of Tracy City Center Association, also expects to see a higher demand for downtown shopping, dining and other services under the plan.
"The accumulation of these benefits will be a more vibrant destination for the city and region," Margaros said. "The city's return on investment will not only include increased revenue in the form of property and sales tax but also in community character and quality of life as the downtown continues its evolution into a great place to live, work, eat, play, shop, learn and socialize."
Councilwoman Veronica Vargas, who represents Tracy on the Tri-Valley-San Joaquin Valley Regional Rail Authority, the agency creating the Valley Link system, said that housing near the Valley Link stations would be a key to increasing ridership on the new line.
"I do support some of the concepts about maybe an option, changing it a little bit to add a component of affordable housing, as long as it's manageable and reasonable, that we set a project up for success," she said. "This is an opportunity that all needs can be met in one single project."
Councilwoman Rhodesia Ransom highlighted the economic development potential of the downtown as a transit-oriented development area, but also cautioned against pricing out longtime residents.
"Every time we have an opportunity to build a new project, something of this magnitude, we cannot turn a blind eye to the fact that this could, at the same time it's building up this community, that it could actually displace or gentrify a part of our community where there's a lot of history downtown and in that area," she said.
Councilman Dan Arriola began to dial in on just how much affordable housing should be included in the plan, suggesting that 10% of the new homes should be affordable to people making median income, assuming that 30% of their income goes toward housing.
City Attorney Leticia Ramirez noted that the median income for a family of four is about $84,000 a year in Tracy and $66,000 a year in San Joaquin County as a whole.
"If we want to do this, we need to make sure it passes the voters' intent," Arriola said, recalling that Measure M, which would have exempted about 2,000 acres around town from the city's growth management ordinance, lost by a large margin in 2018. He blamed that loss on the lack of workforce housing in the Measure M plan.
"If we have that inclusionary housing component to require that this happen, then I think we can grab onto the voters' will and make sure that this actually happens," he said. "What I would hate is for this to go to the voters and for it to utterly fail and us have to wait another two years. I think we can all get on board with this, but we want to make sure we're hearing the community, we've listened to the community and we actually do what they want us to do."
Mayor Pro Tem Nancy Young worried that the rush to get the measure to the registrar of voters by the Aug. 7 deadline could cause the council to overlook the potential pace of development, or miss other details in the plan.
"If we're going to do this, it needs to have a framework, or else I don't really know what this high density, medium density is going to look like," Young said. "I'm sure it will bring up the value of homes all around, but at the same time, it may definitely outprice the current population of Tracy."
The mayor cast the lone dissenting vote. He said the plan as it existed lacked too many details, such as information about increased traffic, street improvements and parking, for the council to endorse it with the deadline to submit a ballot measure only two weeks away.
"It seems like it's haste. We're rushing this just to get it across the finish line before we have all of the answers," Rickman said. "I think that could get us in a lot of trouble."
Vargas replied that the change in the growth management ordinance was just an initial step, and more comprehensive studies would follow before detailed plans and transit-oriented development proposals were put forward.
"We don't have anybody in the Central Valley doing T.O.D. We will be leading those efforts," Vargas said. "It's an opportunity and time right now to make a decision and to show we are committed to the vision and the goals that we said we were going to do. T.O.D. was something that this council said was a goal and a policy priority."