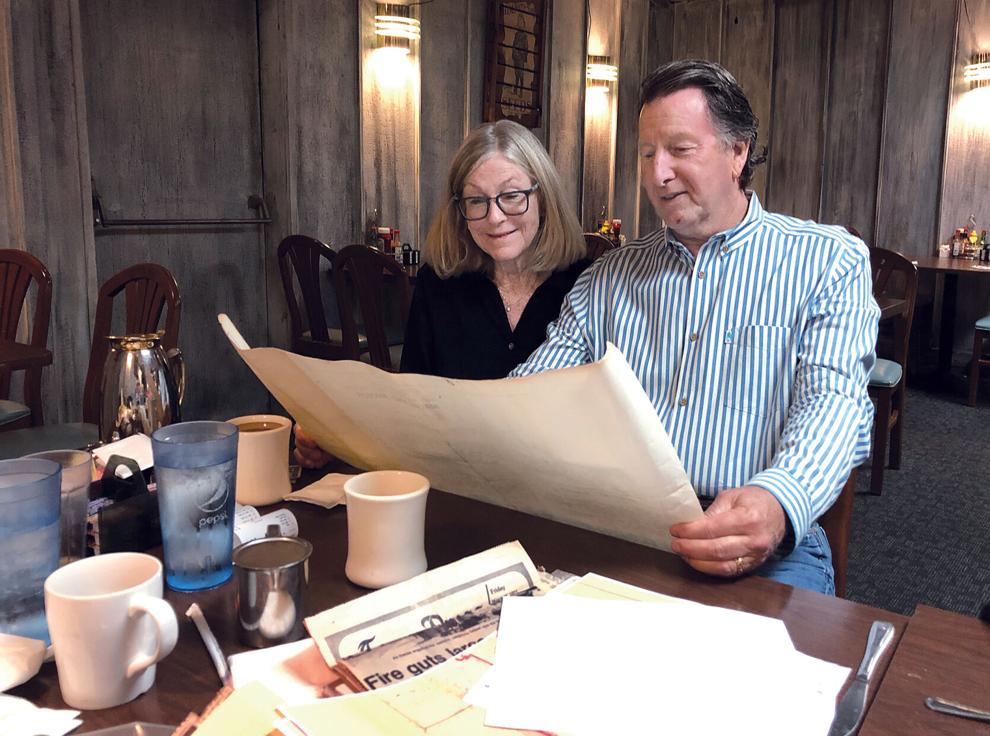 The unincorporated area south of Valpico Road between MacArthur Drive on the west and Chrisman Road on the east in the Carbona area has developed over the last three-quarters of a century into a center of upscale country-living south of Tracy.
So when and where did it all get started?
The time was early 1950s; the place was Maurland.
Maurland Manor — its full name — was the first "rural residential" development in that area, and everything on both sides of Fairoaks Road followed the pattern pioneered by Maurland.
In the last week or so, I've sharpened my memory on Maurland's beginning by talking to a knowledgeable source: Kathy Maurer Wright. It was Kathy's parents, Dr. Dan and Velma Maurer, who started it all. Kathy was in Tracy recently to tell me and some Maurland residents about it.
Earlier, she and her husband, Tim, had come from their home in Dixon, where Kathy had been a teacher, to clean her parents' headstone in Tracy Cemetery. The Wrights stopped by the Four Corners for lunch and happened to have a table close to one occupied by Byron Alvarez, who heard the Wrights talk about Maurland.
"I live in Maurland, I'm interested in its history." he told them. From that chance meeting, a gathering of Byron, Kathy and several other Maurland residents was held a couple weeks later at the Four Corners. Since our family had lived next door to the Maurers when they first came to Tracy in the late 1930s, I, too, had a special interest in Maurland and joined the group.
About the name: the family name is Maurer with the "er" at the end. They streamlined the name of the rural subdivision to Maur, creating Maurland Manor.
R.D. "Dan" Maurer was a Tracy physician who had served as a Navy doctor in the South Pacific during World War II. Although his name was on the Maurland documents, it was his wife, Velma, a one-time nurse, who was the driving force to get Maurland Manor started.
How she managed to gain approval from county planning department was something she never told her daughter about, Kathy said. But several of the original homes, including the Maurers', built beginning in 1952, were constructed by Bob Gray, a Stockton builder, and he no doubt had earlier established working relations with the county's planning staff.
Maurland Manor was created out of 15 acres of farmland and almond orchards into 25 mostly one-third-acre lots connected to Valpico Road by Maurland Lane. Most houses were built along Velma Lane, which parallels Valpico.
When the H.J. Heinz Co. moved its West Coast headquarters and the last of its food processing from Berkeley to Tracy in 1956, that had a major impact on Maurland. A number of Heinz executives moved to Tracy and many found the kind of housing and rural neighborhood they were seeking in Maurland.
I ran into Larry Stevens at Barista's earlier this week, and I told him I was gathering information on Mauerland, where he grew up. That really piqued his interest.
Larry, now an attorney for Chase Bank, said his dad, Bob Stevens, was a Heinz purchasing agent (and later Heinz West Coast purchasing manager), and his family moved from Walnut Creek to Maurland in 1957. Other Heinz families came about the same time.
He said the prices of homes in Maurland at that time were in the neighborhood of $17,000, in the same range of home prices at that time in the McKinley School area of Tracy.
Larry, who was 4 years old when the Stevens family came to Maurland, attended Jefferson School as did his sister and younger brother. His mother, Patricia Stevens, was a long-time employee of Jefferson as a teacher's aide and office worker.
As moré families moved into homes built on Maurland lots, the number of children living there ballooned.
"I think there were close to 50 kids in Maurland," Larry recalled. "Velma lane ended in a cul-de-sac, and we moved up and down the street with ease as we got together for all kinds of things kids do."
There was no park with playground equipment, but the children went into the nearby orchards, and a couple of houses had swimming pools.
Sometimes they climbed into the tree house at the Art Sonnenberg's house next door. In the summer, some older kids slept overnight in an orchard.
"It was a great place to grow up," Larry said.
Kathy Maurer Wright voiced similar comments as she told us of growing up in Maurland with her brother, Greg, while also telling us more details of the founding of the pioneer rural subdivision still bearing an abbreviated version of the family name.
• Sam Matthews, Tracy Press publisher emeritus, can be reached at 830-4234 or by email at shm@tracypress.com.