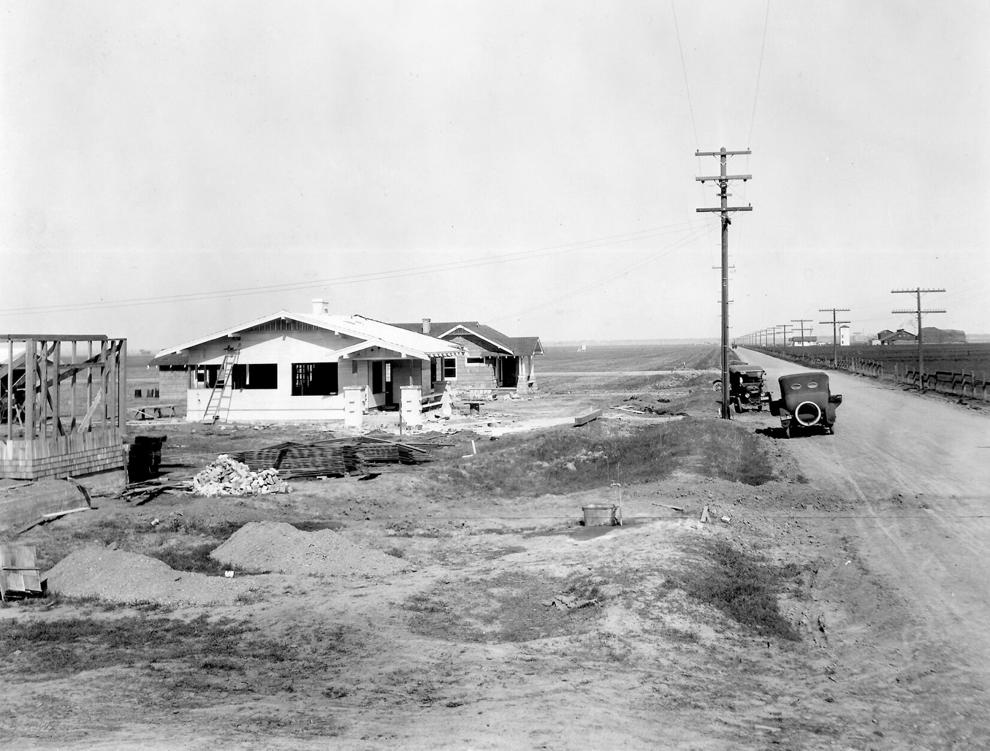 Monday's start of construction of the Regency at Tracy Lakes active adult community certainly was the latest, but by no means the first launching of a major housing development in our town's history.
You have to dial back 110 years, to 1911. That was the year two multi-home developments broke ground on land that had been part of the historic Parker Ranch.
The boom in housing development that year followed Tracy's becoming a division point for the Southern Pacific Railroad in 1910, bringing a flood of new families to town.
West Park subdivision continued Tracy's westward path of housing growth south of 11th Street, first known as "the county road."
The new houses were built on Seventh to 11th streets, starting at Windeler Avenue and including Taft and Roosevelt avenues, their names honoring presidents of the day. The houses were called "bungalows," featuring double gables, exposed rafters and porches.
Meanwhile, another piece of Parker Ranch, this one on the north side of 11th Street, was where Adam Parker in 1911 began selling property to home builders from Adam Street west across Parker Avenue to Bessie Avenue in what was called Rosedale. Adam Street (originally Jungle Street), of course, was named for Adam Parker, and Bessie Avenue for his daughter, Bessie Jackson.
Rosedale was developed with tree-shaded streets and bungalows that set a pattern.
Development of additional subdivisions came to a halt in 1916 when Adam Parker died. His estate was tied up in San Joaquin County Superior Court in Stockton, prohibiting the sale of any of the estate's property.
Finally in March 1923, the legal logjam was broken, and the court permitted the sale of remaining Parker estate, totaling 350 acres, to the Eaton & Buckley real estate firm of Stockton, which planned to sell subdivided parcels. (Now we know where the name for Eaton Avenue originated.)
As a result of the land sale, three housing developments — Lincoln Manor, Parker Acres and La Bonita Park — came to life in property purchased from Eaton & Buckley.
Lincoln Manor, which was considered an upscale subdivision developed by Berverdor Inc. — the family company that operated the Fabian-Grunauer department store at Sixth Street and Central Avenue.
Two brothers-in-law, Abe Grunauer (Tracy's first mayor) and Charles Slack, formed Lincoln Manor to develop home sites on Berverdor and East Highland Avenues between Holly Drive east to East Street. Lots were sold to individual home builders.
In 1926, the Grunauer family donated land at 101 Berverdor for the new Presbyterian Church.
The name Berverdor, long a puzzle to many, was a contraction of names of the three daughters of Abe and Mary Grunauer — Bertha, Vera and Doris.
In 1937, the Slack family, in exchange for being freed of paying back-taxes and fees, donated land north of Highland Avenue, including the irrigation ditch, to the city limits on Eaton Avenue to the city of Tracy for a park. Development of Lincoln Park began in 1941, and the ditch became an underground irrigation pipeline, as it remains today.
In the area west from Bessie Avenue to Roosevelt between 11th Street on the south and Eaton Avenue on the north was the second of the new developments, La Bonita Park. To the west of Lincoln Park, a third, and smaller development, called Parker Acres, added homes between Highland Avenue and Eaton Avenue, including a site for the new Central School, between Holly Drive and Bessie Avenue.
The name Parker Acres was later given to all the unincorporated area north from the city limits on Eaton Avenue to Grant Line Road between Bessie and Holly. I'll report on that sizeable chapter of Tracy's home-development story next week. And by the way, how did Hollywood Avenue acquire its name?
• Sam Matthews, Tracy Press publisher emeritus, can be reached at 830-4234 or by email at shm@tracypress.com.