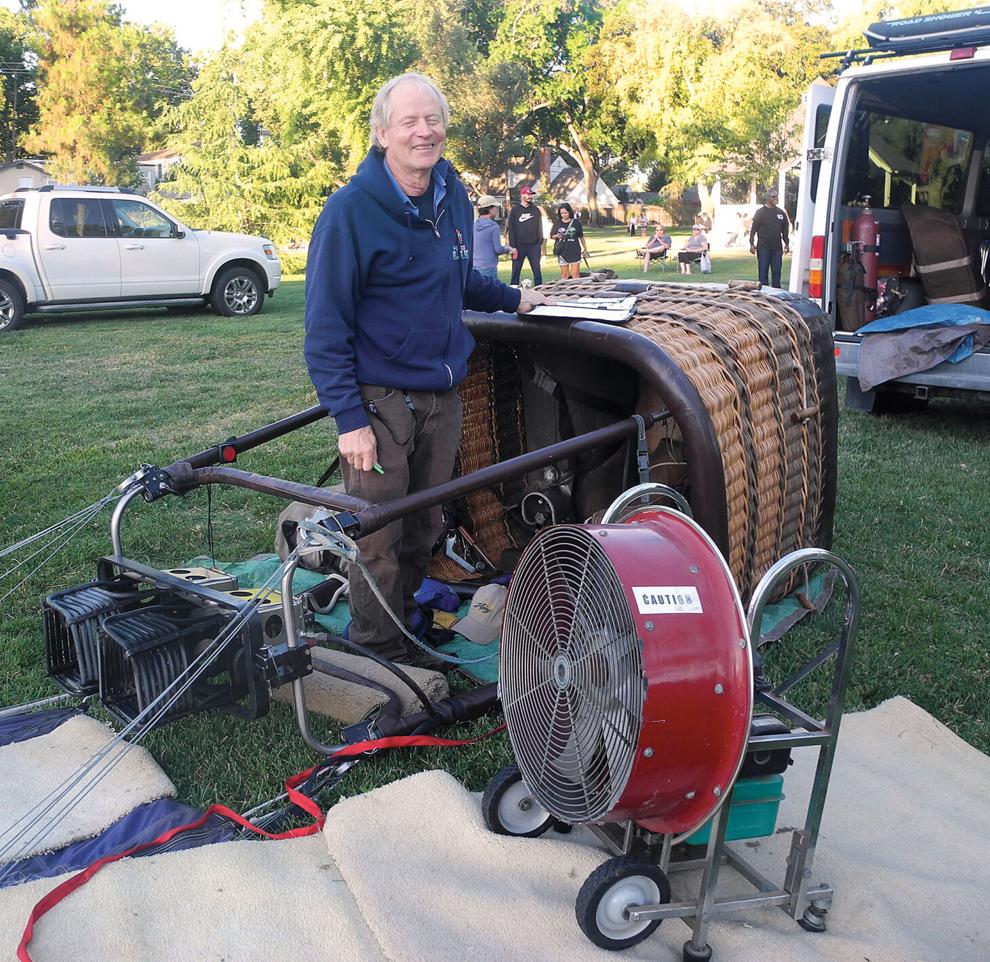 Colorful hot-air balloons rose into the air above Lincoln Park Sunday morning, signaling the continuation of the nearly three-decade-long tradition of balloons lifting-off to launch Tracy's Fourth of July Celebration.
What the future holds for the balloon lift-off had been put into question, however with the June 15 death of Brent Stockwell, the world-famed balloonist who had organized Tracy's Fourth of July balloon ascensions since 1984.
Two of Brent's students, David Robinson of Half Moon Bay and Gary Michalek of Lafayette, were present with their balloons, as they had promised on learning of Brent's death. Robinson had hoped several more balloonists would show up as a tribute to Brent, but only several additional balloonists, all without balloons, were present.
Among the balloon-flyers sans balloons was Ilise Osner, who came from San Anselmo with her husband, Jeremy.
"We were living in Modesto when we came here in the early 90s for the Tracy Fourth of July balloon rally," she said. "We met Brent and his wife, Christine, at the rally, and Brent became our teacher. The next year we came back here and flew in a balloon."
Elise said Tracy was "a beautiful place to fly a balloon," and "Brent was a great teacher."
She said it "very sad" for all balloonists when they learned of Brent's death, and she hopes that even without him, the Tracy Fourth of July balloon lift-off will continue.
As Robinson and Kapachek were filling their balloons with heated air from butane burners, Paula and Troy Carroll were two of the several hundred Tracy residents watching the traditional pre-lift-off ritual.
"This is the first time we've watched the lift-off so close," It's so exciting," Paula exclaimed. "I'm surprised how large the balloons are. I've never been up close before."
Troy Carroll said they had seen balloons in the air above the Tracy area, but this was the first time they and other family members had come to the park to see the lift-off.
"Yes, we're glad they've kept the tradition going. Absolutely," he said.
Scott Andrews and his wife, Karan, reported they have lived in Tracy since 2013 and have watched balloons lift-off from Lincoln Park four or five times.
Jason and Cristina Souza said this is the only time they had been to the park early enough to see the balloon lift-off.
They brought their two daughters, Bella, 10, and Sophie, 7, with them.
"We just live 'round the corner, so it wasn't a problem getting here, We can walk here," Scott said.
Just then, Cristina noticed he first balloon lifting off. "Oh, it's the one with diamonds (It was Gary Michalek of Lafayette)." she said as the balloon drifted southward over the trees that line the park.
There's a good chance, Bella, Sophie and their mom and dad will return to Lincoln Park again next year to watch colorful balloons rise into the air once again. After all, they live just a short walk away.
In the meantime, some organized efforts to keep the balloon lift-off going may be needed. Ballooning isn't as popular as it once was, and some financial incentives to pay travel expenses and other costs could spur interest.
• Sam Matthews, Tracy Press publisher emeritus, can be reached at 830-4234 or by email at shm@TracyPress.com.