The Tracy Chamber of Commerce annual gala lived up to its billing, "Once Upon a Time in Tracy," by presenting an evening of local history.
Chamber president and CEO Tamra Spade opened the evening by recognizing the outgoing president of the board of directors, Robin Lopez, and introducing the 2020 president, John Palmer. He will lead a 550-member organization that includes 70 businesses that joined in 2019.
The chamber also lost two members in 2019: Bill Fields of Surtec Systems, the chamber's Business of the Year for 2005, and Maureen Tobin-Bastedenbeck of Enagic Kangen Water.
Most of the evening was the chamber's opportunity to honor business people, citizens and community organizations, and they all took the opportunity to talk about how their own histories fit in with the history of Tracy. Their stories revealed how challenges, be they business setbacks or conquering adversity in their personal lives, translated into finding the inspiration to succeed.
---
Male Citizen of the Year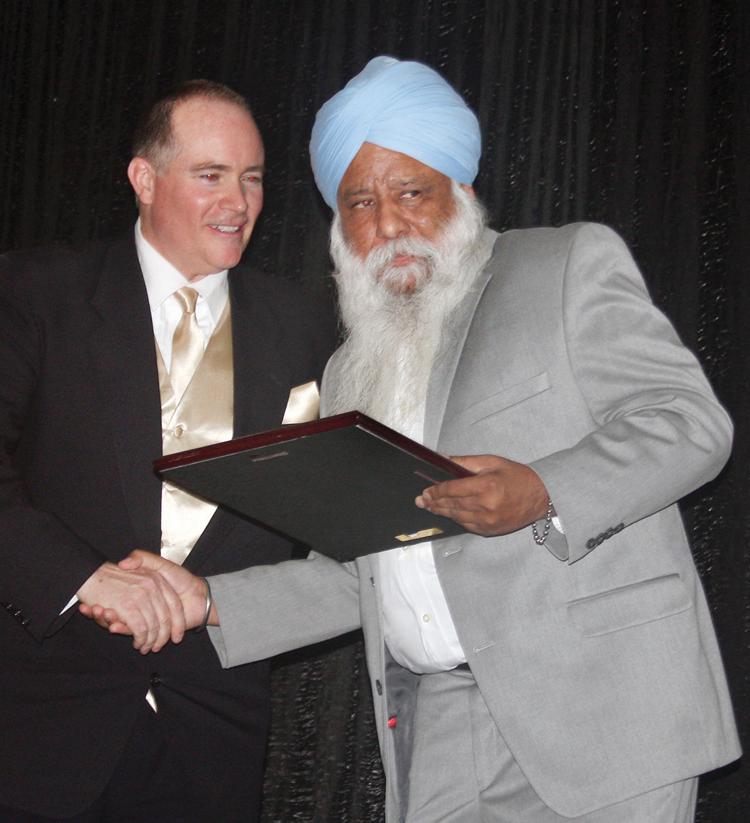 Male Citizen of the Year Karnail "Mike" Sandhu described how his family became exiles in their native country and then came to California to start over.
Today, Sandhu and his brothers own 55,000 acres of farmland where Sandhu Bros. Farms grows almonds and walnuts, which are shipped around the world through Crown Nut, the family's exporting company in Tracy. Along the way, Sandhu has also become one of Tracy's leading philanthropists.
He recalled how his family left the Punjab region after it was divided following independence from England. His family's land ended up on the Pakistan side of the line, where their Sikh faith was incompatible in the Muslim majority country.
"My family lost everything, so when we came to India we were homeless," he said.
The family got back into farming in India before moving to California and settling in Yuba City 38 years ago, and through the hard work of his parents, the family found success here.
With strong faith and a solid work ethic, Sandhu said that success can be in reach for people, but they first need to be given a fair chance by society.
"There are different demographics in this city and everybody deserves respect. Whatever they are making, they should be able to live in a place, decent place, according to what they are making," he said.
He added that local business people could create more jobs, but he also sees overregulation driving employers overseas.
"Let's cut red tape and let people create jobs where everybody can have a decent life here," he said.
---
Female Citizen of the Year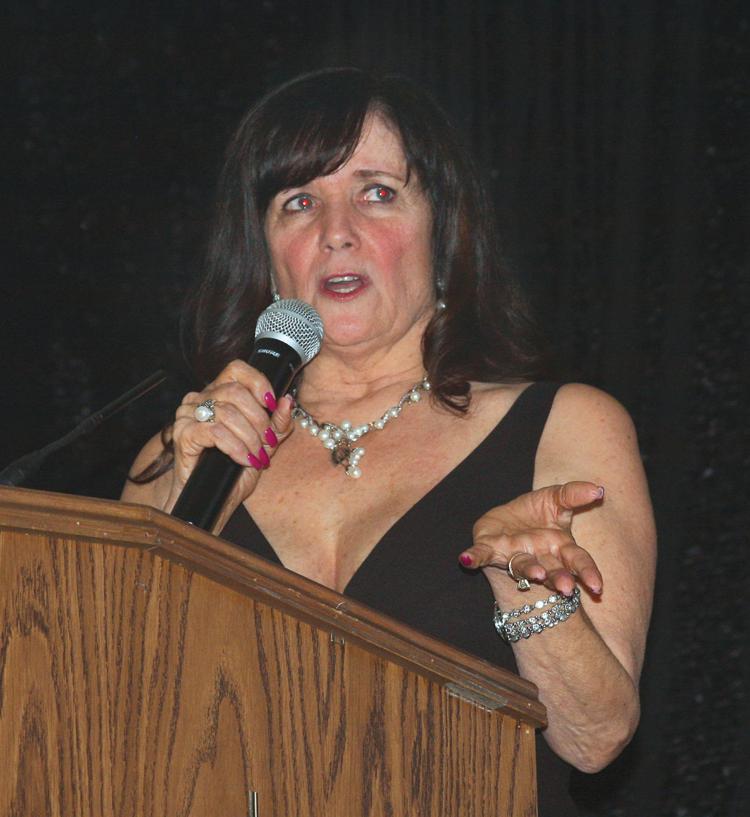 The chamber's Female Citizen of the Year, Jeanette Pombo Marcucci, is a Tracy native and a Realtor since 1989. She is co-owner of the family business, Pombo Real Estate, but her passion for the past 14 years has been McHenry House Tracy Family Shelter, where she sits on the board of directors.
She was humble about receiving the award but eager to talk about what McHenry House does for homeless families and the community's generous support for the charity.
"I don't know if you've seen that little Victorian on the corner of Ninth and A streets. It's a really small place but it does wonders. It's amazing," she said. "Currently we have six families there. Thirteen of them are children, from the age of 2 months to 17 years. Last year we were able to provide assistance to close to 200 of the homeless in our community."
She credited director and case manager Armenia Pereira with helping nearly all the charity's clients get back into jobs and homes, and she credited the community's generosity with helping McHenry House sustain its $35,000-a-month budget.
"It's an honor, but I'm just one of many that do so much for the community," she said. "And all of us know that it takes the support of the community to make fundraisers successful, so I want to thank each and every one of you for supporting us."
---
Organization of the Year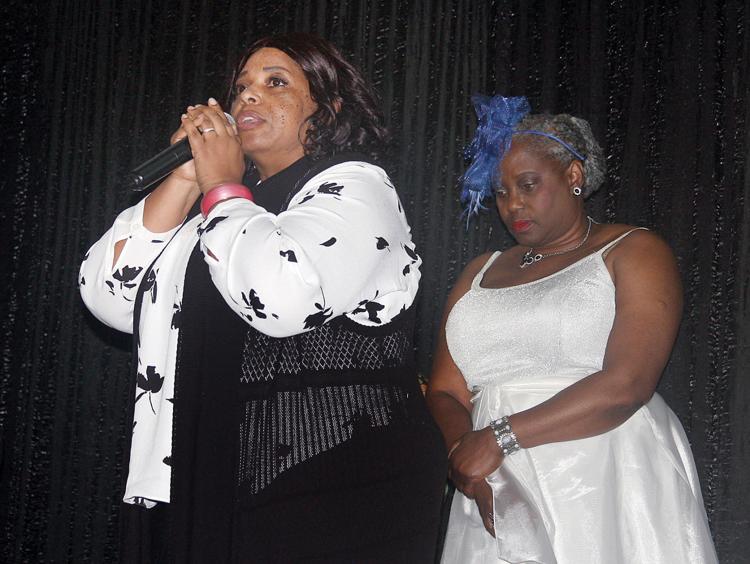 Chest of Hope, the chamber's Organization of the Year, started in 2005 as the vision of Merlyn Pittman, who wanted to make a difference for orphaned children. She soon saw more vulnerable people in need of an ally.
She brought Chest of Hope to Tracy in 2011, expanding her scope so that she could also serve women who had experienced domestic violence. Pittman credited Caroline Mixon, now the group's director of development, with helping the group expand its services.
"When I wanted to do what we do now, I didn't have a clue," Pittman said. "I just knew that I wanted to make a difference, and I called upon her. And this woman right here has worked with me since 2011 to present without a paycheck," Pittman said.
She added that Nuzhat Mir, who runs the group's office and web services, was central to that growth.
A year ago, Chest of Hope went from being an all-volunteer group to having a paid staff. The group now runs homes for women who are rebuilding their lives after escaping domestic violence or drug addiction, and it is expanding to identify and prevent human trafficking.
Mixon expressed the group's gratitude for the community's support with a blessing:
"Your strength doesn't come just from your own self but from others around you," she said. "May you continue to be a beacon of light, that others around you from cities to cities see you and want to do something similar to yours. May your hand stretch out to someone else that's in need."
---
Business of the Year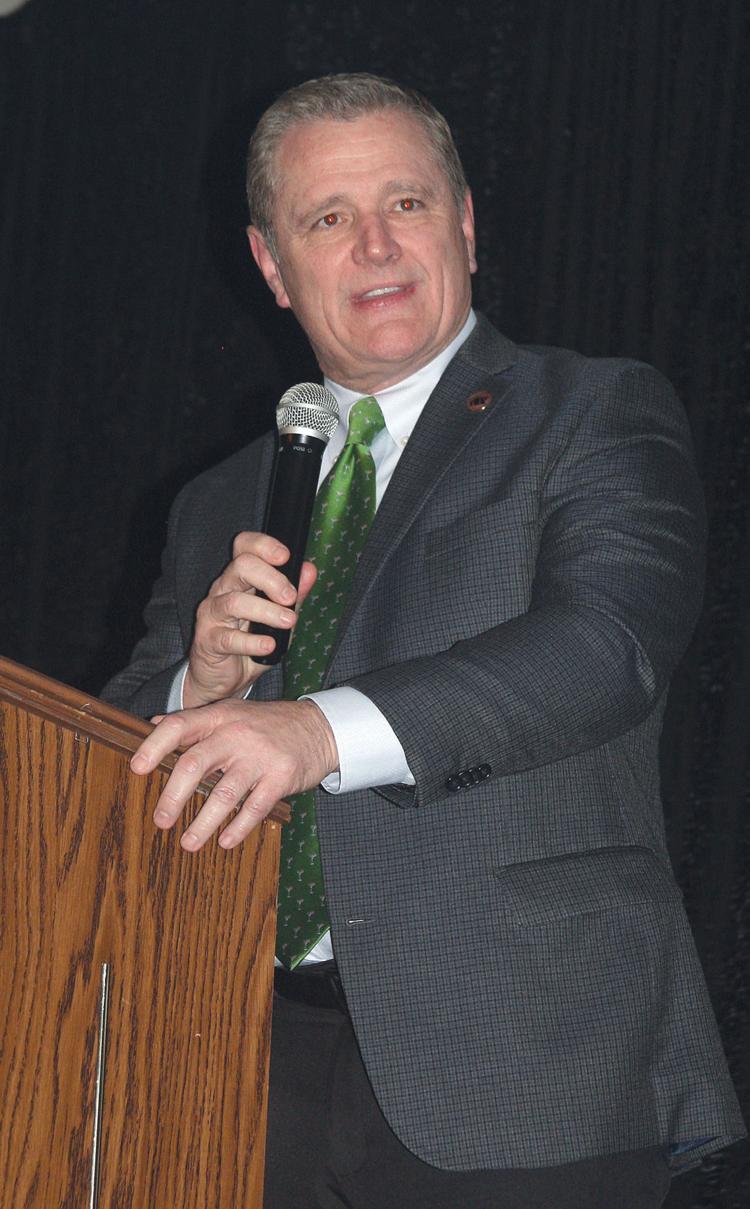 Introducing the Tracy Press as Business of the Year, Michael Ellis Langley, the paper's editor between 2013 and 2019, recalled how the newspaper's role in Tracy history dates back to 12 years before the city was incorporated in 1910. Since then — and throughout the time the Matthews family, including Publisher Emeritus Sam Matthews, operated the paper starting in 1943 — the paper has documented the life of the city.
Langley described how the people he worked with value that legacy.
"The brief history that I just gave you, they can all name because of pride. Pride in this community. Pride of the organization for which they work and pride in all of you," he said.
Will Fleet and co-publisher Ralph Alldredge bought the paper in 2012, and Fleet told the crowd that they did so recognizing the value that the Tracy Press has in the community.
"Ralph is the one who more or less convinced me to come to Tracy and take on this challenge, and I'm glad I did," Fleet said. "I look around this room and there are so many friends that we've made in the last seven years. I just couldn't be happier and more pleased that we did take on the challenge of the Tracy Press."
---
Agriculturist of the Year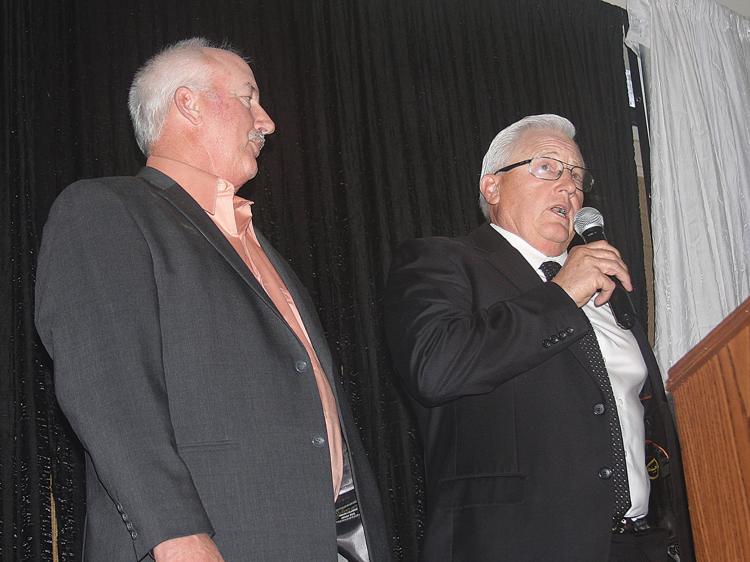 In accepting the Agriculturist of the Year award for A&M Bogetti Bros., Mike Bogetti, taking the stage with his brother Albert Bogetti, described how his grandfather, A.P. Bogetti, started a farm in the Tracy area, lost the farm when he raised only half of the $2,000 he owed the bank, and then continued working and raising his family to get back where he started.
"Within six years, he started back in farming and bought a ranch on Koster Road on 160 acres," Bogetti said.
All four of A.P. Bogetti's sons got into farming, and both daughters married local farmers as well. Mike Bogetti said there was never any doubt that he and his younger brother, who started their own business in 1979, would follow the tradition carried on by their father, Albert Bogetti Sr.
"Albert and I grew up farming," he said. "There wasn't an age limit on when you can drive a tractor. When your feet can reach the clutch and the brake, you were farming. You were driving a tractor. We had on-the-job training from one of the best teachers on Earth, our father.
"We are proud of the farmers that went before us. We're proud of the farmers coming after us, and we're proud to get this award."
---
From the Heart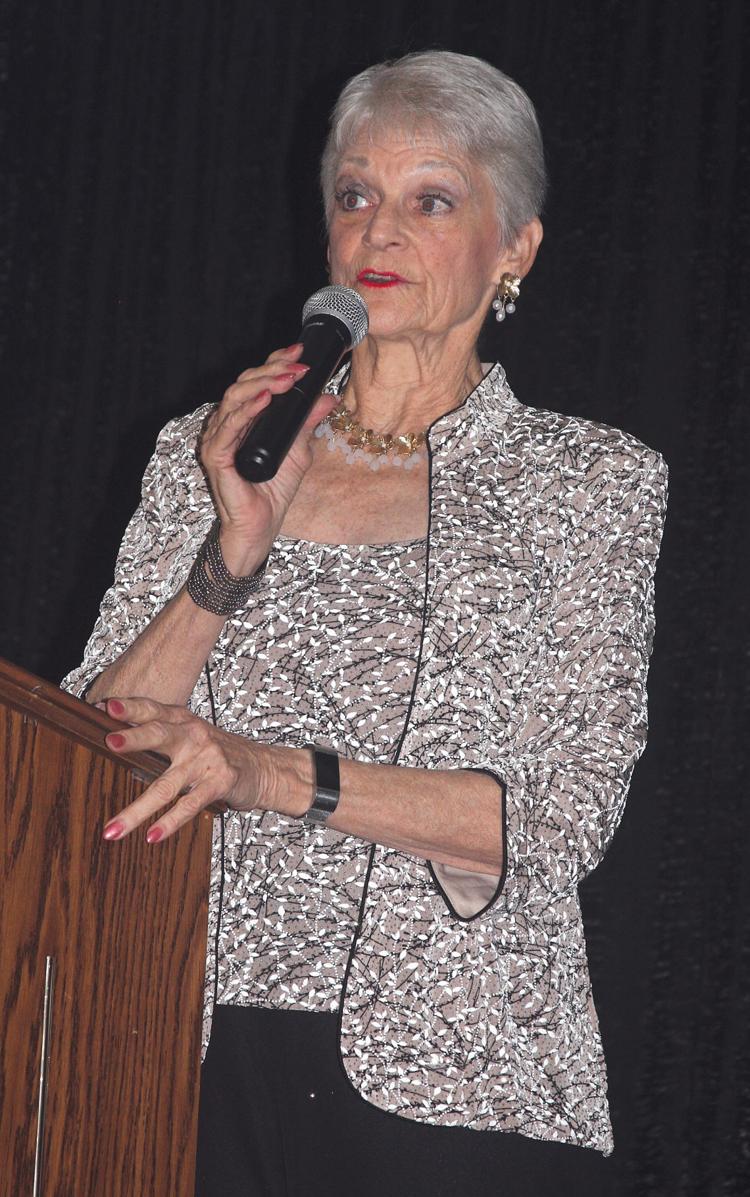 Terry Donaldson, better known in town as Miss Sparkles Delight, received the From the Heart Award, having entertained at her 5,000th local show since establishing herself as Tracy's favorite clown in 1997.
Donaldson described how her own background as an insecure youth has informed her career in clowning and her desire to be of service to children in the community.
"I remember a time when children were to be seen and not heard. I had no voice," Donaldson said.
"When I go to parties, what I'm trying to do is instill into these kids: hope. I want them to be able to have a voice when they're young," she said, adding that a clown can make those lessons fun for the kids. "So when I am doing a show, I'm not very bright. I think it's a kitty cat and the kids are really quick to tell me, 'No, that's a skunk!' And they want to tell me how to jump rope and how to juggle and how to use a jack-in-the-box, and the parents turn to their child, and they go, 'Wait, I didn't know Johnny had the ability to express himself.'"
That's when she urges parents to change the nature of their discourse with their children:
"They're things that are telling their children what to do, instead of 'What did you learn today? Who'd you play with? Is purple still your favorite color?'"
---
Administrator of the Year
The chamber's Administrator of the Year award honored the career of Dr. James Franco, Tracy Unified School District's superintendent from 2002 until his retirement in 2013.
Alyssa Wooten, principal of Jefferson School, said he always found ways to inspire those around him.
"Dr. Franco is someone I've looked up to since I was a young girl," Wooten said. "I remember him clipping out newspaper articles and sending them home if he thought that something pertained to my sister or I in the newspaper, or a friend or a family. I know that as an administrator now, he would reach out in the same way, of 'Hey, take a look at this or read this. It might help you in your endeavors or whatever you're trying to achieve.'
"He was someone I would put in the back of my head, and I still do, when I think about what choices we should make for our community."
Accepting the award on his behalf was his wife, Leonor Franco.
"I'm sure as most of you know my husband has had Parkinson's for a long time, and so it has prohibited him from being with us here tonight, but I know if he was here with us, that he would just simply say that this award has his name on it, but there are so many invisible names that go along with his name on this," she said. "It's the numerous people that have helped him or served with him during all of these years that he had dedicated to this school district."
---
Professional of the Year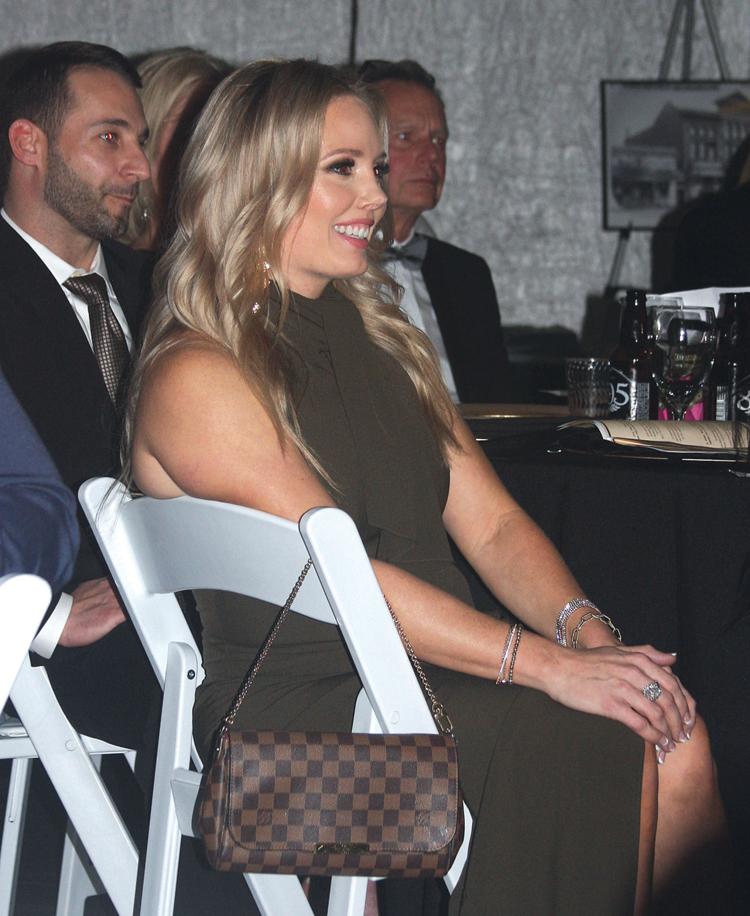 The chamber's Professional of the Year, Kaylin Schack Dell'Aringa, has long had a role in the community far beyond her chiropractic business.
A 2003 Tracy High graduate, she came back to her hometown to start her practice after she graduated from San Diego State University and Palmer Chiropractic College in San Jose. She was soon getting involved in the community, including activity with Tracy Rotary Club, Good Samaritan Community Services and the Grand Foundation.
Last year's Professional of the Year, Lisa Aguilera, said Dell'Aringa made an impression on her and her daughter Autumn as a coach at the Athletic Perfection cheer gym in town.
"She has touched so many individual young women and shown them what it means to be a powerful leader, be a powerful woman, and that they can do anything that they put their mind to," Aguilera said.
Dell'Aringa said the support from her community made the long hours and time away from her family worthwhile.
"As Oprah used to say, it's an 'aha' a little bit when you're recognized in this way, that, 'Oh, dang! I really am making an impact,'" she said. "To be acknowledged by my peers, by all of you, it really makes me feel inspired to keep working hard."
---
Entrepreneur of the Year
In accepting the chamber's Entrepreneur of the Year award, Elaine Bogetti said community support has made Elaines' Boutique successful.
She and business partner Elaine Pombo, who could not attend Friday's event, got the idea for a local women's clothing store during a small boutique party at Pombo's home. It took only a few bold steps before they opened their shop on Sixth Street on March 5, 2011. Something that started out as fun idea turned into a key feature of Tracy's downtown business mix.
"The two of us are just — it works. It's crazy. It works," Bogetti said. "It's silly and it's fun every day that we go to work. To be honest, who can say that, really? It's just amazing."
Both women had already been active in the community, Bogetti with 4-H and Future Farmers of America, plus New Jerusalem and Jefferson schools. Pombo had long been active as a designer for Tracy's annual Festival of Trees, which ended nearly a decade ago, as well as St. Bernard's Catholic Church and youth sports, arts and drama groups. They continue to support local initiatives through their business.
"It really has been a crazy, fun, joyful ride," Bogetti said. "We honestly say — and count our blessings daily — that this community in Tracy has been the support for our business every day, and we thank everyone for that."
---
Ambassador of the Year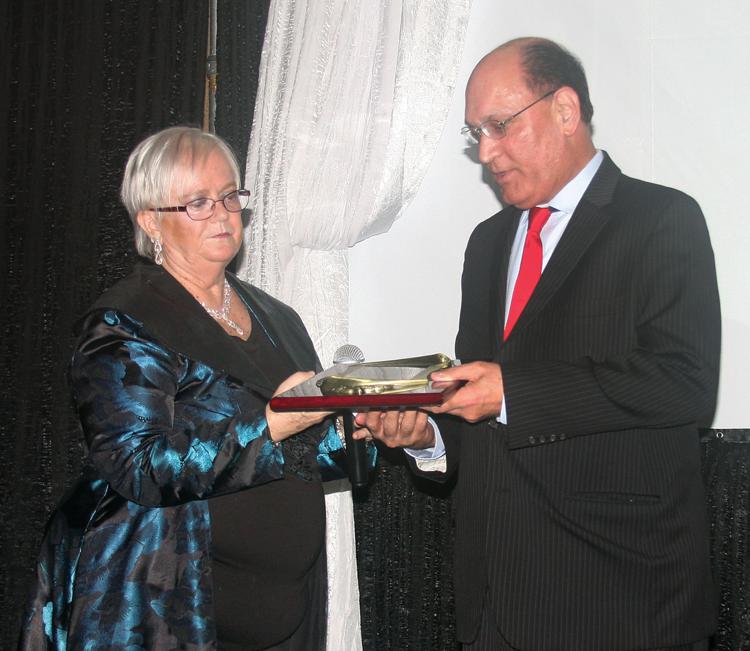 In recognizing Hardial Mann as the chamber's Ambassador of the Year, last year's honoree, Maggie Foresee-Griese, emphasized the importance of ambassadors to the life of the chamber.
To be an ambassador, she said, one must believe in the value of local businesses and be at the forefront of the chamber's efforts to relay that message to the community and beyond. They're at the chamber's mixers, social events and ribbon cuttings for new businesses, and they're the volunteers at the chamber's benefit events.
"We are the promoters and heartbeat of the chamber," she said, adding that the Ambassador of the Year is chosen by the chamber's other ambassadors. "It is an individual that goes above and beyond even all of the things that you see announced."
Mann, a life insurance agent with AAA Tracy, said he valued the chance to have a role in the life of the Tracy business community.
"I had a great opportunity for the last two years to be an ambassador on the chamber, and an opportunity to meet a lot of people in the Tracy area," he said. "It's a wonderful city, and Tracy Chamber is one of the most active chambers around."
---
Firefighter of the Year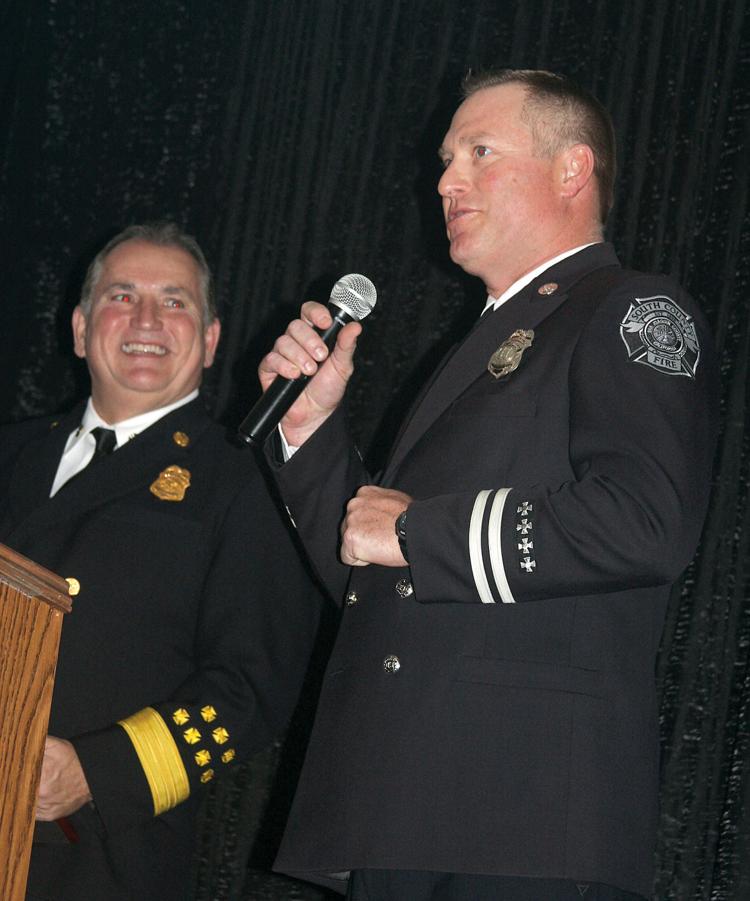 The chamber's Firefighter of the Year award went to Capt. Trent Vick. Chief Randall Bradley, who introduced Vick, described his act of heroism back in July, when a wind-driven fire threatened to consume a neighborhood in north Tracy.
"I arrived on the scene and we had about 12 houses going," Bradley said. "Early on, Capt. Vick arrived on scene and there was an elderly woman that was actually trapped in one of the homes. He and his crew made a rescue. She survived and she's doing well now, and it's really a tribute to his quick thinking and true valor and recognizing the situation and going in and making that rescue."
Vick added that he was grateful for the award, especially because the chamber got the recommendation from the firefighters of the South San Joaquin County Fire Authority themselves.
"I do want to say how proud I am to be a firefighter in this community," Vick said. "I've been doing so for 20 years and hopefully many years to come."
---
Police Officer of the Year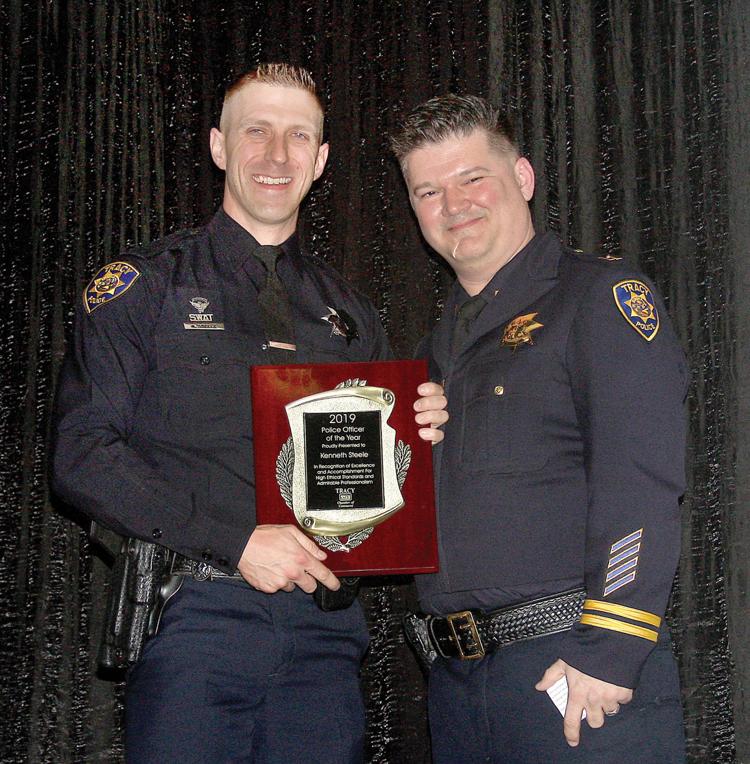 The chamber's Police Officer of the Year award recognized a relative newcomer, Kenneth Steele, who came to Tracy from Ripon in 2016.
"Although he's only been with us for a couple of years, he's already become a very well-respected and well-liked member of the department," interim Chief Alex Neicu told the crowd.
"I know it all sounds very tactical, but there's more to Kenny than just muscles and weapons. He's part of the new generation of officers. He thinks outside the box and comes up with solutions," he said, noting that Steele teaches other officers how to de-escalate tense situations.
He also brings an upbeat mindset to the department.
"Kenny is just a fun guy to be around. He's the type of guy you want on your side," Neicu added. "Every time I see him in the hallway and we shake hands, it makes my day better, because he's never turning down any assignments. He always smiles, like he is right now, and he makes everybody around him better and happier."
---
Emerging Youth Leader of the Year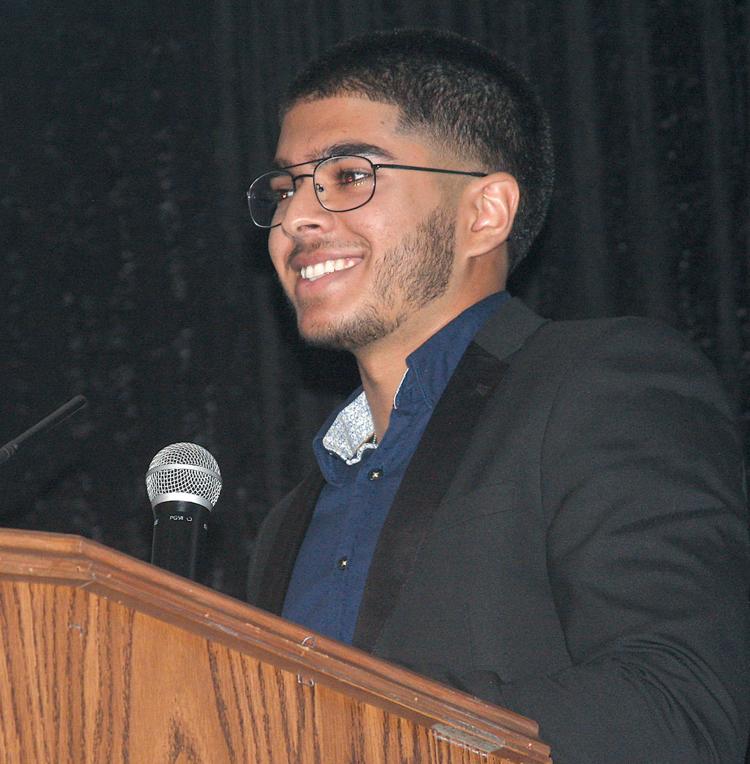 Tracy High School senior Tejas Gill has set himself apart by confronting the issues that face the youths of today. Brian Pekari, Tracy Unified School District board president, noted that Gill is a role model not just for his peers, but across generations.
"Tejas is one of the leaders right now to help educate a lot of us adults on how to maneuver in this world of social media, and that's how they communicate," Pekari said, highlighting Gill's contribution to the Bulldog Project anti-bullying initiative, the San Joaquin County Human Trafficking Task Force social media team and Tracy's Youth Advisory Commission.
Gill said that the community in Tracy, especially his parents, guided him toward success.
"Given my age, a lot of my achievements, really all of my achievements, come at the hands of a lot of people who have helped me throughout the years, helped me find myself as person, build my personality, and make an impact in our community," he said, adding that his involvement was the result of the community turning to Tracy's youth for advice on how to move into the future. "Without you guys putting your faith in me to represent and serve the community, I really have no chance to receive this award."
---
Emerging Youth Leader of the Year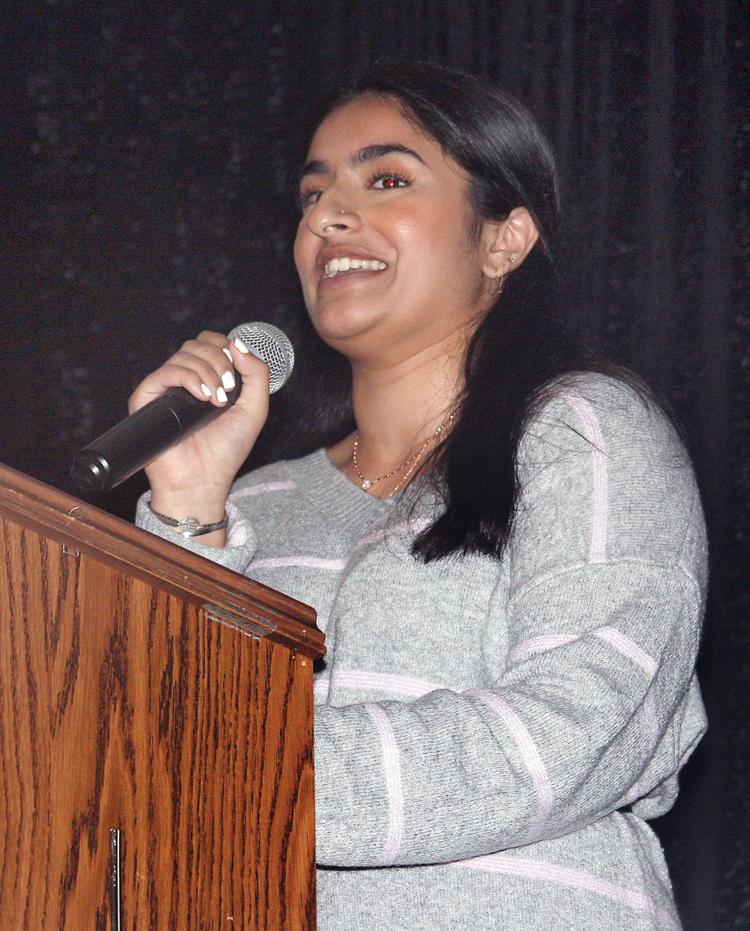 Tracy High senior Reyva Dhillon told Friday's crowd about how teenagers crave the excitement of the big city, something a long way from Tracy, but she finally realized that her community is the ideal place to grow into the person she needs to be.
She is chair of the city's Youth Advisory Commission, a member of the San Joaquin County Human Trafficking Task Force social media team, and president of the Tracy High mock trial team, and she has aspirations to become a lawyer. But the anxiety of always pursuing new and higher goals became overwhelming last year.
"Now that I'm much older and wiser, I realize that Tracy, California, has always been there for me. In May of 2019, I was hospitalized after planning to take my own life. I was feeling absolutely alone and was shattering under the pressure that I had placed on myself," she said.
"After coming home and starting school again I suddenly realized that I was never lost or alone, but I was so concerned about leaving home that I forgot everything that I loved about it.
"I do still plan to conquer the world someday, but I will always be grateful for this town and the people who have showed me that it's OK to take your time."
---