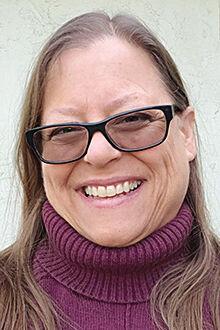 Deborah Littleton has been aiming for her Distinguished Toastmaster Award, otherwise known as the DTM, for as long as she's been in Toastmasters. She had been invited to Tracy Toastmasters 10 years before by her former pastor and friend Gary Kinser who went on to work for Toastmasters International.
Littleton is not a morning person by nature so to go to a 7 a.m. meeting was not natural for her. In fact, she has a different alarm on Friday mornings—set to Pink Floyd's "Money"—and it is something she looks forward to doing every Friday. She enjoyed the growth so much that she also joined the Tracy Leadership Club.
Today Littleton is the president of Tracy Toastmasters, having led Tracy Leadership Club in 2019/20. She pushed for both clubs to return to meeting in person again, with the COVID challenges being mitigated. Tracy Toastmasters is meeting again on Friday mornings at Perko's Café, 1321 W. 11th St. and Tracy Leadership Club meets for the lunch hour on Tuesday at Tracy City Hall. Both clubs are hybrid, meeting on Zoom for those that can't make the meeting in person.
Littleton will be the first one to say that she was formerly limited by the fact that she used to shake when it came to speaking in front of crowds, and eye contact was difficult at first. Littleton said, "I never in a million years would have thought that I could do a 5- to 7-minute speech, let alone a 20-minute keynote."
Toastmasters has made a huge difference both personally and professionally, and Littleton attributes that to their game called Table Topics. It helps members to think quickly and master things like interviews or impromptu answers when called upon in meetings. It's been so helpful for Littleton that she is planning on taking what she's learned to help others in private and corporate settings in their quest for presentation skills.
She has a B.A. in theatre as well, which has been helpful in diving into public speaking. In fact, she taught acting at the Grand Theatre for 7 years and it is part of the foundation of her growing courage on the podium.
For information on either local Toastmasters club, or for links to the Zoom meetings, contact Littleton at deborah.littleton@gmail.com or (209) 629-2506.
• Submitted by Tracy Toastmasters/Tracy Leadership clubs. Contact the Tracy Press at tpnews@tracypress.com or 209-835-3030.