Hundreds of Tracy community members came together Wednesday night at Gretchen Talley Park to mourn Parmjit Singh and support his family as detectives search for the 64-year-old Sikh man's killer.
Sikhs from Tracy and throughout the area joined other Tracy residents in prayers and calls for unity as they stood side by side at the center of the park where Singh was slain Sunday night.
Vigil organizer Simran Kaur, a Tracy Unified School District board member and deputy district attorney, thanked the crowd for coming.
"Today we're all assembled together and coming out together in remembrance of Parmjit Singh and also to show support and how we're going to heal together with his family," Kaur said. "Even though I didn't get an opportunity to speak or even to get a chance to know Parmjit Singh, you can see how much joy and how much love and how much pride he had in his family and how much joy he brought to his family by just talking to his family members. It is a tragic loss for Tracy and it has shook our community."
Singh's wife, daughter, son-in-law and grandchildren were among the family members who listened to elected leaders from Tracy and around the area as they tried to rally the community to support the family and help find the killer.
Pictures of Singh were held up throughout the crowd.
Interim Police Chief Alex Neicu, who had spoken to a smaller gathering Monday night, vowed to work to find answers to everyone's questions about the killing and help people feel safe again.
"I'm not surprised there is such a big turnout," he said. "Once again, when Tracy is struck by tragedy, we come out together and we're one community. We don't want to single out the fact that Mr. Singh was a member of a specific community — Mr. Singh was a member of Tracy's community, and we're all looking for answers. This is something that affects all of us equally."
Neicu also asked for help from everyone gathered.
"What we're looking for from the community is communication with us. There could be one small piece of information that we're not aware of yet," Neicu said. "I want to encourage everyone here to spread the message as wide as possible that if anybody has anything, as insignificant as you may think it is, that could help the investigation, please call our detectives, call our department, and let's work together to get Tracy back to a sense of security."
Councilwoman Veronica Vargas offered the Singh family her condolences and called for unity.
"My heart aches for our community," Vargas said. "I can offer and say a prayer for this to bring us together so we can work and be united and feel that this community is not going to be split and divided because of the actions of one person. If anything, it brings us together."
Elected officials from around the region voiced their support, including Lathrop Mayor Sonny Dhaliwal.
"Ladies and gentlemen, it's a sad day not only for the city of Tracy, the Sikh community of city of Tracy or Sikh community of this area. It's a sad day for every peace-loving American in this region," Dhaliwal said.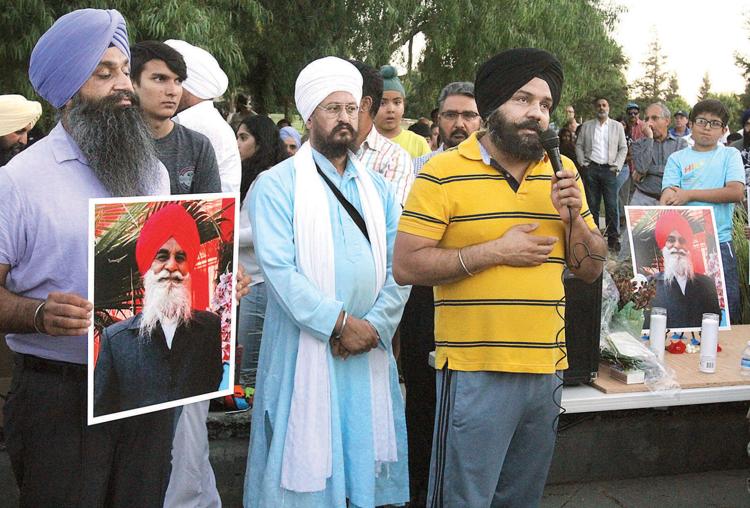 Harnek Singh Kang, Singh's son-in-law, expressed gratitude for the community's help. Fighting back tears, he talked of how he had lost his father at a young age and his father-in-law had stood in his place.
"American communities, fellow Americans, thank you so much. Neighborhoods, thank you. You guys help me a lot. I really appreciate it at this hard time for our family," he said. "So thankful you guys are helping and supporting."
Jass Sangha, a Tracy Sikh community leader, said she had received many calls of support throughout the week.
"I really want to say this from the bottom of my heart: Since Monday morning, I can't tell you how many calls I have received, and to my non-Sikh friends here in the city, thank you so much. I cannot express my gratitude — people who didn't even know me called me and said they are with us," Sangha said. "This is what Tracy is all about. Please don't let this one incident make you feel you're any less safe."