Tracy High School senior Joshua Carino can still remember the problems he had as a student at Traina School with attention deficit hyperactivity disorder.
Sometimes, when he couldn't focus or was getting into trouble in class, his options were limited.
"I would just sit at the table or pace around the hallway because there wasn't anything really for me to do," he said. "If I wasn't paying attention or just being disruptive, they would just have me leave the class."
Inspired by that memory, the 17-year-old Boy Scout has converted part of a hallway at his former elementary school into a sensory path especially for students with ADHD.
A sensory path is a series of physical activities and games designed to heighten motor skills and build sensory pathways in the brain that are responsible for sight, touch and sound to help children complete complex, multistage tasks. For those with ADHD, doing crab crawls and wall push-ups can help them release extra energy and then refocus on their lessons.
Carino said he wished he'd had something similar to alleviate his ADHD impulses when he was at Traina.
"I never had anything like that. I had to rely on stress balls or fidget spinners or those sorts of things," he said. "It stimulates their brains and helps them to get out that excess energy from after like recess or lunch, so that all the energy from them is used playing with that, and once they get into class they are focused and more attentive."
He became interested in how to help other people with ADHD in August when he was working on an essay for the Agricultural-Scientific Academy at Tracy High. That interest developed into both his senior project for the academy and his community service project to qualify as an Eagle Scout in Troop 515.
Once he decided he wanted to make the sensory path at Traina School, he contacted Principal Ken Silman and talked over his ideas.
Silman said Carino's proposal fit right into his plans for the school. He said he had been looking at stencils to create a similar set of physical activities and games in the school's play yard.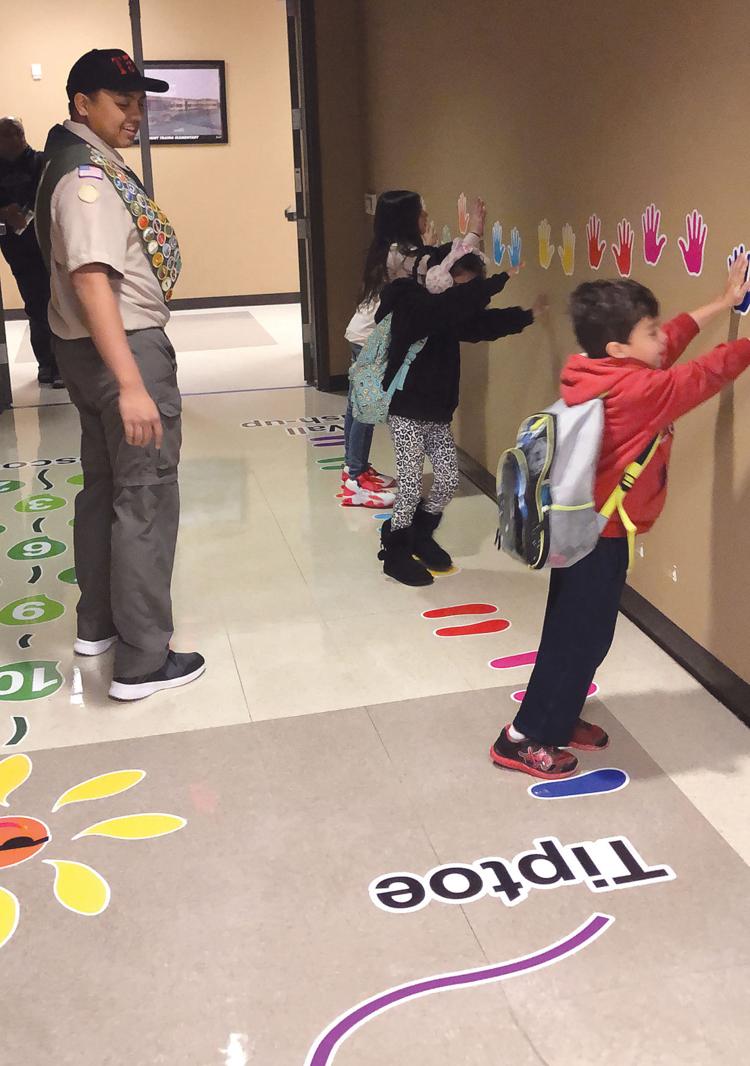 He said the sensory pathway would help students get the wiggles out and focus their minds as well as improve their hand-eye coordination and physical dexterity.
"We are super appreciative that he would come back and give back to his school," Silman said. "The teachers enjoyed seeing him come back and doing the work."
Once Carino had permission and confirmation that his plan would work for both his Eagle Scout and ag-science projects, he began raising money. He set up a booth at back-to-school night, sold candy and sent out letters asking for donations. With the $2,100 he raised, he bought a series of stickers to lay out the sensory path.
"It had a bunch of different activities for kids to play around with, like hopscotch, a lot of fun things for them to mess around with on the floor," he said.
It was decided that the path would go in a hallway in the kindergarten through second grade wing of the school.
"That's the demographic that would most have fun with that sort of project," Carino said.
While school was out for the winter break, the school's custodial staff stripped the wax away from the floor so that Carino and a team of family members, friends and other Scouts could assemble the sensory path in one day on the weekend after Christmas.
Once the stickers on the floor had set, the custodial staff sealed them with a fresh coat of wax. Other stickers went onto the walls of the hallway. The completed path stretches about 45 feet.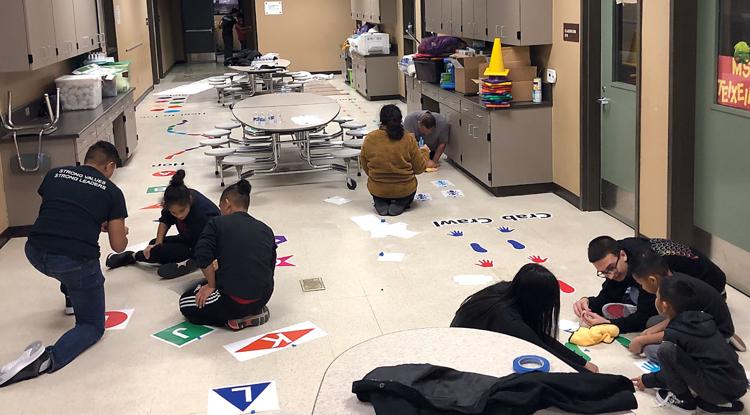 When students returned to the school in January, Carino visited and gave them a rundown of how the path worked.
"They loved it. A lot of them were kind of shy to actually go and try it, and some of them were eager to get in and they went multiple times," he said. "All in all, I would say my project was a success because all of the kids that were playing with it definitely found use in it."
Silman also said the sensory path was a hit. Teachers have taken groups of students through to experiment with it, and it has also been used by some physical education classes.
"I think you'll see it used by whole class, small group, all sorts of different levels," he said.
He said the school's parent-teacher group has talked about adding similar activities in other parts of the school for older students.
Carino made his final presentation in January for the ag-science portion of the project. The Eagle Scout portion is headed for regional and national discussion and review and should be complete in about a month.