A dilapidated wooden sign marking the site of a Gold Rush settlement southeast of Tracy will receive a new California landmark plaque through the efforts of a foundation set on preserving landmark history.
The California Landmark Foundation will ceremonially place the new plaque at the historical site of San Joaquin City, across the street from 31167 Kasson Road, at 1 p.m. Feb. 29.
It will replace a bronze marker that was dedicated in 1962 and stolen four decades later. A wooden substitute was put in place a few years ago, but it is now weatherworn and illegible.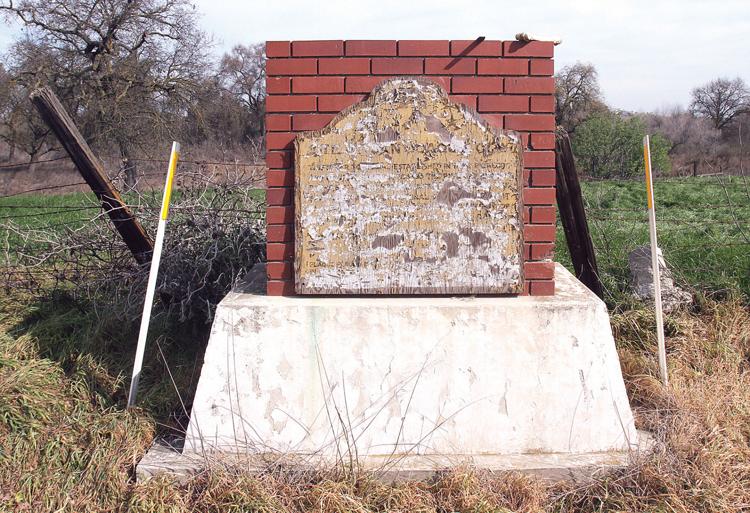 Ray Najera, founder and director of the 8-month-old foundation, said he spotted the cracked and faded sign off Kasson Road in the course of his attempt to visit all of the 1,115 registered California historical landmarks across the state. That project inspired him to establish his nonprofit to maintain and preserve landmark markers and plaques.
"When I went by San Joaquin City, I saw the wooden plaque and, I don't know, something about it just kind of resonated with me and I kept thinking," he said. "I just kept thinking about the site, and somebody took the time to cut that wood and make that plaque, and I just thought, when it came to replacing our first plaque, I just kept coming back to San Joaquin City and saying it would be nice to put a real plaque there."
The San Joaquin City site, designated as State Historical Landmark No. 777, once had a 50-pound bronze plaque secured to a brick and stone base on the shoulder of Kasson Road on property owned by Henry Fisk.
The San Joaquin City landmark is one of five state historical landmarks near Tracy. Others mark the Carnegie town site, a historical home in Corral Hollow, the transcontinental railroad completion site and the first landing place of the sailing launch Comet. (Scroll to the end of the story for details on each one.)
The San Joaquin City landmark designation came about largely through the efforts of Earle Williams, a local city councilman and a member of the San Joaquin Historical Society who was well versed in the area's history. Williams' work in 1961 led to recognition by state and county societies, and a roadside dedication ceremony was held Nov. 3, 1962, to unveil the new plaque.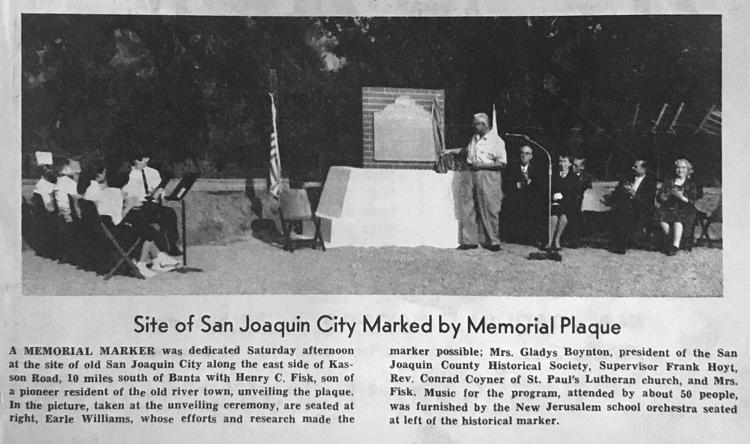 The California State Parks Office of Historic Preservation describes the San Joaquin City landmark this way:
"NO. 777 SITE OF SAN JOAQUIN CITY — This river town was established in 1849. Pioneers and freight wagons following post roads to the southern mines crossed the river nearby at Durham's Ferry, and as a terminal for riverboats, the town played an important part in development of west side grain farming and cattle raising."
The plaque stayed in place for nearly 43 years until the Fisk family reported to the sheriff's department that it had been stolen in October 2005.
At some point, and Najera said it wasn't clear when, someone attached a wooden replica of the original landmark plaque on the brick. A photograph of the sign shows a hand-painted note saying it was installed by Jim Dorroh on Aug. 7, 2017. Weather has ravaged the improvised sign, leaving it nearly unreadable, with cracked and curling paint obscuring the words.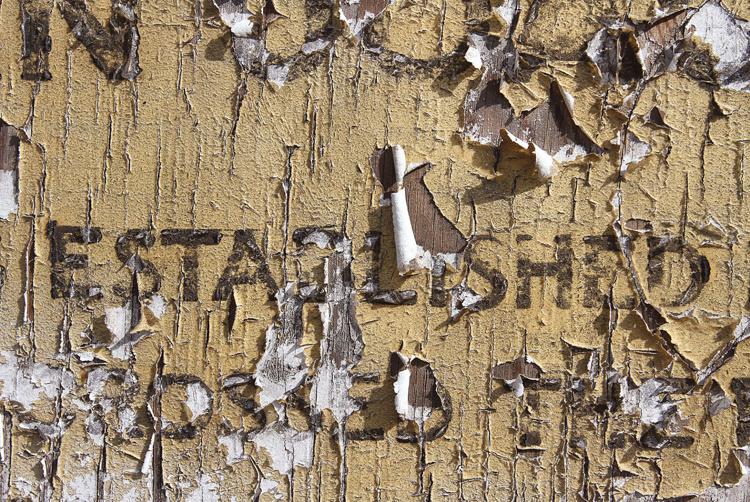 Najera said the state does not independently place or replace landmark plaques. Their installation is covered by private funding and local organizations. His foundation's website, www. savethelandmarks.org, now has a list of 35 missing plaques.
"The reason why we chose this one is because there are a lot of landmarks in San Joaquin County that are missing," he said. "We see this in areas that have economic challenges like San Joaquin County. When the plaques get stolen there, lots of times they don't get replaced, or sometimes they don't get dedicated at all. I know that's just a funding issue."
A bronze plaque would have cost $3,800, but the foundation received special permission from the Office of Historic Preservation to place an aluminum plaque at the site instead. That lowered the cost to $2,100 for the plaque and about $500 to have it installed. Najera said the aluminum material might also be less appealing to thieves.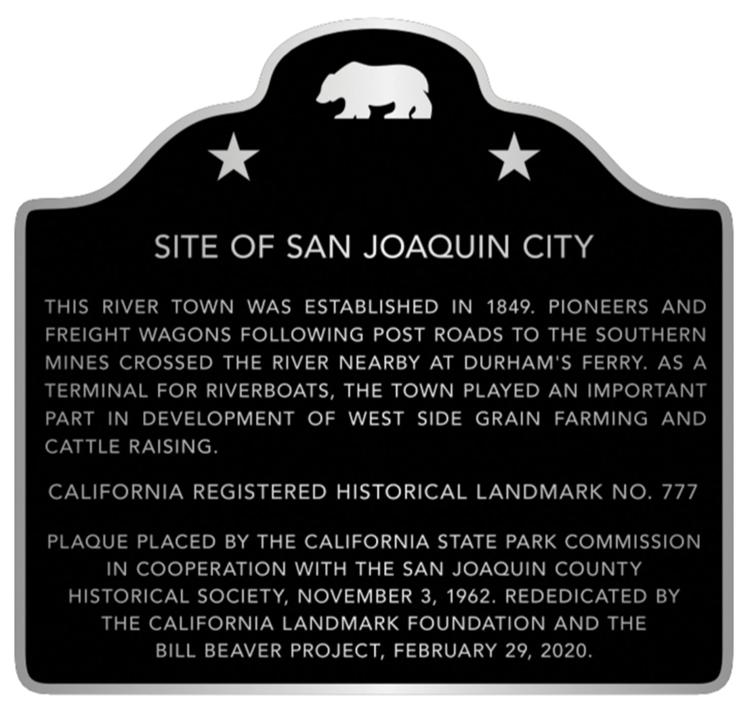 The state office also reviewed the text for the sign and made some minor changes before giving approval.
"They keep track of all the landmarks," Najera said. "Anytime you need to change or do anything to a landmark, replace it, you need to contact them for permission and their historian go over the wording to make sure everything is correct."
The new plaque arrived last week, and he is working on the installation.
"I was like a little kid opening it up like a gift on Christmas Day," he said. "It was a lot of work — I have been thinking about it a long time. This is our first one and it feels really good and I can't wait to get it up there."
He said he has visited 618 of California's 1,115 historical landmarks and wants to continue his work of surveying the sites and seeing which need to be replaced.
"At first it started off as adventure, something fun and interesting to do. Then, when I came across the first landmark that was missing, I started to get real curious because I could tell it had been missing for a really long time," he said. "So I started to dig around — what happens, who replaces them, does anyone care? I started to figure this out and I just got a passion for it — this would be cool if somehow I could somehow replace these landmarks."
Najera's foundation will lead the Feb. 29 dedication ceremony for the San Joaquin City landmark plaque with the grandsons of Henry Fisk who own the property now along with representatives of the San Joaquin Historical Society. Anyone is welcome to attend.