The annual IPFES Holy Ghost celebration has been canceled for the first time in its 96-year history.
In a letter to members, the community and other Portuguese societies throughout the region, the 2020 IPFES Festa Committee announced the cancellation of the two-day religious and cultural event June 13 and 14, saying that "the health of our members and community will always remain our top priority. We, as a committee, believe that this is the best decision to protect everyone."
Debra Terra, the committee's president, said plans were well underway for the 96th annual festa at Tracy's Portuguese Hall when closures in response to the COVID-19 pandemic began in mid-March.
"When this started happening, I was kind of like, oh my gosh, what are we going to do? This has never happened before," Terra said.
She started a Facebook group for festa organizers so they could stay in touch virtually from home and see each other's plans.
"We have them all over California, and this really affects everybody, not just ours," she said
Festa committees across the state have since canceled celebrations scheduled from April through early July to follow stay-at-home orders and social distancing guidelines. Some celebrations scheduled later in the summer and as late as October are still on the calendar as organizers wait for hoped-for changes to the guidelines that might let them go on.
"Most of us canceled out of concern for our community and health," Terra said. "We have a lot of people that have been there for so many years, in their 70s and 80s. We learn so much from them and we appreciate them, and that was my first, biggest concern — we don't want to put our wonderful older generation in any danger."
The yearly Holy Ghost celebration — Festa do Divino Espirito Santo, in Portuguese — is a cultural and religious tradition that honors Queen Isabel of Portugal, a devout 13th century monarch who gave food to the hungry and prayed for the end of a famine that was killing many of her people, especially children. Ships filled with grain began to arrive soon afterward. Celebrated for her faith, humility and service to the poor, she was canonized in 1625.
The Tracy festa, taking place nine weeks after Easter, draws hundreds of people to the Portuguese Hall on West Ninth Street for a Saturday dance and presentation of queens and a Sunday procession to St. Bernard's Catholic Church for Mass. After Mass, free meals of sopas e carne — a traditional dish of boiled meat, bread and broth — are served to all comers at the hall.
The festa concludes the following Friday with a bloodless bullfight at the Campo Pequeno bullring behind the Portuguese Hall. More than 1,000 people typically gather to watch bullfighters on horseback, called cavaleiros, and groups of men on foot who grab the bulls between fights, called forcados.
The 2020 festa committee officers will return in the same roles for the 2021 festa, including Terra and her husband, Danny, as presidents. Steven and Alyssa Martinho will remain vice presidents and then take over the presidential role in 2022.
The girls chosen as queens this year —Maggie Avila as senior queen and Terra's daughters Madalena and Mariza as junior queen and baby queen — will also wait until 2021.
The queens, traditionally dressed in elaborate formal outfits, walk in the procession from the Portuguese Hall to St. Bernard's church accompanied by side maids who help carry their long capes. Terra said the cancellation would be an inconvenience for the girls' parents.
"It's a terrible situation. These things like capes and dresses, you start a year in advance. It's kind of unfortunate. But luckily, I didn't get too much into my capes. I can still add more to make it bigger, because, as you know, a 3-year-old and 5-year-old are going to grow a lot in a year," Terra said. "But all the matching and coordinating outfits, if I can't take them back, we lose that. But all the moms have been pretty awesome, willing to do whatever extra we have to do to make it work. It does affect us a little bit, but we're all being very accommodating to the situation to make it work."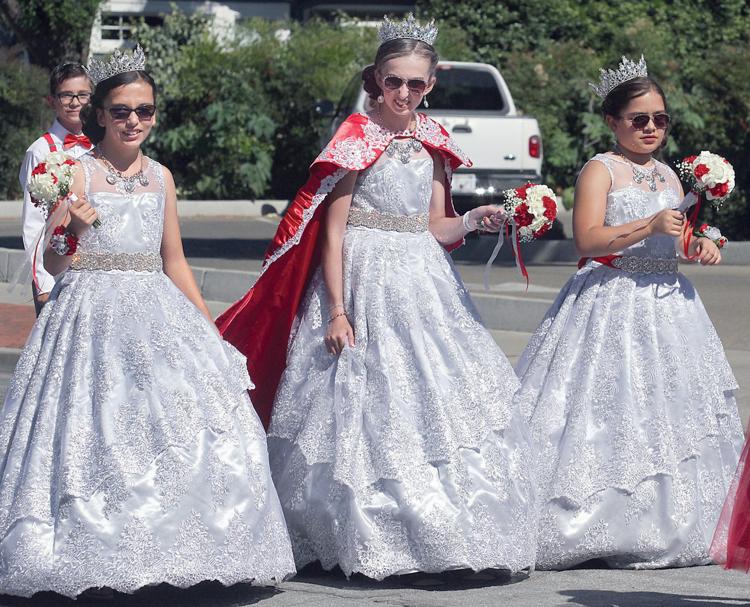 Apart from the festa, the Portuguese Hall has had to cancel rentals for weddings, quinceañeras, birthday parties and fundraisers because of the stay-at-home orders and social distancing guidelines.
"It's affected us financially, so we will try to be as accommodating as we can to everyone," Terra said, adding that the committee would plan fundraisers to make up for the losses. " I know I'm going to take a few more months, but hopefully things will be back to normal by January. We're all touch and go. I'm pushing it back so I don't get my hopes up."