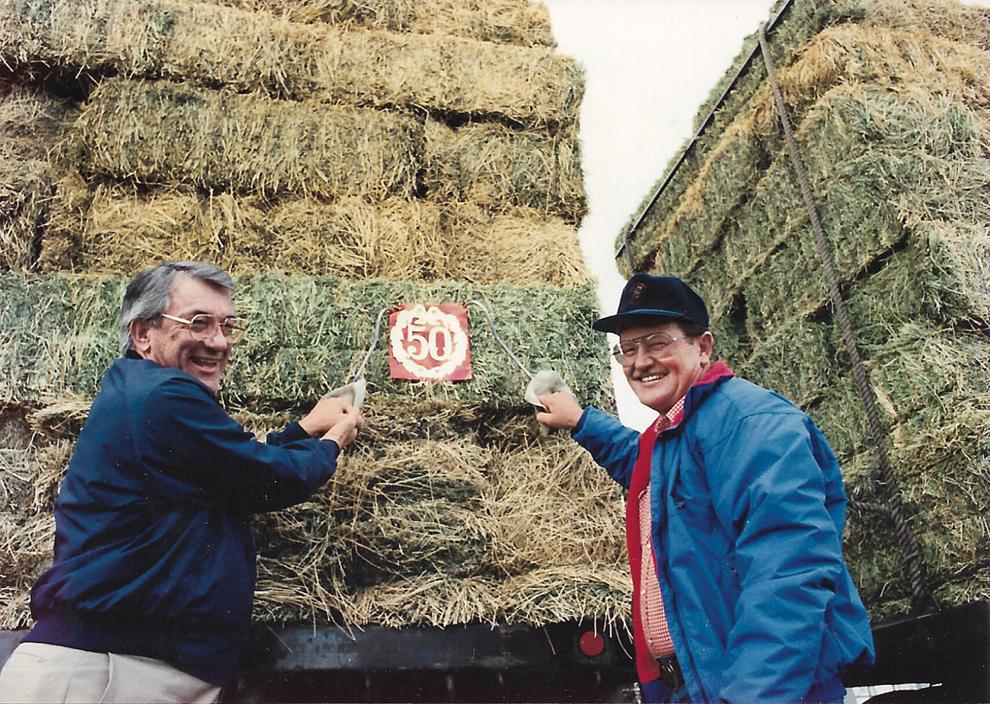 Dick Staas, president and CEO of the San Joaquin Valley Hay Growers Association, was quick to identify those in last week's Remember When "Mystery photo." He emailed:
"Pic in the Aug. 30 paper brought back some really good memories of two really good guys. Best mentors I've ever had except for my old man. I believe these were titles at the time (February 1990): M. Melvin (Mel) Coelho, left, general manager, San Joaquin Valley Hay Growers Association, and Ed Kaiser, K&L Farms, president, Board of Directors, San Joaquin Valley Hay Growers Association. Thanks very much for putting that in. Made my day."
Coelho and Kaiser were celebrating the 50th anniversary of the founding of the hay growers' marketing cooperative, which has its headquarters in Tracy. Also recognizing those in the photo were Steve Avila, who reported hay averages 16 bales to a ton; John Dias, who recalled hauling many tons of hay from K&L Farms; and Leanne Staas, Dick's wife.
A correction: In the Remember When "mystery photo" of a week earlier, the two members of the West Park School baseball team at center and right in the front row were incorrectly identified. According to Dave Soria, they were Robert Lopez, center, and Dave Soria, right.
Editor's note: The next Remember When "mystery photo" will be in the Sept. 10 edition of the Press.
• If you have information about historic that have or should appear in the Tracy Press, email Sam Matthews at shm@tracypress.com or call 830-4234.