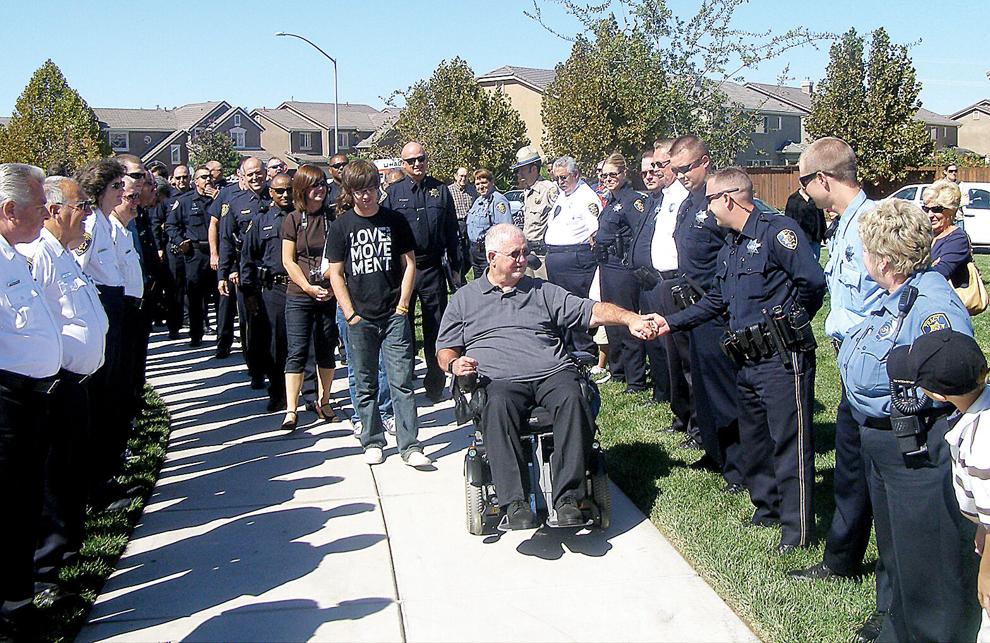 Services were held last Saturday for William Ray "Bill" Schwartz, a retired Tracy police officer who died July 10, at the age of 77. Tracyites should know that Bill Schwartz was more than an ordinary retired police officer. He was a law-enforcement hero who spent his last 29 years of life in a wheelchair after being seriously wounded — stabbed three times — while responding to a domestic-dispute call.
The domestic abuse call that Patrolman Bill Schwartz responded to on March 1, 1992, changed his life forever, Tracy Press reporter Jennifer Wadsworth underscored in an interview with Bill published a few days before Bill Schwartz Park at 1800 Peony Drive was dedicated in October 2007. I'm retelling portions of Jennifer's article:
"When I first walked in, I saw that their house was destroyed," Schwartz remembered. "I saw the man sitting in a chair. The guy told me that he'd got in a fight. I didn't see a woman around. He said she's not hurt, so I asked where she was."
Schwartz walked down the hall and found the woman.
"She was all curled up. She had a little boy holding on to her leg. I asked if she was OK, and she wouldn't answer me, but the little boy answered. He said she's OK, that he didn't hit her. She told me to just get him — the guy in the living room — out of there."
Schwartz went back to the man to take him away, and the woman followed. The man went hysterical.
"It was like the red flag in front of a bull," he told Jennifer.
The man pulled out a knife and ran toward her. Schwartz reacted fast, grabbing the man's ponytail as he ran by. The man turned around and punched Schwartz in the face.
"I saw stars for a few seconds, and when I could see again, there was this knife coming directly to my face."
The man stabbed Schwartz in the head, neck and stomach.
"I couldn't feel anything," he said. "I tried to reach for my gun, but my hands wouldn't move. Then it dawned on me that my spinal cord was cut."
Schwartz became paralyzed from the waist down. The man who assaulted him eventually pleaded guilty to charges related to stabbing a police officer and was sentenced to 8 years in prison. On Oct. 7, 2007, the city dedicated a park to Schwartz in honor of his sacrifice, following a nomination from the Tracy Police Department. More from the 2007 article:
Although he was injured as a patrolman, Schwartz actually worked as a lieutenant in Tracy, a stressful management position.
But he really wanted to be back out in the community, he said.
So he quit for a few years, started his own trucking company, then called back to see if they'd re-hire him.
He began work again as a patrolman in 1991 — five years after he quit and a year before his near-fatal injury.
"I'm not an emotional guy at all, but good Lord, man, I guess this is the type of guy who stands between good and evil for us," said Randy Hultgren, a coordinator for the city's parks and recreation department.
"This guy basically worked his way up to a cushy job, but he wanted to go back out there and be a police officer," Hultgren said. "Then he goes through all this, and the community totally just gathered around to help him. This guy is truly a hero."
A park dedication is a big honor, agreed Schwartz, but he doesn't let it get to his head.
"I think that the reason they're dedicating it to me is because I was a police officer and was injured on duty, and I think that they're more than honoring me — they're honoring the police officers on the job," Schwartz said. "I think it's a way for the community to say 'thank you' to the police department. Because it could've been anyone in the police department. I don't think it's a hero thing, really."
If there's anyone who deserves a park dedication, said Schwartz, it's his wife, Alene.
"I just went down and got hurt, but ultimately, she's the one who ends up with all the responsibilities," he told the Press reporter.
A devout Christian, Schwartz said he sees his fateful injury as a blessing, a way to remind people to be grateful for what they have.
"And that's an opportunity a lot of people don't get," he said. "I think a lot of people get their faith tested, but a lot of people don't get tested to that degree. I knew I had to walk the walk."
The incident in which Bill was wounded took place in an apartment on Cardoza Road, a short street which connects Tracy Boulevard to Buthmann Avenue just north of Grant Line Road. I know the exact location because I was there that Sunday morning in March 1992.
We heard the call on the police scanner of an officer down, and several us hurried out to the apartment complex and waited while fire and ambulance crews gave Bill first aid before wheeling him out of the apartment to the ambulance.
At that time, we didn't know how serious his wounds were, but we knew they were a lot more than just a few scratches. Later we learned one of the wounds severed his spinal column, paralyzing him from the chest down.
Weeks later, we visited Bill and Alene at a hospital in San Jose, and we all marveled at his strong positive spirit, something he maintained through the rest of his life. I have been proud to have known Bill as a friend and to admire his spirit in the face of 27 years in a wheelchair. And yes, he was Tracy's hero. We should all never forget that.
Sam Matthews, Tracy Press publisher emeritus, can be reached at 830-4234 or by email at shm@tracypress.com.