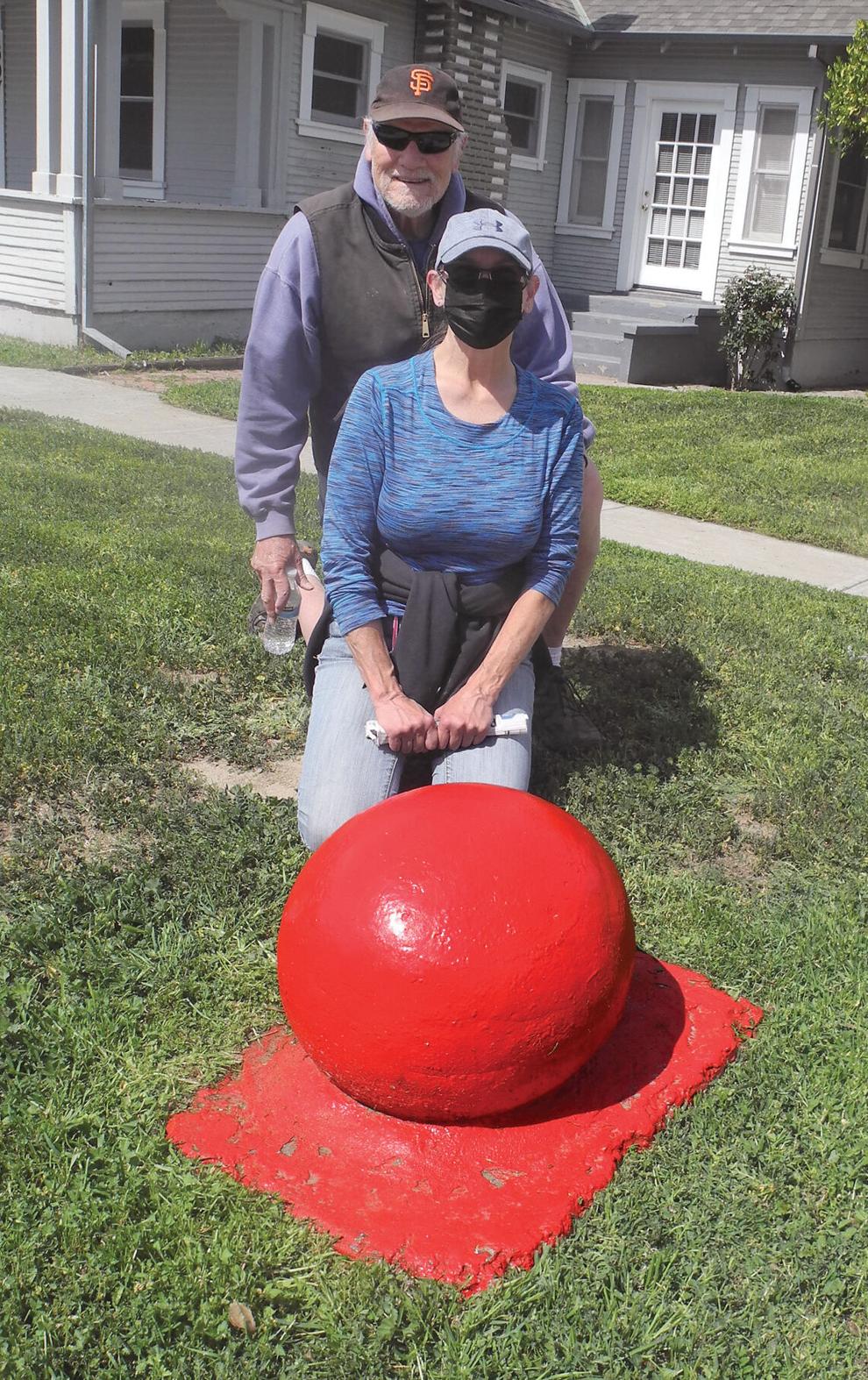 Bruce Roberts, who described himself as a long-term Tracyite, sent me an email a few days ago, asking about the painted oval boulder located on the corner of West 10th and West streets, Here's what Bruce wrote:
Sam, My wife and I are relatively long term (39 years) Tracy residents, and we've always enjoyed your column. I particularly enjoy the historical stories you share about early Tracy.
My wife and I relocated from the Tri-Valley area when we decided to take advantage of the housing opportunities that Tracy provided in the early 1980s. I'll never forget our first exploration of what was to become our small home town. We traveled over the hill and drove through the shaded neighborhoods, ultimately ending up eating Kentucky Fried Chicken in Harmon Park behind the Tracy Community Memorial Hospital.
I remember commenting to my wife how quiet and peaceful this small city seemed to be. No sirens, heavy grinding of gears, or angry shouts were in evidence. We looked at one another, and decided then and there that Tracy would be our new home town.
Almost forty years have passed, and some places (Harmon Park) and Tracy traditions have gone, but one tradition that is still going strong takes place at seasonal times throughout the year at the corner of 10th street and West, not too far from the old Tracy Press building.
An oval rock at the corner of that property magically transforms when it appears dressed in different colors reflecting the current holiday season.
I don't exactly remember when I first noticed this seasonal happening, but I've watched and continued to watch this remarkable changing of the colors representing one of the small traditions that ties the chaotic present to our small town past.
Every time I travel down 10th Street and see that oval rock dressed in its seasonal glory, I'm carried back to the past when my young sons and I would anticipate yet another celebration of the current holiday period
My sons are now in their thirties, and I hope they will one day look back on this small tradition that we shared with deep appreciation.
So, Sam after my long winded preamble I guess what I'm asking for is for you to feature this tradition in one of your columns. I, and I hope the community, would be interested to hear the backstory on this seasonal event. It would be very satisfying to see the individual(s) responsible for creating, and maintaining a small town tradition receive the recognition they so richly deserve.
Thanks for your own service to our community, and I continue to look forward to your future Tracing Tracy Territory stories.
Bruce, Tuesday, I went over to the house at 307 W. 10th St. to check out the oval boulder, and there it was in its bright red glory.
I knocked on the front door, but no one answered. I returned the next day, though, to snap a photo, and alas, my timing couldn't have been better. As I took out my camera, a woman came out of the side door of the house and walked over the curb on West Street. She was soon joined by a man. They turned out to be Lisa and Ron Sigg. They didn't live there, but they own the house and rent it out! In fact, they've owned it since 1986.
They recalled the boulder at the corner was painted a bright blue when they bought the house from a Mr. Brown. I told them the only thing I recall about the house was that the Hugh Townley family lived next door at 311 W. 10th St. in the 1940s and 50s when Bill Townley and his younger sister were attending nearby West Park School and Tracy High. The City Directory of 1950 lists the family of David Walsh, a Southern Pacific engineer, as living at 307.
The Siggs didn't know how the boulder painting began, but they welcomed its painting. In fact, they reported that for the last 10 years, it was the work of tenants Mike and Katie Totes, who had moved out just two weeks ago. Katie did almost all of the painting over the decade they lived there, according to the Siggs.
The Siggs told me they intended to continue painting the boulder, although not as often as Katie and Mike Totes did.
Perhaps Mike Roberts can make contact with the Totes through the Siggs and thank them, especially Katie, for keeping a community tradition alive.
Next time you happen to drive along West 10th Street, take a look at the boulder at the corner of West Street. It's become a community landmark, thanks to people like the Siggs, the Totes and the Roberts — and count me in.
Sam Matthews, Tracy Press publisher emeritus, can be reached at 830-4234 or by email at shm@tracypress.com.