On Christmas Day, one of the packages I opened beneath the tree at the Concord home of my daughter Laurie and son-in-law Dan was a T-shirt, which read, "UCLA" in large letters and "Grandpa" in slightly smaller type.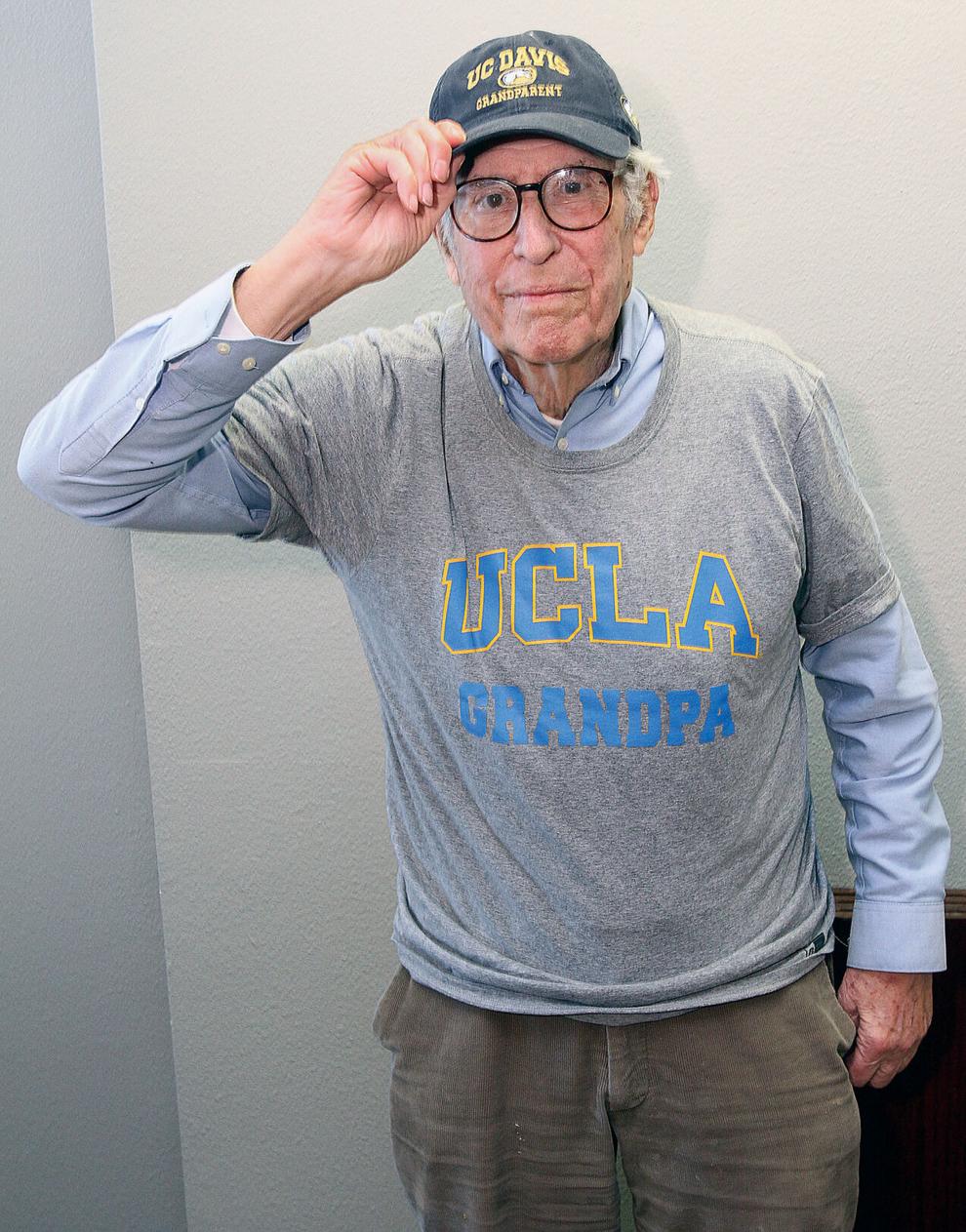 It was a gift from the younger of their two daughters. Jackie became a student at UCLA last fall, and although Covid-19 restrictions had put classes on line, she had been assigned to an apartment on campus.
When I tried on the T-shirt on Christmas Day, I found out it fit and would most certainly complement a blue baseball cap I had been given a year earlier by her older sister, Carolina. It read, "UC Davis" in large letters and yes, "Grandparent" in slightly smaller type.
To say "Grandpa" is mighty proud that his two granddaughters are students at University of California campuses is a major understatement. But beyond proud was thanks, for the cap and shirt started me mouthing these words, "Hurrah! For the California community college system."
You see, both the granddaughters made their way to the UC campuses by way of two of California's 115 community colleges: Diablo Valley College in Pleasant Hill for Carolina and Santa Barbara City College of Jackie. Both offspring had very good but not extremely (above 4.0) great grades in high school, but they became even more-hard-working and efficient students at both "jaycees," as they were called in my day. Their mostly-A grades coupled with a well-rounded resume showing leadership and community service skills paved the way to Davis and Westwood.
My admiration for the California Community College system goes back a long way, to my days at Stockton College in the early 1950s (before it was Delta College) and to my wife, Joan's two years at Modesto Junior College, both springboards for our attendance at four-year universities.
And, too, Joan kept the community college flame glowing in our house for 13 years while she served as a trustee of San Joaquin Delta College. She not only took part in countless board meetings, but made frequent trips to the Delta campus in Stockton to witness and take part in programs and activities. At the time, she was the only member of the Delta board to do so.
Delta's focus on encouraging and assisting students to make the leap to four-year universities or colleges has long been one of the community college's goals. (The others are quality vocational programs and specialized courses.)
Just recently, however, Delta has sharpened and improved that focus.
A December press release described the new Delta emphasis on moving students to four-year institutions (especially to CSU or UC campuses) or developing vocational skills becoming more essential in today's high-tech work environment.
It read: "With the COVID-19 pandemic and the recession elevating the importance of a quality education, San Joaquin Delta College is making it easier for students to identify their career interests and achieve their goals promptly. The new effort, known as 'Mustangs Moving Forward,' has been under development for several years but is even more relevant in this COVID era."
It went on to say that among other changes, Delta students are now automatically enrolled into the college's new Transfer and Career Pathways, or TrACs, which give students a clear understanding of their career path options and provide them with special support from professors, counselors, librarians, and a new team of "success coaches."
"Ultimately, this approach is expected to improve student success rates and reduce the amount of time needed for students to transfer to a university or begin a new career right out of Delta College," the announcement said..
Information about the new TrACs along with a video overview of Mustangs Moving Forward are now available at deltacollege.edu/tracs. Open registration for Spring Semester is underway, with most classes offered online. Tuition is free for first-time, full-time college students and those who meet certain income requirements.
Delta President Omid Pourzanajani is quoted: "We are proud to be among the first community colleges in the state to adopt this new structure to better support students from the day they enroll at Delta to the day the finish their educational journey here."
It sounds as though the new Delta program, as described, has a lot of potential and isn't one of those "innovative programs" that all too often go nowhere in educational institutions. And who knows, if you're a grandparent, one of those T-shirts, or a baseball cap, just might fit you, too.
Sam Matthews, Tracy Press publisher emeritus, can be reached at 830-4234 or by email at shm@tracypress.com.