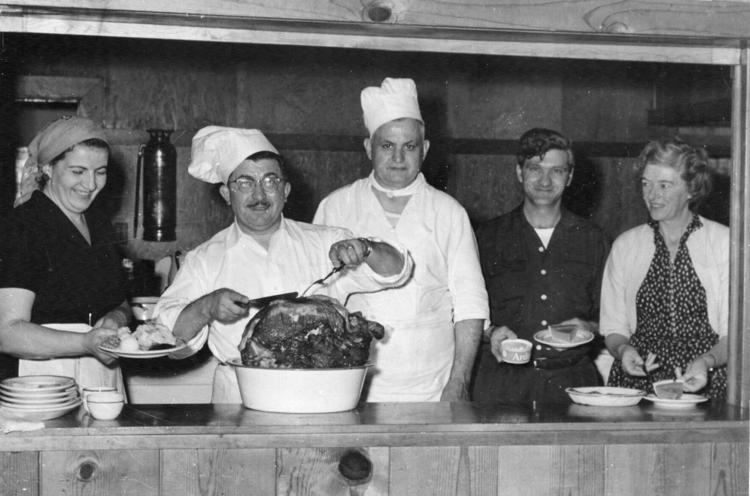 Tracy senior citizens drove by the Portuguese Hall Sunday to pick up roast turkey and all the trimmings for a pre-Thanksgiving dinner.
It was a Covid-19 drive-through twist to the turkey dinner normally held inside the Portuguese Hall in more recent years by the Tracy Sunrise Rotary Club.
Although this year's take-out dinner was different than those of previous years, it continued a tradition that stretched back 65 years, from its beginning in 1955.
That was the year that Tracy restaurant owner Jim Andrews, one of a number of Greek immigrants who operated restaurants in Tracy in those days, decided that a number of Tracy people would go without a Thanksgiving dinner if he didn't prepare and serve one free of charge.
Jim operated the Tracy Grill on East 11th Street where a new liquor store has recently been opened in a remodeled building that once was the dining room of Harry's Chuck Wagon.
He didn't feel, however, that his restaurant had sufficient capacity for the number of people expected to take advantage of his offer of a free dinner. He decided to hold the dinner in the Odd Fellows Hall, now known as the Moose Lodge, on East Sixth Street.
Jim rounded up a dozen volunteers to help him prepare and serve the dinner from noon to 3 p.m. on Thanksgiving Day. He purchased the food, all at his own expense, the food, including eight turkeys weighing 25 pounds each, 40 pumpkin pies and what the Tracy Press described as "unlimited quantities of mashed potatoes, dressing, gravy, cranberries and ice cream."
Some 300 people took advantage of Jim's invitation to a free Thanksgiving meal. He said some of those were transients but others were members of families in need, including one family with eight children.
The dinner was considered a major community success, and Jim announced he would do it again next year.
He managed to continue the dinner for several more years, but when Jim retired from the restaurant business he could no longer keep it up.
What happened after Jim's start is a bit unclear, but FFA students at Tracy High picked up the effort for a while, and then John Day started carrying the Thanksgiving dinner torch in 1994. John was an energetic, public-spirited guy who operated a small restaurant on East 10th Street and also a catering service that was a popular food-supplier at any number of community events.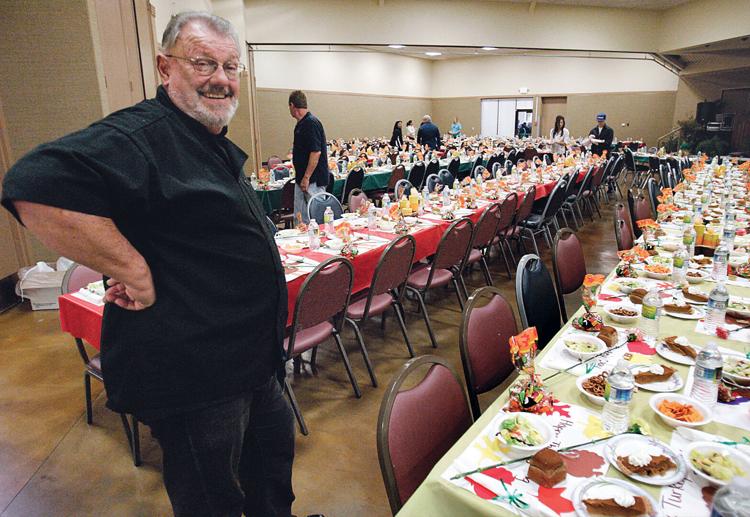 John headed a group of volunteers who put on the pre-Thanksgiving dinner for senior citizens for 16 years, first at Tracy Community Center and later at the Portuguese Hall. In 2010, health problems prompted him to decide to quit.
"I've been doing this for 16 years, and it's time," John told Jon Mendelson of the Press staff. "Fortunately, we have more volunteers you could even imagine."
He noted that during those 16 years, he had never turned anyone away from the dinner.
"We have poor people who come in and get a meal, and we have people who could buy this center," John said. "They come in because they're lonely. There's nothing worse than being lonely."
Among the volunteers working with Day were Dave and Pam Warta, who agreed to take over from John in 2010.
"With the Wartas, the dinner is in good hands," John said. "They're as good of stand-up people as there are in the world."
The Wartas made the turkey dinner at the Portuguese Hall, for senior citizens the closing event of "Tracy's Home for the Holidays" weekend, which they organized and included a dinner-dance, crafts and special events for children.
Members of the Tracy Sunrise Rotary Club became key volunteers with the Wartas, and when the Wartas decided to retire from the annual holiday efforts, the Sunrise Rotarians took over.
And so what became a Tracy tradition was held last Sunday in take-out style. Next year, it just may get back to "normal" indoor dining.
• Sam Matthews, publisher emeritus of the Tracy Press, can be reached at 830-4234 or by email at shm@tracypress.com.