After a 10-year absence, the Stockton Symphony is returning to Tracy Oct. 17, and that's wonderful news for both the symphony and Tracy.
The occasion on that Sunday afternoon at the Grand Theatre is a memorial concert honoring the late Betty Ann Alvarez, a long-time Tracy resident and businesswoman who was a life-long supporter of music in its many dimensions.
An advertisement in today's Tracy Press provides details of the concert and how tickets can be purchased in person at the Grand Theatre box office or online (atthegrand.com). At $25 a seat, it's a very affordable afternoon of symphonic music.
When Jane Vial Jaffe, a musicologist and wife of Peter Jaffe, music director and conductor of the Stockton Symphony, called me a week ago and asked if I had any information I could pass along about Betty Ann and her love of music, I replied with these words: "The first thing you have to know about Betty Ann is that she was Welsh, very Welsh."
We talked about the Welsh love of singing, and the fact that Betty Ann made her start in the world of music as a soprano vocalist at Tracy High and continued singing for many years afterwards.
Her parents, Herbert and Blodwen Maddocks — her father was a farmer north of town — were natives of Wales and passed on their love of that corner of the British Isles and its music traditions to daughters Betty Ann Alvarez and Gladys Wineinger.
Including music, Betty Ann gave two projects her whole-hearted support.
One was Tracy's downtown. She and husband Milton operated several downtown retail stores and owned a number of buildings, mostly on West 10th Street, at a time when the downtown was struggling to restore its business core. She spoke up at numerous public meetings in support of bringing the downtown back to life, and I remember she carried business cards reading, "Betty Ann Alvarez, Downtown Enthusiast."
And her support of music was carried out through her activities as a member of the board of directors of the Stockton Symphony and a backer of the symphony's annual Tracy concerts, along with support of the Stockton Chorale and Stockton Opera Association.
But back to Betty Ann's Welsh roots. I had an inside track in knowing how important they were to her. My mother, Laura Thomas Matthews, was Welsh.
Her grandparents had emigrated from Wales to the U.S. in the late 19th century, and she grew up in Lake Crystal, Minnesota, which at the turn of the 20th Century was almost totally Welsh. Her father was W.E. Thomas, Garage (a one-time car dealer not to be confused with W.E. Thomas, Lumber Company). Her uncle, Hugh Jones, ran a furniture store and was the town's undertaker.
My mom, Laura Thomas Matthews (Press publisher from 1949 to 1967), and Betty Ann had a special Welsh relationship. More than once, I can remember them going together to Oakland to attend a Welsh singing festival, known in Welsh as a "Gymanfa Ganu" (the only two words in Welsh my mother taught me).
On Oct. 17, the Welsh love of vocal music will be transformed into the instrumental music performed by the Stockton Symphony during the Betty Ann Alvarez Memorial Concert. Let's hope it's the start of a new series of continuing symphony visits to Tracy. The original series, partially supported by local funding, enriched the cultural fabric of our town in a major way.
A good turnout at the Oct. 17 concert will send a message to the Stockton Symphony folks, "Yes, we hope to see you back in Tracy again next year."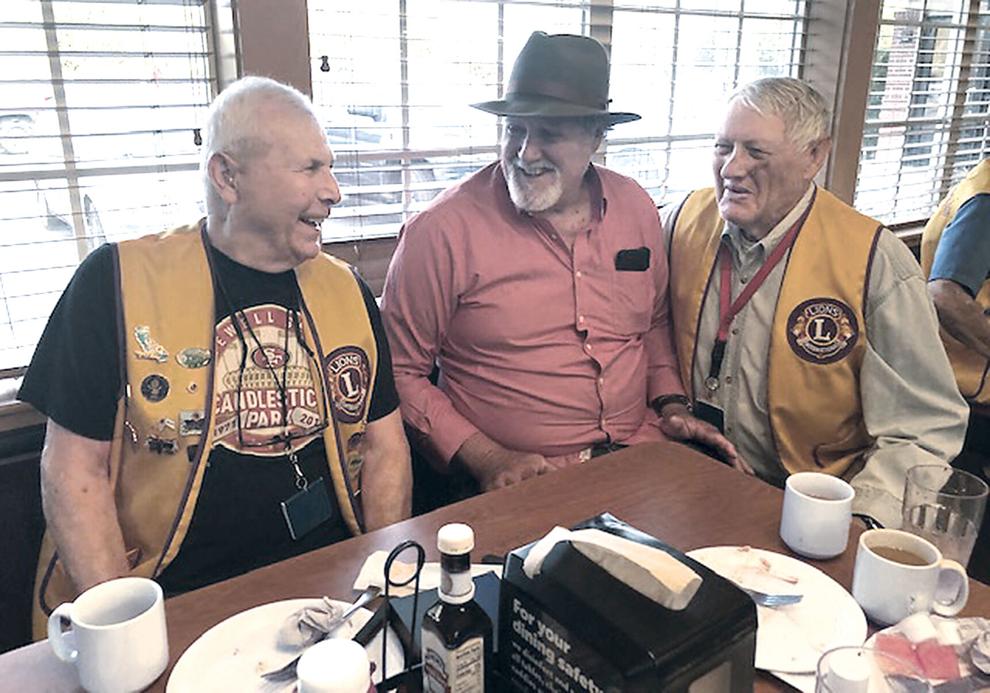 We ran a photo two weeks ago of Tracy native Rob Swenson in his Denver Broncos uniform as a Remember When "mystery photo." When I pulled the photo out of our Press photo files, I had no knowledge that Rob would be in Tracy the next week visiting his folks, Bill and Ann Swenson, and brother Bill. One of those strange, but welcome coincidences.
Last Friday evening, I ran into Rob and family members at the block party in the park on Sixth Street, and we had a good greeting and conversation as the country band played on.
Dad Bill tells me that Rob is continuing to be in town this week, attending the Breakfast Lions Club meeting Thursday morning and a class reunion this Saturday before returning to his home in Silverthorne, located in the Rocky Mountains west of Denver.
Rob is still involved in property development projects, but, of course, he is best remembered as an outside linebacker with the Broncos' "Orange Crush" defense of the 1970s and 80s.
A photo in last week's edition of the Press was part of the coverage of the walnut harvest in Tracy area orchards. The photo showed grower Kyle Robertson holding his infant daughter as harvested walnuts rolled by on a conveyor belt. Kyle was correctly identified, but alas, I misread my notes and spelled his daughter's name incorrectly. My apologies go to Lilian (not Lillian with double "ll"). Happy walnut harvest.
• Sam Matthews, Tracy Press publisher emeritus, can be reached at 830-4234 or by email at shm@tracypress.com.